This Creamy Lemon Chicken Pasta is easy to make and has the most flavorful cream sauce with simple herbs and flavor enhancers. Simple add-ons include broccoli, asparagus, or frozen vegetables. Your family will ask for this meal on repeat!
Be sure to serve this with a side of roasted broccoli or asparagus!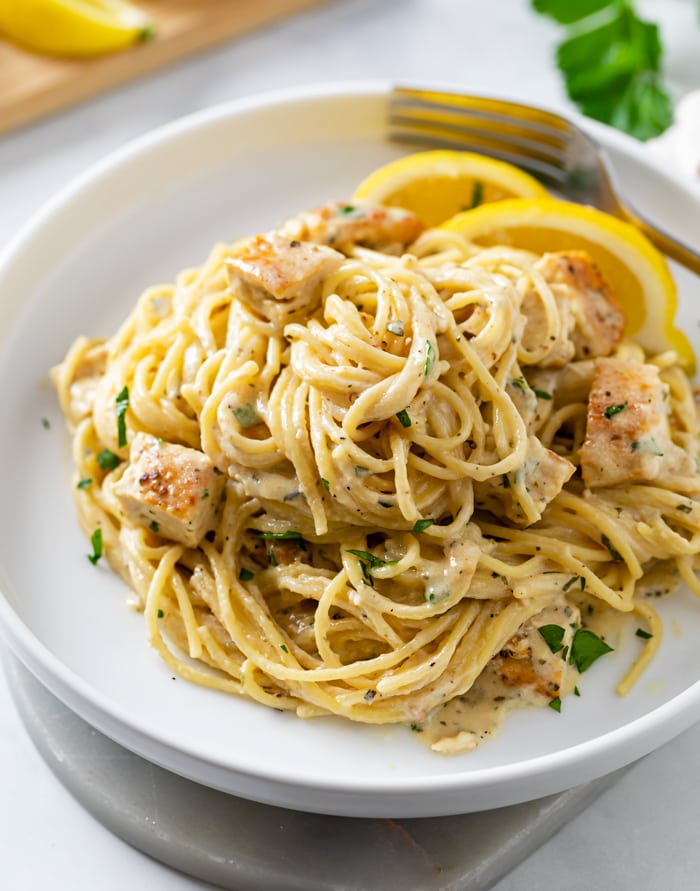 Lemon Chicken Pasta
If you're looking for a simple, restaurant-worthy meal, you've come to the right place! Here we have some thin spaghetti that's tossed in the most flavorful lemony cream sauce with herbs and delicious bites of seared and seasoned chicken.
Searing the chicken in the pan adds fond to the skillet which is deglazed with white wine, garlic, and butter. This creates the most flavorful base for the sauce, which is further enhanced by the best combination of herbs, chicken broth, cream, and Parmesan cheese.
Freshly squeezed lemon juice rounds out the flavor palate and leaves you wanting more with every bite!
How to Make It
See recipe card below this post for ingredient quantities and full instructions.
Season, dredge, and sear the chicken for 4-5 minutes per side. Set aside once cooked and let rest for 10 minutes, then cut into bite-sized pieces.
Deglaze the pan with white wine and cook until reduced by half. Add butter and garlic and cook for 2 minutes.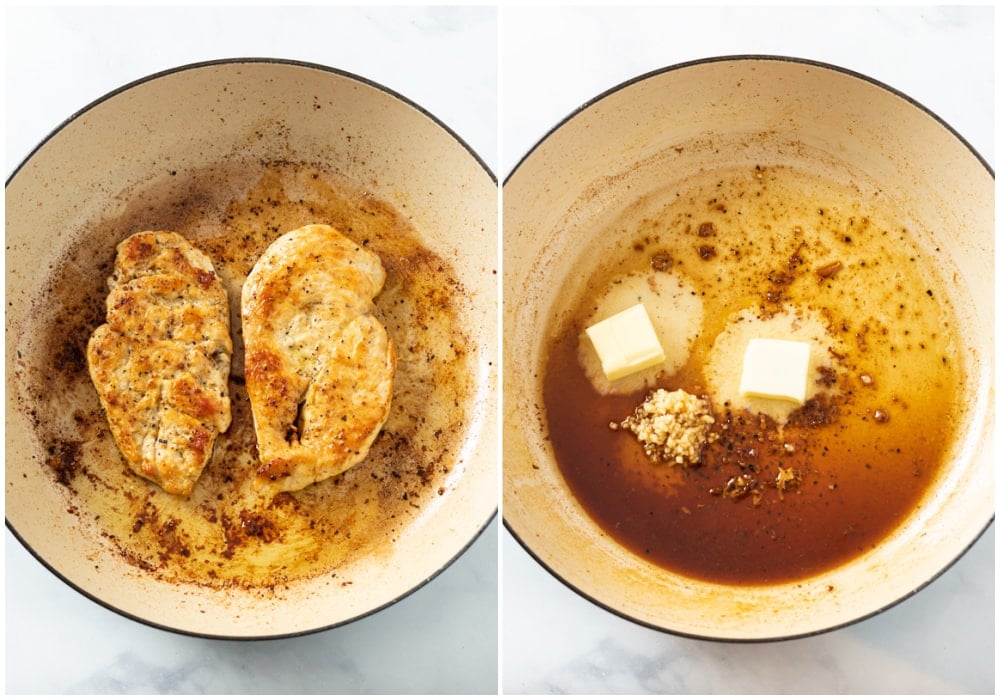 Add flour and stir continuously for 2 minutes. Add chicken broth in small splashes, stirring continuously. Add the half and half in the same manner, then add the seasonings. Bring to a gentle boil, then reduce heat to low.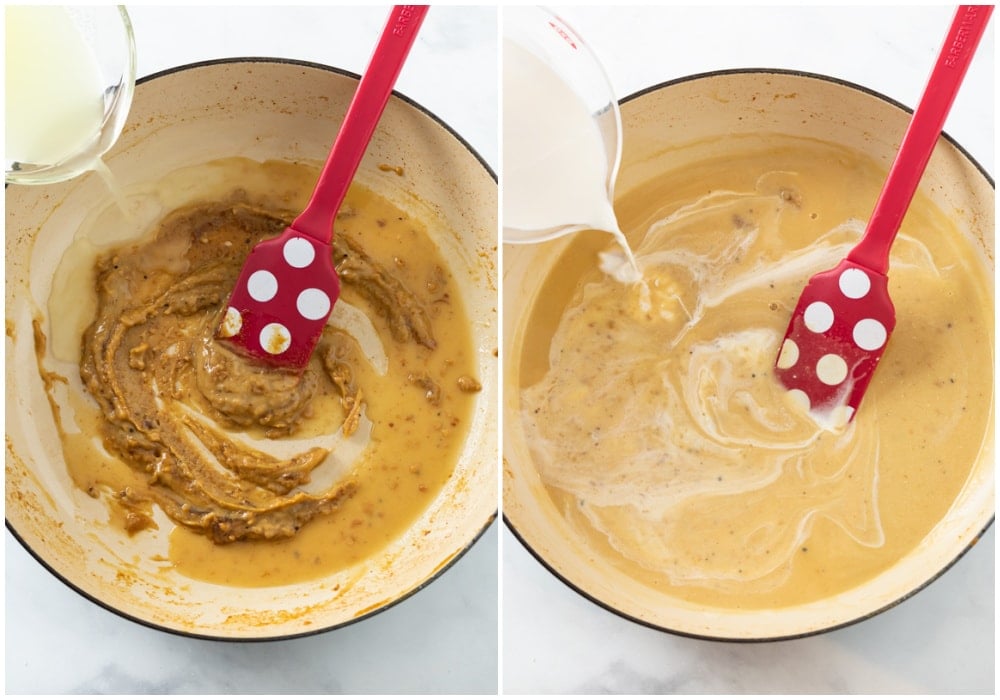 Cook pasta according to package instructions and drain. Stir Parmesan cheese into the sauce. Remove from heat and stir in the lemon juice. Add the pasta and chicken. Toss to combine and serve with lemon wedges and freshly chopped parsley.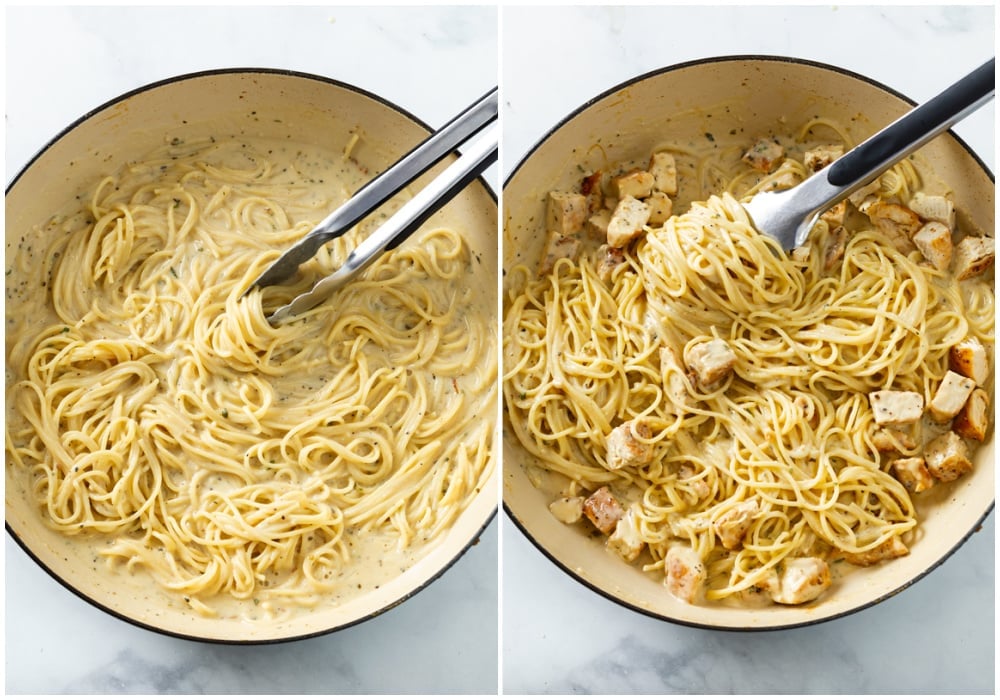 What to Add to Lemon Chicken Pasta
Sauteed broccoli or asparagus which can be cooked to your liking in the skillet while the chicken is searing and added back to the sauce at the end.
Frozen vegetables can be added while the sauce is simmering and the pasta is cooking.
Capers make a great addition and can be added just before the cheese is added.
Asiago cheese can be added in addition to the Parmesan, I like using 1/2 cup of each.
Freshly Cracked Pepper adds a nice finishing touch at the end.
Roasted Broccoli or Roasted Asparagus make nice side dish options with this as well.
Pro Tips

Wine: Sauvignon Blanc or Pinot Grigio are my favorite wines for this recipe. It adds next-level flavor to this sauce but chicken broth can be used if you don't cook with wine.
Pasta: I use 1/2 lb. thin spaghetti for this recipe but I love a lot of sauce, especially if I anticipate leftovers as it ensures the reheated pasta isn't dry. Feel free to use 3/4 lb. pasta instead. Any kind of pasta can be used for this recipe as well.
Grate the cheese from a wedge, it will melt and taste much better than packaged grated cheese.
Be sure to use freshly squeezed lemon juice as the flavor is far superior than bottled lemon juice.
Make sure the heat is off when you add the lemon juice at the end. Add it slowly and stir in continuously to ensure it doesn't cause the cream to curdle.
Fresh garlic minced from cloves tastes much better than jarred garlic.
Note: Garlic that isn't super fresh can turn blue when combined with acidic ingredients such as white wine or lemon juice. (Though it's still safe to eat.)
Storage
Store in an airtight container and refrigerate for up to 3 days or freeze for up to 3 months. This does reheat well.
Reheating this pasta in a makeshift double boiler on the stove top is the best way to restore it to its original form.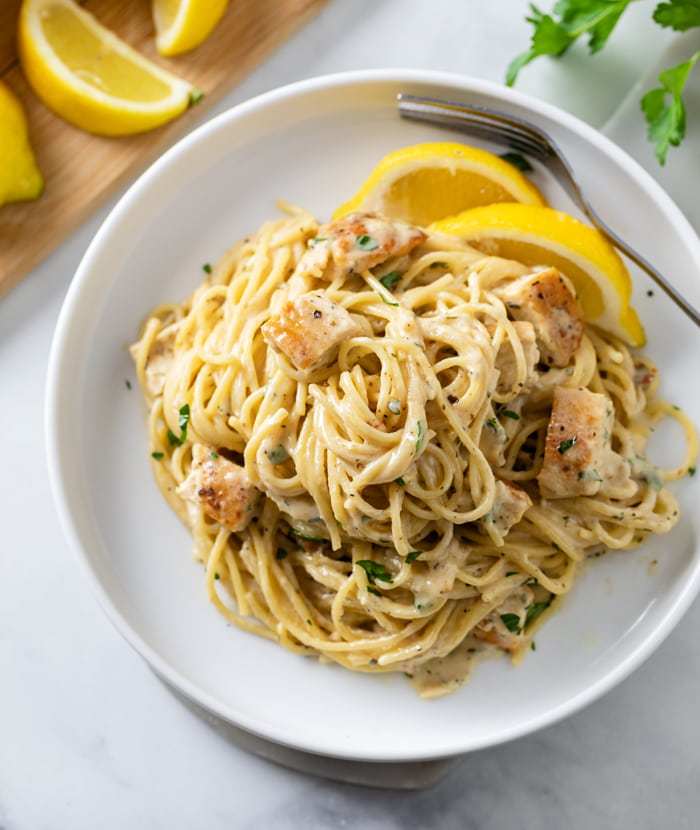 Tools For This Recipe

(Amazon affiliate links)- Check out all of my kitchen essentials here.
Try These Next
Get My Free Meal Plan
I've got a Free Meal Plan with 7 of my super popular recipes (complete with grocery list)! Sign up for my email list and I'll send it over now along with weekly dinner recipes!
And follow me on Facebook, Instagram, and Pinterest!
Tried This Recipe?
Leave a review, I love hearing your feedback! ⭐⭐⭐⭐⭐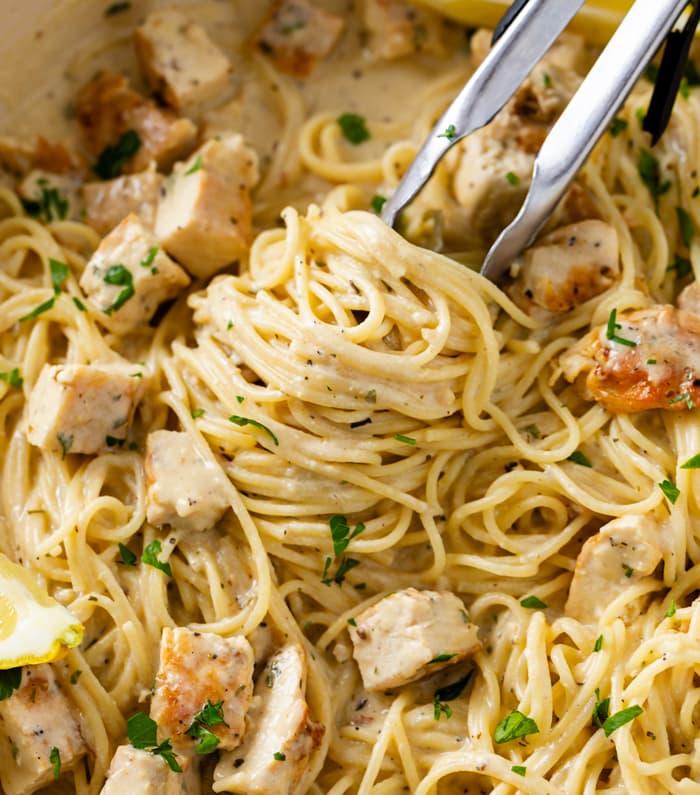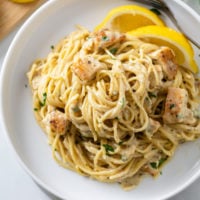 Lemon Chicken Pasta
This Lemon Chicken Pasta Recipe has spaghetti tossed in a creamy lemon sauce with herbs and seared chicken. Simple add-ons include capers, broccoli asparagus, and frozen vegetables.
Ingredients
Seasonings
1 teaspoon dried parsley
½ teaspoon dried oregano
½ teaspoon dried basil
½ teaspoon mustard powder
¼ teaspoon black pepper
Chicken
1 large boneless skinless chicken breast, or 2 small
Lemon pepper seasoning
1/3 cup flour
1 teaspoon garlic powder
1 tablespoon olive oil
Pasta/Sauce
½ cup dry white wine, see notes
3 cloves garlic, minced
3 tablespoons butter
2 tablespoons flour
¾ cup chicken broth
1 ¼ cups half and half
1 cup Parmesan cheese, freshly grated
3 tablespoons lemon juice, freshly squeezed
½ pound thin spaghetti, see notes
For serving
Lemons, sliced
Parsley, roughly chopped
Instructions
Prep Work: Combine the seasoning ingredients and set aside. I recommend that you measure out the remaining ingredients as well, the recipe will be a breeze from there!

Cook the Chicken: Cut the chicken in half lengthwise to create 2-3 thinner slices. Pat completely dry and season each side with lemon pepper seasoning. Combine the flour and garlic powder and dredge the chicken in it. Heat olive oil over medium-high heat and add the chicken. Sear on each side for about 4-5 minutes, until a golden crust has developed. Set aside and let it rest for 10 minutes, then cut into bite-sized pieces.

Heat a pot of salted pasta water while you begin to prepare the sauce as outlined below.

Add the wine to the same skillet that you used to cook the chicken and set the heat to medium. Let it reduce by half, about 4 minutes. Use a silicone spatula to "clean" the bottom of the pan while it simmers, this will add flavor to the sauce.

Add the butter and garlic, cook for 2 minutes. Add the flour and stir continuously with a silicone spatula for 2 minutes.

Add the chicken broth in small splashes, stirring continuously. Add the half and half in the same manner.

Add the seasonings and stir to combine. Bring to a gentle boil and then reduce heat to low. Let the sauce simmer while you boil pasta according to package instructions, set a timer to avoid overcooking. Drain once cooked.

Slowly sprinkle in the Parmesan cheese, stirring continuously. Remove from heat and slowly stir in the lemon juice. Add the pasta and the chicken and stir to combine. Optional: Taste and season with salt if desired.

Serve with sliced lemons and garnish with parsley.
Nutrition
Calories: 619kcal, Carbohydrates: 57g, Protein: 26g, Fat: 29g, Saturated Fat: 16g, Polyunsaturated Fat: 2g, Monounsaturated Fat: 10g, Trans Fat: 1g, Cholesterol: 86mg, Sodium: 707mg, Potassium: 462mg, Fiber: 2g, Sugar: 3g, Vitamin A: 742IU, Vitamin C: 9mg, Calcium: 412mg, Iron: 2mg