These crisp, golden baked chicken thighs are smothered in a flavorful white wine sauce with mushrooms and baked right in the pan.
Try my Pioneer Woman Meatloaf Recipe next!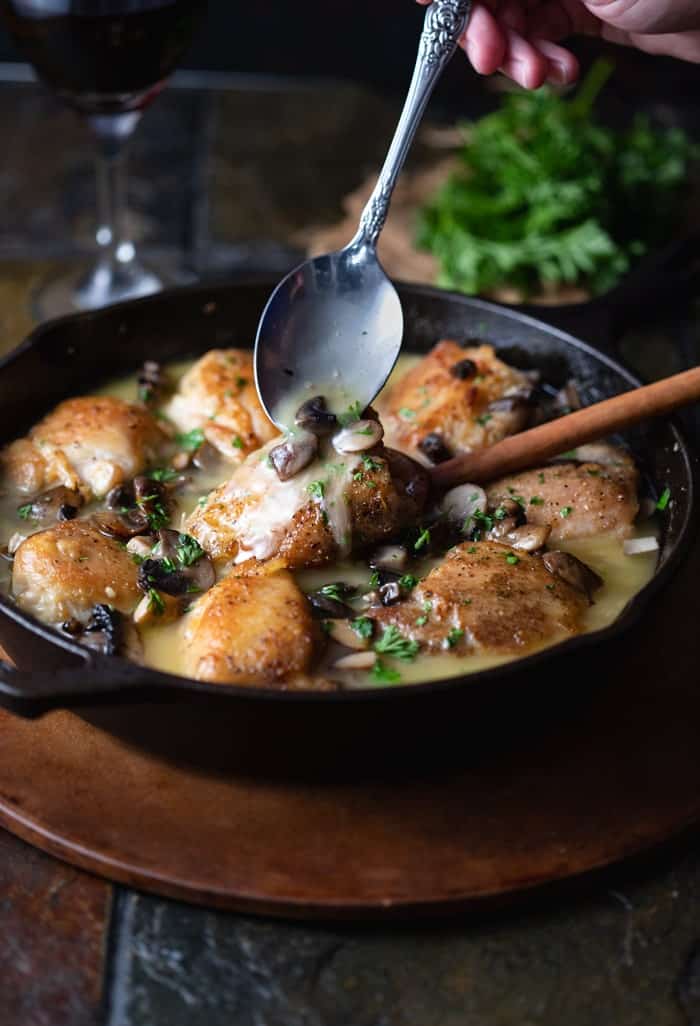 I am a 33 years old and didn't know that I liked chicken thighs. My husband is also 33, and didn't know that he liked chicken thighs. Have we been living under a rock?!
The key is 100% in the sear. The golden, crispy outside makes all the difference. So let's get into it, this is important.
Sear the Chicken Thighs, then Bake: This is Why.
–Searing chicken thighs in a cast iron skillet prior to baking is a great way to add color, taste, and texture to the chicken prior to baking it.
-Not only does it add flavor to the chicken itself, but it allows you to deglaze the pan with the wine, giving you more flavorful sauce from the chicken remnants.
-Plus, you're left with less baking time in the end, and will have a better tasting, more visually appealing meal.
White Wine Substitute:
-If you don't have white wine or prefer not to cook with alcohol, you can substitute equal amounts of chicken broth instead of white wine.
Omitting the Mushrooms:
-You can absolutely omit the mushrooms in this meal if desired, simply follow the recipe as-is, leaving the mushrooms out.
-Sliced Onions can also be used, or check out these ideas for alternatives to mushrooms.
Chicken Breast instead of Chicken Thighs:
-If cooking with chicken breast instead of thighs, it's best to butterfly the chicken and sear 2-3 pieces at a time. If the chicken is fairly thin, you could choose to cook it completely on the stove-top, or simply cut the baking time in half.
What To Serve with Baked Chicken Thighs:
Try These Next!
Follow Me!
Baked Chicken Thighs in White Wine Sauce
These crisp, golden baked chicken thighs are smothered in a white wine sauce with mushrooms and baked right in the pan. An easy gourmet-style dinner!
Ingredients
8 boneless skinless Chicken thighs
Salt/Pepper
1 Tablespoons vegetable oil, separated
1 cup white wine, see notes
4 Tablespoons butter
1 Tablespoon garlic, minced
1 teaspoon lemon juice
8 oz. white button mushrooms, washed and sliced
¼ cup heavy cream, optional
Parsley, roughly chopped, to garnish
Instructions
Preheat the oven to 400° F.

Pat the chicken thighs dry and season with salt and pepper.

Heat 1 tablespoon of oil in a cast iron skillet over medium-high heat. Add 4 chicken thighs, smooth-side down, and sear for 5-7 minutes, until it begins to naturally release from the skillet. Don't move the chicken around while it cooks, as it will disrupt the sear and may cause the chicken to tear.

Transfer the chicken to a plate once seared. Repeat with remaining 4 chicken thighs, adding an tablespoon of oil as needed. Transfer to a plate once finished. 

Reduce heat to medium and add the butter and mushrooms. Cook until they begin to brown and caramelize, about 8 minutes. 

Add the white wine and use a silicone spatula to "clean" the bottom of the skillet. This will give the sauce excellent flavor.

Add the garlic and cook for 1 minute. Stir in the heavy cream.

Add the chicken back, sear-side up, along with any juices from the plate. Baste the chicken with the sauce and cook for 5 additional minutes over medium heat.

Transfer the skillet to the oven and bake for 15 minutes. Remove from oven and stir in the lemon juice. Ensure the thickest part of the chicken is at 165° F prior to serving.
Notes
A dry white wine such as Pinot Grigio or Chardonnay is great in this recipe.
---
This recipe makes 4 servings at 2 chicken thighs/serving. Nutritional information is per serving. 
Nutrition
Calories: 515kcal, Carbohydrates: 4g, Protein: 45g, Fat: 29g, Saturated Fat: 15g, Cholesterol: 265mg, Sodium: 312mg, Potassium: 787mg, Sugar: 1g, Vitamin A: 625IU, Vitamin C: 2.3mg, Calcium: 42mg, Iron: 2.3mg