French Onion Soup Meatballs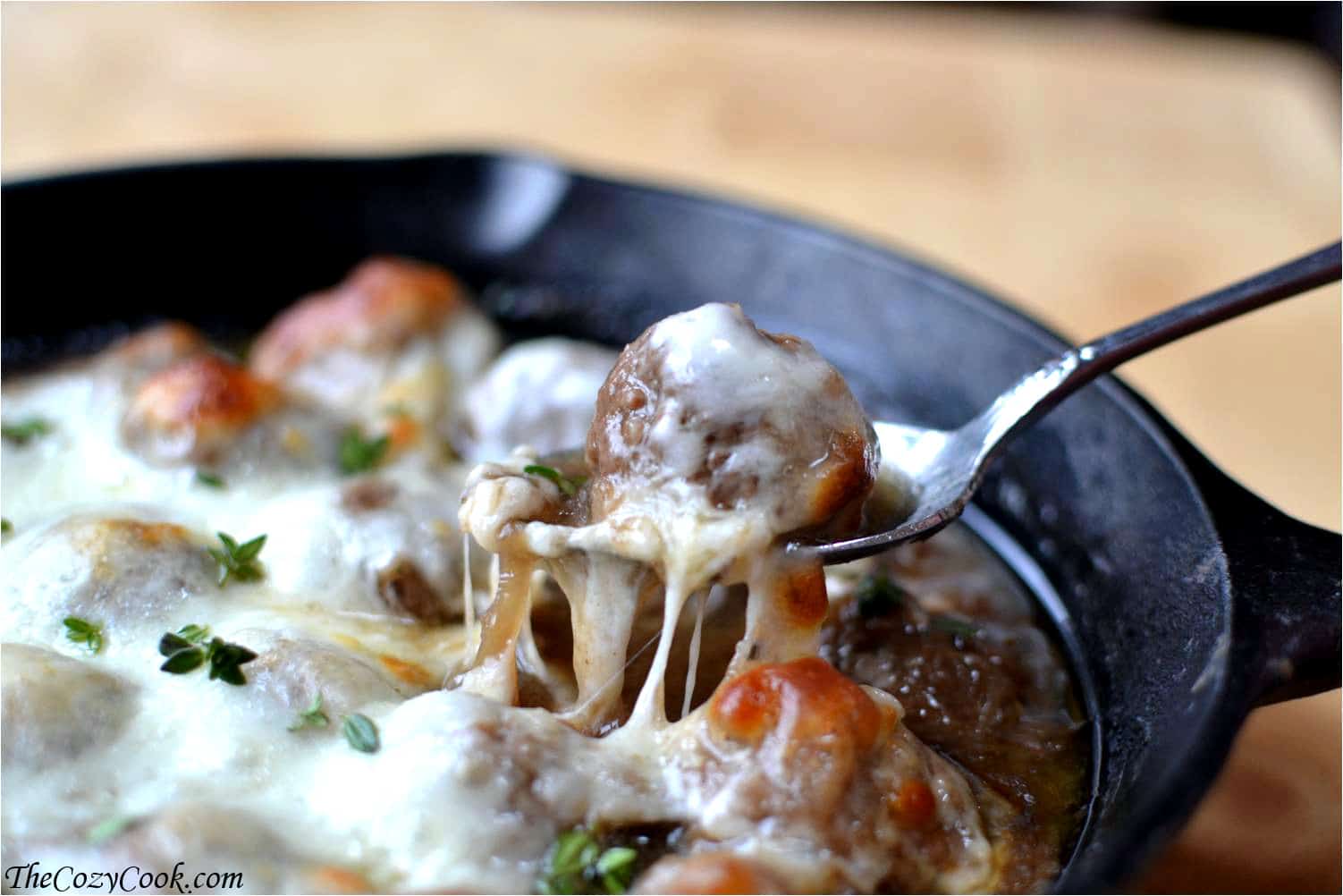 French onion soup meatballs = the best combination ever. This sauce is SO GOOD… it's really hard to resist grabbing a spoon and slurping all of it up… it makes these meatballs so flavorful. Of all the meatball recipes I've made, these might win. Rich, caramelized onions add so much flavor to any dish, and this one is no exception. I've become quite good at cooking perfectly caramelized onions at this point. I'm kinda weird and find it pretty entertaining to watch those onions completely change form. Once you master the process you'll see what a great addition caramelized onions are not only to soups and meatballs, but to burgers, sandwiches, hot dips, cold dips, and more. 
The hot, melted cheese with a sprinkling of fresh parsley is the perfect way to top this dish off. I've even seen these meatballs served on mashed potatoes before- give it a go, why not! They'd be great on a fresh sub roll too… ahh. Or simply by themselves. Grab a toothpick and let guests go to town on a French Onion Soup Meatball appetizer. Sounds good to me.
This was my first time using Better than Bouillon for the broth. I was SOO impressed, I say it's definitely worth picking some up. Of course, beef broth would work too.
What is your favorite way to eat meatballs?
In a sub? On a stick? With pasta? On potatoes? With ketchup? (Is that weird?)
 Oh yeahhhhhhh….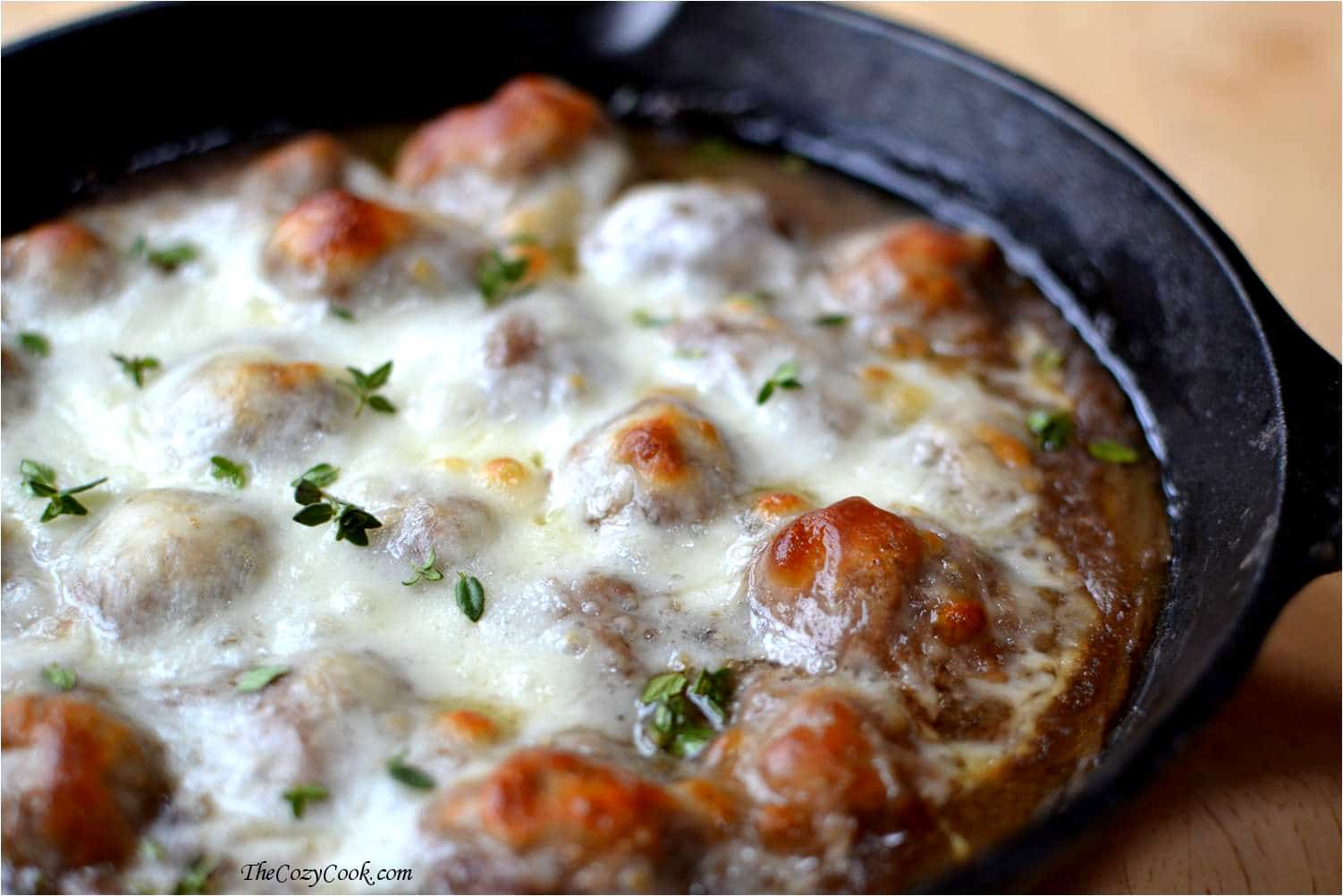 mmmmmm.. cheeeeeesy……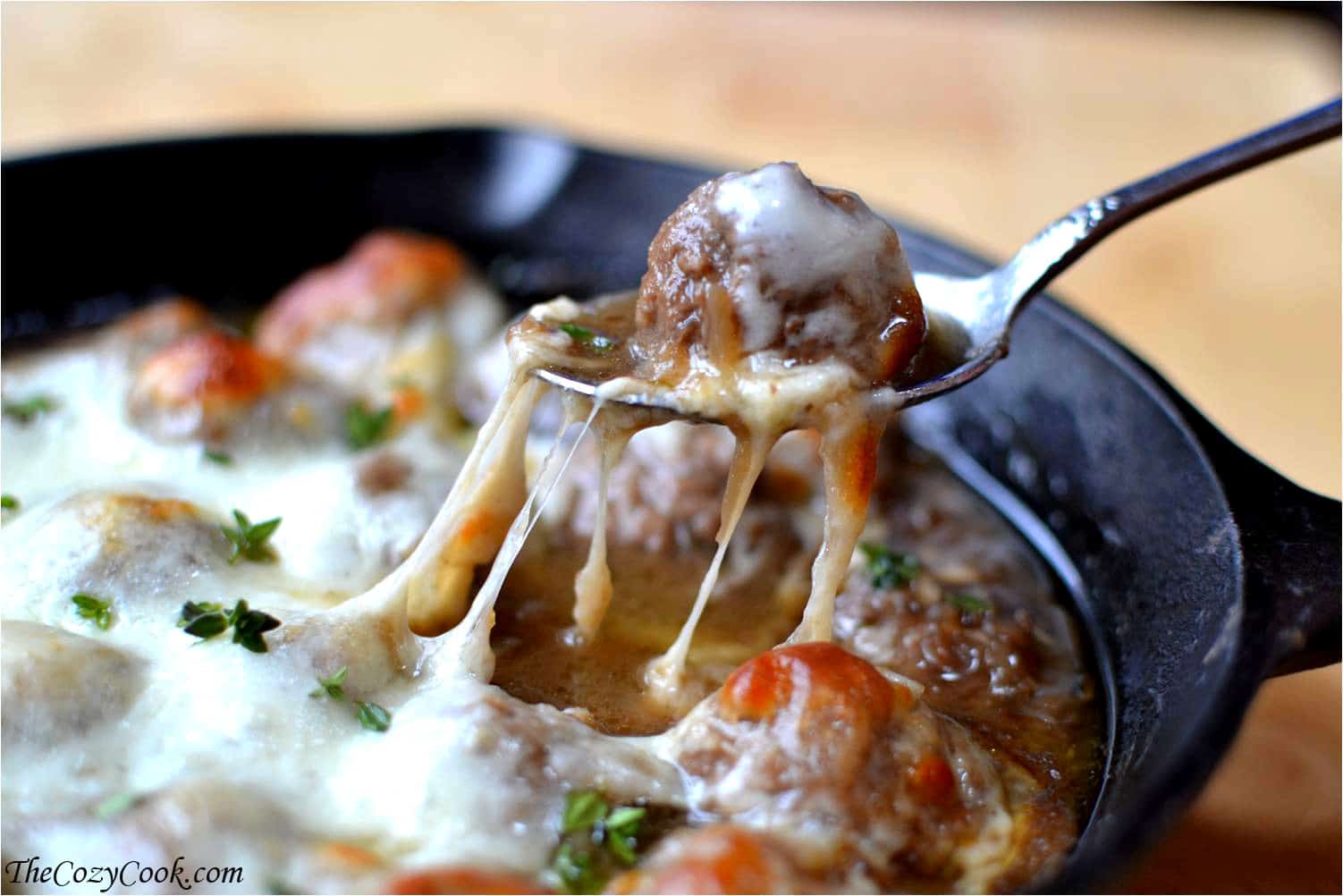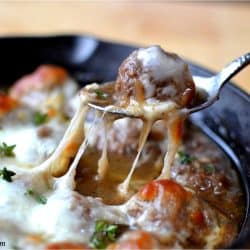 French Onion Soup Meatballs
These meatballs are doused in rich caramelized onion sauce and topped with hot, melted cheese. They'll be the best meatballs you've ever had
Ingredients:
Caramelized Onions: See details on how to caramelize onions here.
1 very large yellow onion, sliced into thin strings
4 tablespoons butter
1 tablespoon olive oil
1/2 teaspoon thyme
1 teaspoon salt
1 teaspoon sugar
1/2 teaspoon of "Better than Boullion" mixed with 1/4 cup water**
1/4 cup cabernet wine (Can sub Merlot)
Meatballs:
1.5 pounds ground beef
1 slice white bread soaked in milk
1/2 cup panko breadcrumbs
1 teaspoon parsley
light sprinkle of salt/pepper
1 egg
4 thin slices provolone or mozzarella cheese (grated cheese is okay too)
Sauce:
2 cups water
1 packet beefy onion dry soup mix (from a 2.2 oz. box)
1/2 teaspoon chicken "Better than Boullion" (optional)
1/4 cup cabernet wine
2 tablespoons cornstarch
Directions:
In a large pot, caramelize the onions.
Add the thyme, salt, bullion/water, and wine. Cook on medium heat for about 20 minutes.
In a large bowl, mix together the milk soaked, bread, panko, parsley, salt/pepper, and egg in a bowl until well combined.
Add the meat and mix thoroughly with your hands. Roll into small meatballs and add to the pan with the onions, brown on each side, reduce heat if they're cooking too fast and add additional oil if necessary.
Preheat oven to 370 degrees.
Prepare the sauce by combining all of the ingredients and heating in a saucepan for 10 minutes. (I let the meatballs soak in this sauce overnight before cooking them in the oven, this can enrich the flavor)
Place the meatballs, onion mixture, and sauce in a baking dish or cast iron skillet. Top with provolone or mozzarella cheese and cook for 20 minutes, (check on it after 15.) Once cheese is hot and bubbly, remove, and top with thyme or parsley.
Prepare to be amazed 🙂
**You can substitute 1/4 cup of beef broth instead of the "better than bouillon"/water combination, but if possible, I highly recommend better than bouillon.
*This post may contain affiliate links