Pasta Milano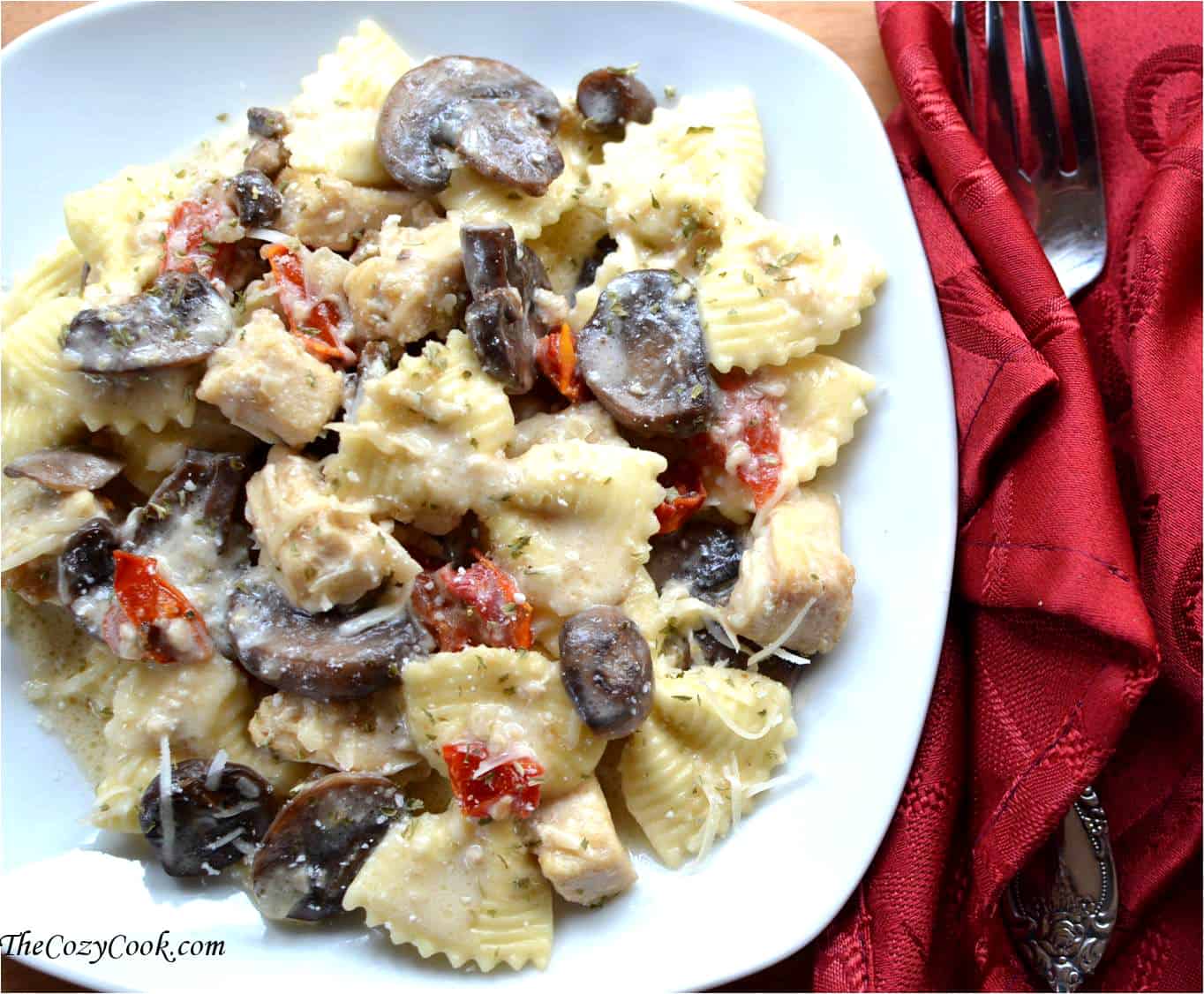 Hellooooo DECEMBAAA. I was going to share with you the turkey pot pie I made last night but then I thought, ehhhhh…. People are probably pretty sick of turkey. I know we've had our fill of it by now. Between the actual turkey meal, turkey sandwiches, turkey soup, and turkey pot pie… I figured I might go with something new. PASTA. But wait- this recipe does call for chicken, and what's a good chicken substitute? (YUP. Turkey.) So we've got it all covered here. This is a really great easy weekday meal. I actually portioned some of the leftovers out into two Tupperware containers for the hubby and I'm sad to say, one of them didn't make it his way before I ate it all : ( Oops. I guess that's the tell-tale sign of a good recipe. Check out the notes section if you want to thicken the sauce a little. Oh- and apparently this is a copycat recipe for Macaroni Grill!? I've never been there- or even seen one of those. So I can't confirm or deny that. If so though, then they know what they're doing because this is spectacular.
So how was your Thanksgiving?! Ours was great- my first time making the Thanksgiving dinner! Check out my Facebook page for the stunning Turkey pic (and others, like my little pup-pup Toby dressed up like Santa Clause- awwww.)
Servings: 4 -6 servings
Pasta Milano
Ingredients
1 pound chicken cut into bit sized pieces
2 tsp olive oil
1 12 oz package mushrooms, sliced
1 cup onion finely chopped
2 cloves garlic minced
½ cup sun dried tomatoes chopped*
1½ cup half and half
1 Tablespoon butter
½ cup Parmesan cheese
1 Tablespoon fresh basil chopped finely
1 pound Farfalle bowtie pasta
Instructions
In a large saucepan, heat the olive oil over medium heat. Add the chicken and cook for about 15 minutes, until the chicken is white and cooked through. Set the chicken aside, and keep warm if possible.

And add the onions, mushrooms, garlic, and sun dried tomatoes to the pan. Cook for about 15-20 minutes, until the onions are very tender and the mushrooms are brown.

Add the chicken back to the pan, and sprinkle in salt and pepper. In a medium bowl, mix together the half and half, butter, basil, and parmesan cheese. Add it to the pan and simmer, partially covered.

Cook the pasta according to the instructions on the box and drain well. Mix it into the sauce and serve!
Recipe Notes
*I didn't have sun dried tomatoes so I sliced up a regular tomato, removed the seeds in the middle, diced it, and baked it at 200 for about an hour. This could take all day if you have a lot of tomatoes but I only used one.
MY LATEST VIDEOS
To thicken the sauce, mix together 1 tablespoon of corn starch or flour with one tablespoon of cold water. Shake it until well. Bring the sauce to a light bubble and gradually pour it in, stirring as you do so- you might not need the whole thing. Reduce the heat afterwards.
You can also add about 1/4 cup dry white wine while the onions/garlic/mushrooms are cooking.
Recipe Adapted From: dinnersdishesanddesserts.com