This Tomato Chicken recipe has a creamy tomato sauce with Parmesan, garlic, juicy tomatoes, and perfectly seasoned chicken. It's an easy skillet dinner that pairs well with roasted vegetables, potatoes, buttered noodles, and more!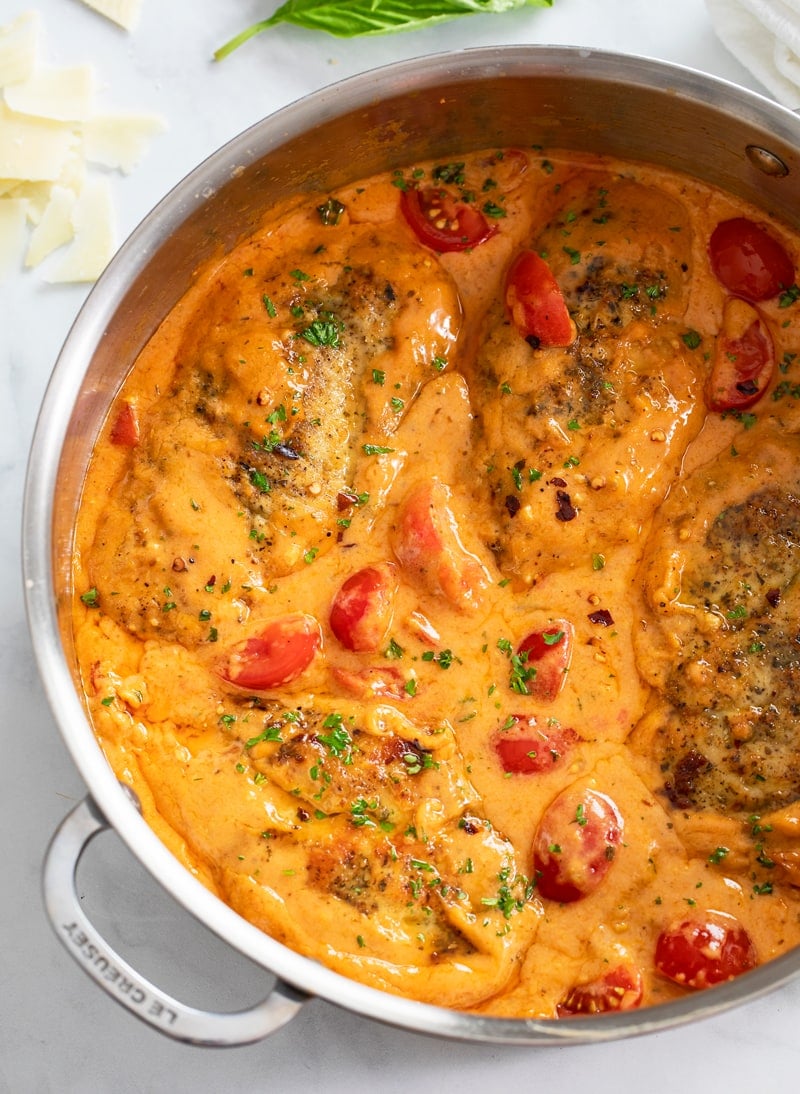 Tomato Chicken
This Tomato Chicken recipe is my absolute favorite thing to make when we have fresh garden tomatoes, or just extra tomatoes on hand that need to be used! It's like creamy tomato soup in the form of a chicken dinner, and I can't get enough. The creamy tomato sauce has a hint of Parmesan, garlic, a little white wine (or chicken broth if needed), and the best combination of flavor enhancers and seasonings.
My favorite secret ingredient in this recipe is just a touch of honey, which is a nice and subtle offset to the acidity of the tomatoes. I'm telling you, this recipe is perfection.
How to Make It
See recipe card below this post for ingredient quantities and full instructions.
To start, season the chicken and dredge it in flour, then sear it in a skillet. This creates a beautiful golden crust on the outside of the chicken and leaves a ton of flavor, (i.e. fond!) on the bottom of the pan, which is deglazed with white wine. (Chicken broth can be used if you don't cook with wine.)
To make the creamy tomato sauce, add butter and garlic to the wine reduction.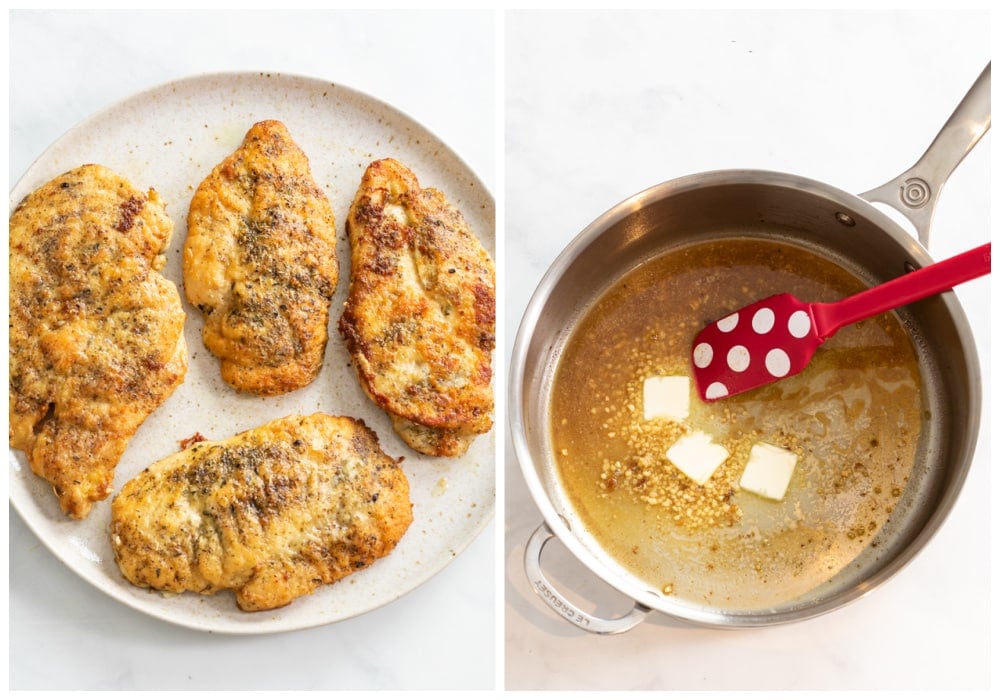 Stir in flour and tomato paste, then add chicken broth, chicken bouillon, honey, onion powder, oregano, and mustard powder. (The mustard powder is a subtle flavor enhancer that you can't taste outright.)
Bring to a gentle boil and let it reduce for 10 minutes. Reduce heat to low. Stir in half and half, cream cheese, and Parmesan cheese.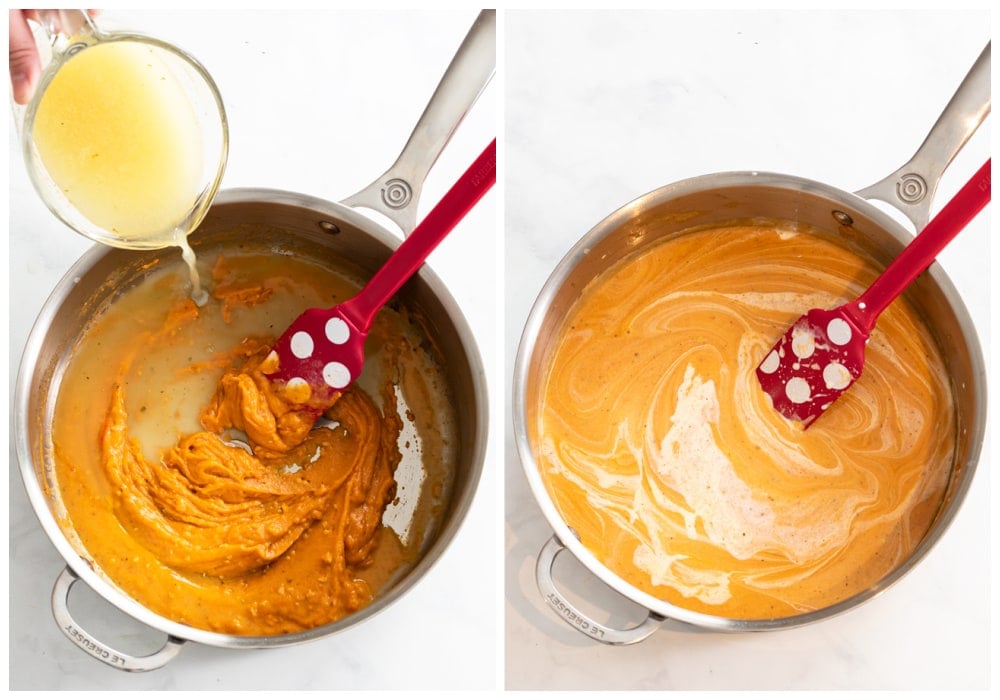 Add the chicken back to the skillet along with diced tomatoes. Spoon the sauce on top, cover partially and let it heat through for 5 minutes. Garnish with parsley or basil and serve!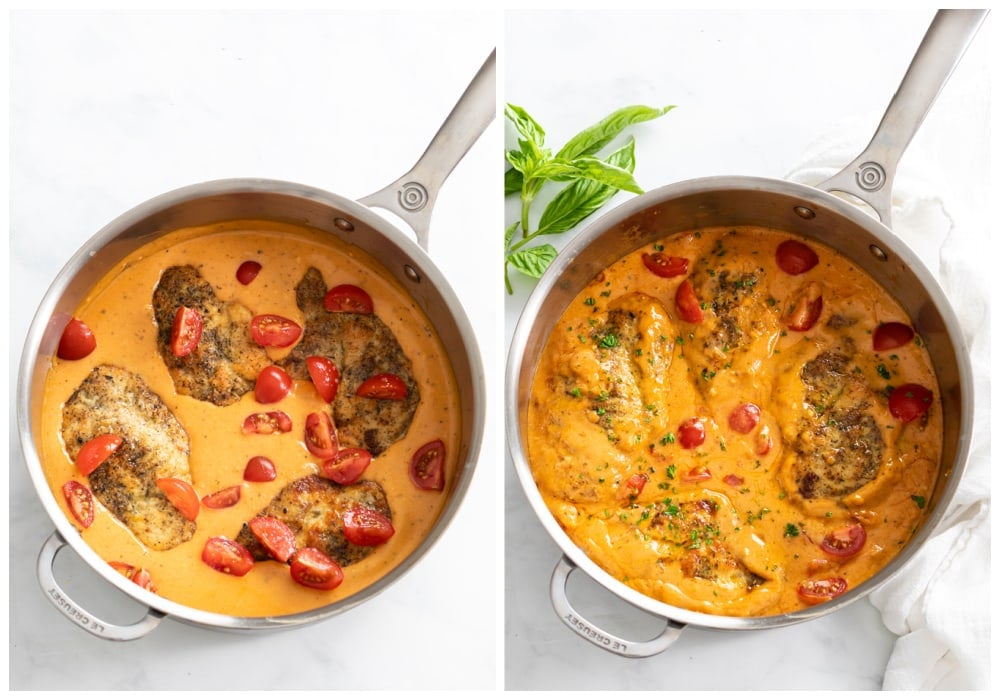 Pro Tips
Storage
Store in an airtight container and refrigerate for up to 3 days or freeze for up to 3 months. This does freeze/reheat well.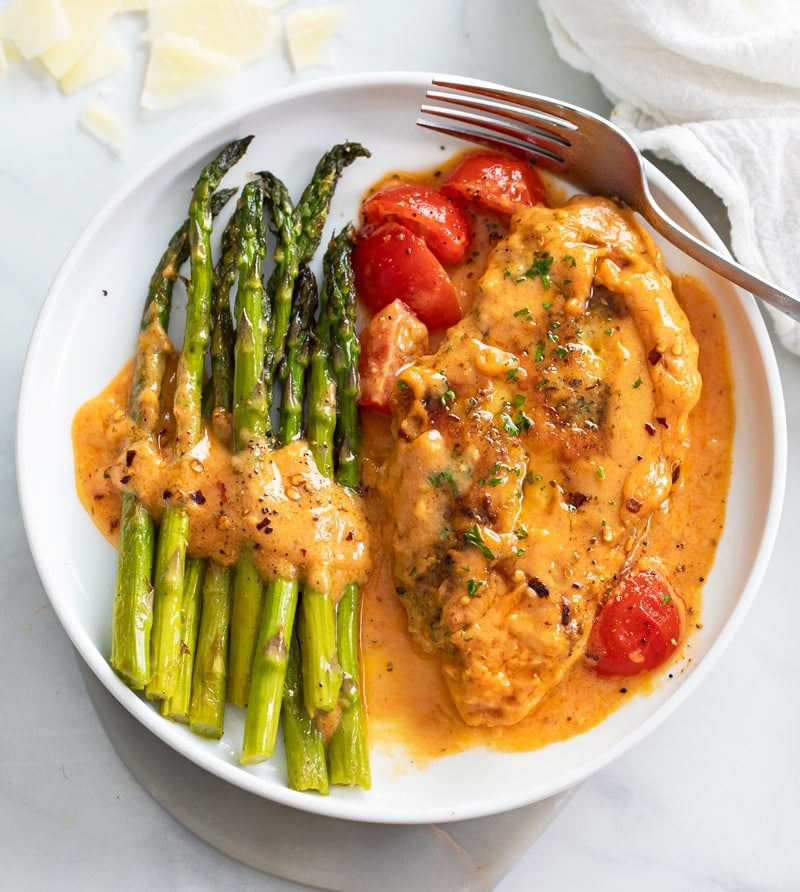 Tools For This Recipe

(Amazon affiliate links)- Check out all of my kitchen essentials here.
Try These Next
Get My Free Meal Plan
I've got a Free Meal Plan with 7 of my super popular recipes (complete with grocery list)! Sign up for my email list and I'll send it over now along with weekly dinner recipes!
And follow me on Facebook, Instagram, and Pinterest!
Tried This Recipe?
Leave a review, I love hearing your feedback! ⭐⭐⭐⭐⭐
Tomato Chicken
This Tomato Chicken recipe has a creamy tomato sauce with Parmesan, garlic, juicy tomatoes, and perfectly seasoned chicken.
Ingredients
Chicken
2 large boneless skinless chicken breasts
Salt/Pepper
2 teaspoons Italian seasoning
1/3 cup flour
2 tablespoons olive oil
Sauce
2 cups chicken broth
1 chicken bouillon cube or 1 tsp better than bouillon
1 teaspoon honey
1 teaspoon onion powder
1 teaspoon dried oregano
½ teaspoon mustard powder
½ cup dry white wine, see notes
3 tablespoons butter
3 cloves garlic
2 tablespoons flour
2 tablespoons tomato paste
½ cup half and half
1 tablespoon cream cheese, at room temp
½ cup Parmesan cheese, freshly grated
1 ½ cups cherry tomatoes, halved or quartered
Instructions
Prep Work
For the Sauce: Combine the chicken broth, chicken bouillon, honey, onion powder, oregano, and mustard powder and set side.

Measure out all remaining ingredients before beginning.
Make the Chicken
Slice the chicken in half lengthwise to create 2-3 thinner slices. Cover with saran wrap and use the textured side of a meat mallet to pound it to ½ inch thick. Pat completely dry. Season each side with salt, pepper, and Italian seasonings.

Dredge each side of the chicken in the flour.

Heat olive oil in a large skillet over medium-high heat. Sear the chicken in batches for 4-5 minutes per side, until a golden crust has developed. Set aside.
Make the Sauce
Add the wine to the skillet over medium heat and use a silicone spatula to "clean" the bottom and sides of the skillet. Let it reduce by half, about 4 minutes.

Melt the butter in the skillet and add the garlic. Cook for 2 minutes. Add the flour and stir continuously for 1 minute. Add the tomato paste and stir for 1 more minute.

Add the chicken broth mixture in splashes, stirring continuously. Bring to a gentle boil, then reduce heat to low.

Wait for the sauce to cool a bit. Gradually stir in the half and half and cream cheese until well combined. Sprinkle in the Parmesan cheese and stir well to incorporate. (Doing this over low heat ensures that the dairy doesn't separate and become grainy.)

Add the cherry tomatoes to the sauce along with the cooked chicken. Spoon the sauce on top and cover partially. Let the sauce simmer and chicken heat back through, about 5 minutes. Garnish with parsley or fresh basil and serve!
Notes
Pro Tips:
---
The nutritional information provided is an estimate and is per serving. There are 4 servings in this recipe. It assumes all of the dredging flour is used/consumed.
Nutrition
Calories: 418kcal, Carbohydrates: 21g, Protein: 21g, Fat: 26g, Saturated Fat: 12g, Polyunsaturated Fat: 2g, Monounsaturated Fat: 10g, Trans Fat: 1g, Cholesterol: 84mg, Sodium: 873mg, Potassium: 564mg, Fiber: 2g, Sugar: 6g, Vitamin A: 956IU, Vitamin C: 16mg, Calcium: 239mg, Iron: 2mg