These Taco Stuffed Peppers are a low carb dinner that's ready in less than 30 minutes! They're filled with seasoned ground beef, black beans, and diced tomatoes. Top them with sour cream and even Doritos, Fritos, or Tortilla chips!
Feel free to use ground turkey for a leaner option as well as shredded chicken.
Try my classic Stuffed Bell Peppers next!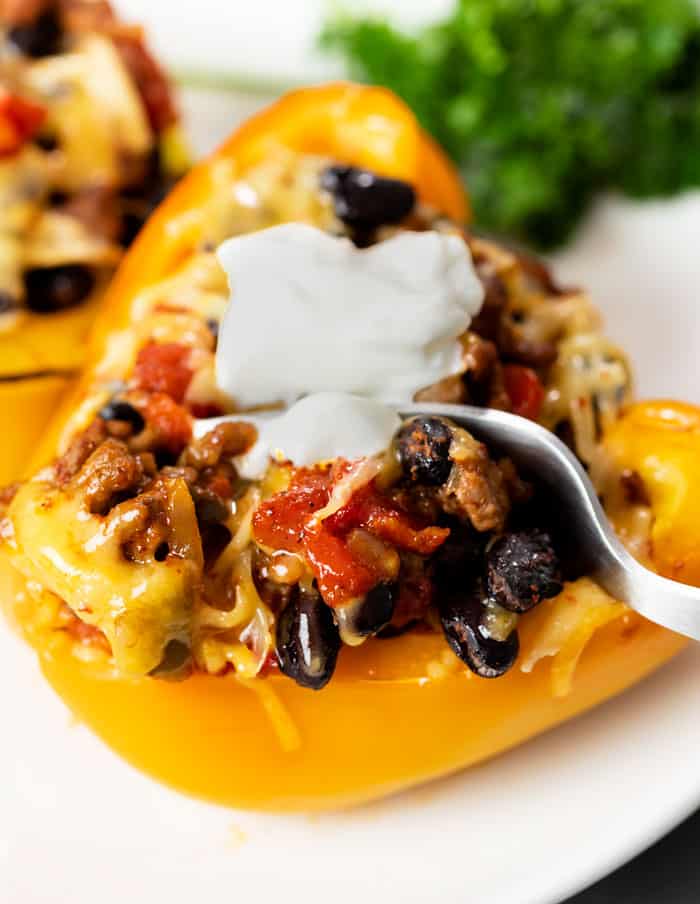 Who doesn't love a good Mexican night?! We've been eating taco stuffed peppers for years, and honestly, I never miss the shell. I'm all about the meat and cheese, what can I say!?
Let's get into the fun stuff. The filling options. They are endless people!
Ingredients

See recipe card below for ingredient quantities and full instructions.

Bell Peppers- Any color
Garlic
Onions
Tomato Paste
Ground Beef
Black Beans
Diced Tomatoes
Taco Seasoning
Other Taco Fillings
Vegetables + Fruit: Tomatoes, Red Onions, Corn, Avocado, Jalapenos, Black Olives.
Cheeses: Monterey Jack, Cheddar, Pepper Jack, Queso, Fontina.
Pro Tip! Substitute ground turkey or shredded chicken for an even leaner variation!
How to Make Taco Stuffed Peppers
Slice each pepper in half and use a paring knife to trace along the stem and remove it.
Place on a baking sheet. Cover with foil and bake for 15 minutes at 350°. Prepare the filling mixture while the peppers cook.

Stuff each pepper with the filling and top with cheese. Bake for 15 more minutes.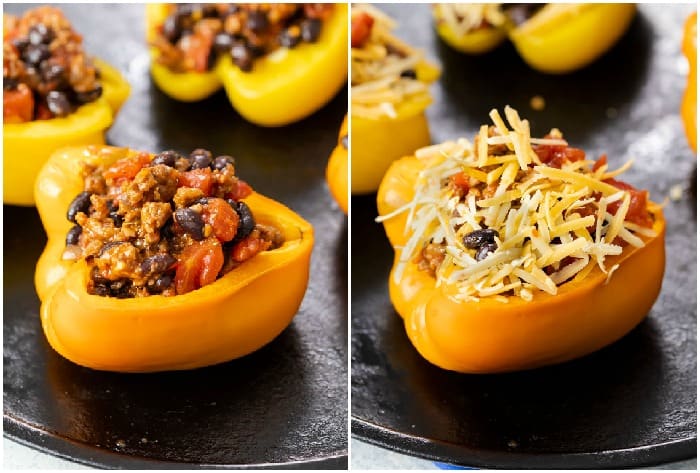 Bell Peppers Are Over 90% Water
This is the main reason we pre-bake the halved peppers for 15 minutes. You'll likely be able to pour water out from the middle of the pepper that would otherwise have gone into your taco filling.
It also allows you to cook the ground beef while the peppers cook, which saves time.
Calories in a Bell Pepper vs. Taco Shells
1 whole medium bell pepper = 24 calories (or 12 calories for a h
1 Fried taco shell= 150 calories
1 Baked taco shell= 62 calories
1 (6-inch) flour tortilla = 90 calories
Calories Saved by Subbing 1/2 bell pepper
50 calories saved for each baked taco shell.
138 calories saved for each fried taco shell.
78 calories saved for each 6-inch flour tortilla.
…Taco stuffed peppers it is!
Try These Next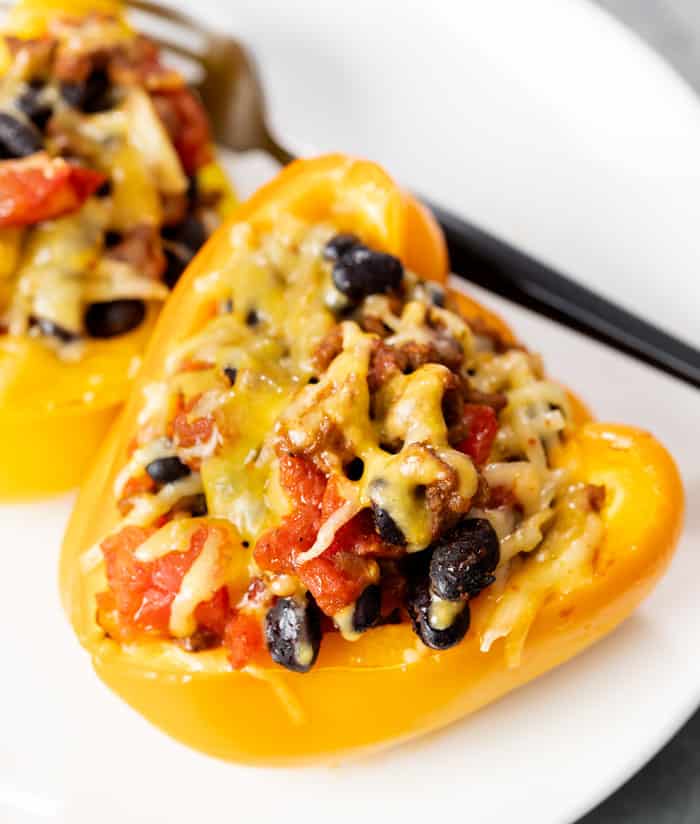 Get My Free Meal Plan
I've got a Free Meal Plan with 7 of my super popular recipes (complete with grocery list)! Sign up for my email list and I'll send it over now along with weekly dinner recipes!
And follow me on Facebook, Instagram, and Pinterest!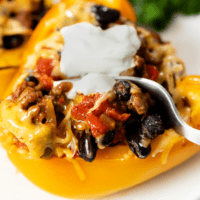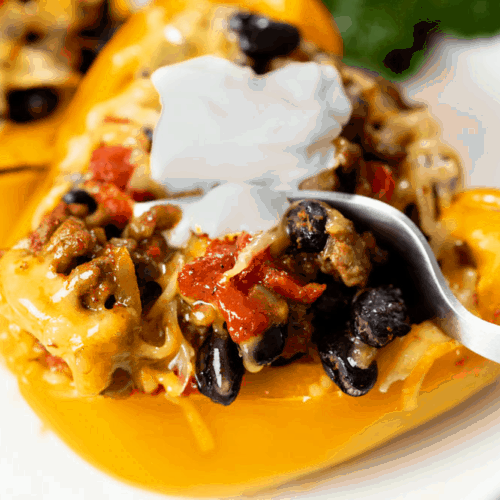 Taco Stuffed Peppers
These healthy, low carb Taco Stuffed Peppers are oven baked and can be made with ground beef, turkey, or shredded chicken! And easy weeknight dinner with endless topping options!
Ingredients
4 bell peppers
1 pound ground beef
1 small yellow onion, diced
1 oz. packet Taco Seasoning,, equal to 2 tablespoons
2 Tablespoons tomato paste
2 cloves garlic, minced
1 (15 oz.) can black beans, drained and rinsed
1 (10 oz.) can Rotel Tomatoes with green chilies, drained
1.5 cups shredded Mexican Cheese
Instructions
Preheat oven to 350 degrees.

Wash and dry the peppers, slice them in half. Remove the stems and the seeds.

Place them (hollow side up), on a greased baking sheet. Cover with foil and bake for 15 minutes. Discard any excess water in the middle of the pepper.

Meanwhile, brown the ground beef in a large pan over medium-high heat. Drain any grease.

Add the diced onions and cook for 5 minutes. Add the Taco Seasoning, tomato paste, and garlic and cook for 1 minute.

Add 3/4 cup water. Bring to a boil and then reduce the heat to medium-low.

Add the black beans and tomatoes and simmer for 5 minutes.

Scoop the taco filling inside each of the baked peppers. Top each with cheese. Bake at 350 for 15 minutes.
Nutrition
Calories: 248kcal, Carbohydrates: 23g, Protein: 23g, Fat: 7g, Saturated Fat: 4g, Polyunsaturated Fat: 1g, Monounsaturated Fat: 2g, Trans Fat: 1g, Cholesterol: 48mg, Sodium: 525mg, Potassium: 660mg, Fiber: 7g, Sugar: 5g, Vitamin A: 2424IU, Vitamin C: 83mg, Calcium: 281mg, Iron: 3mg