These Oven Baked Pork Chops are filled with savory cranberry sausage stuffing. They only take 20 minutes to bake and make a perfect easy dinner!
Love Pork Recipes?! Try these next!
French Onion Smothered Pork Chops  Crock Pot Pork Roast and Gravy  Fried Pork Chops in White Wine Sauce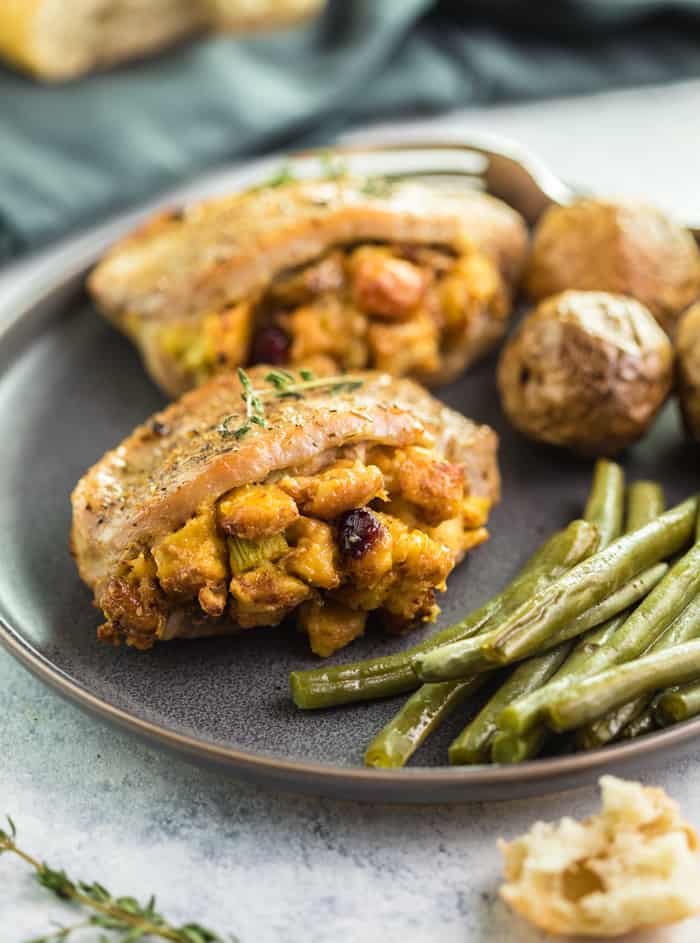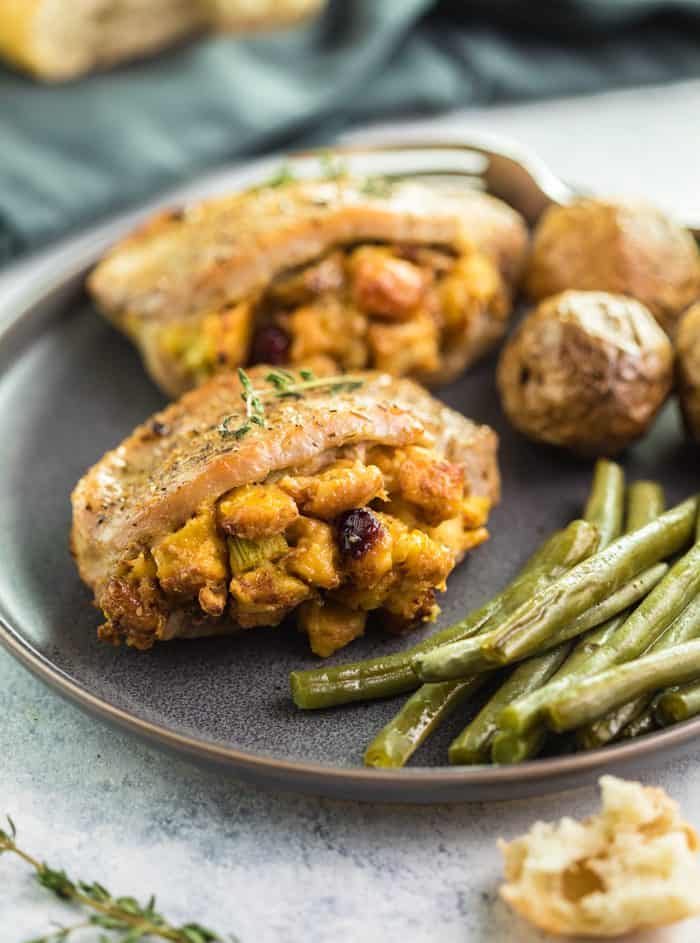 I know I am a food blogger and all, but I don't make my own bread stuffing. There, I said it.
I just can't justify spending the time making the homemade stuff when I can get a big 'ol bag of Martin's Potatobred Soft Cubed Stuffing. As soon as you open up a bag of this, you'll see what I mean, these soft cubes of buttery-tasting bread have a hint of sweetness and that beautiful golden color that really takes any recipe to the next level.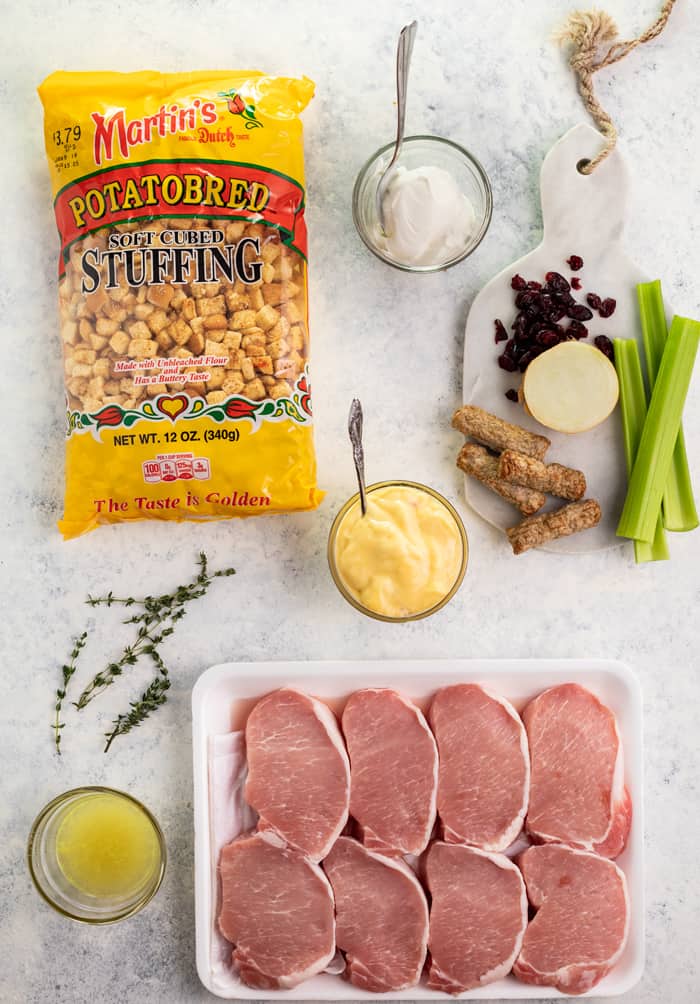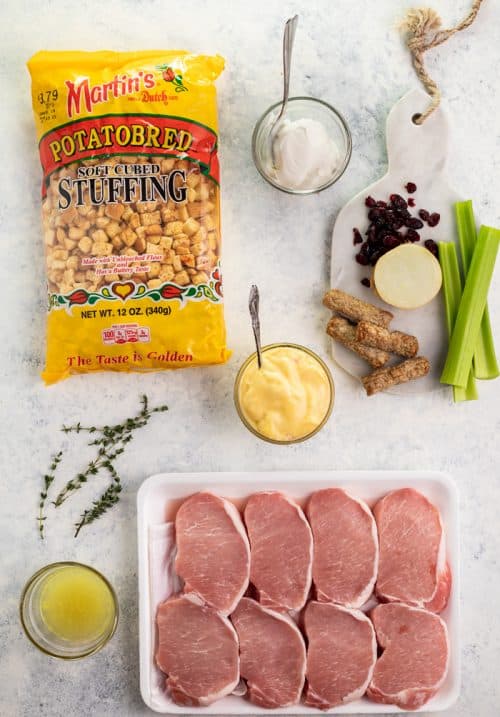 What kind of Pork Chops Are Best to Stuff?
Boneless pork chops of regular thickness work perfectly well for stuffing, no need to purchase the extra thick ones.
Use a pairing knife to create a pocket into the pork chops that will hold a good amount of filing.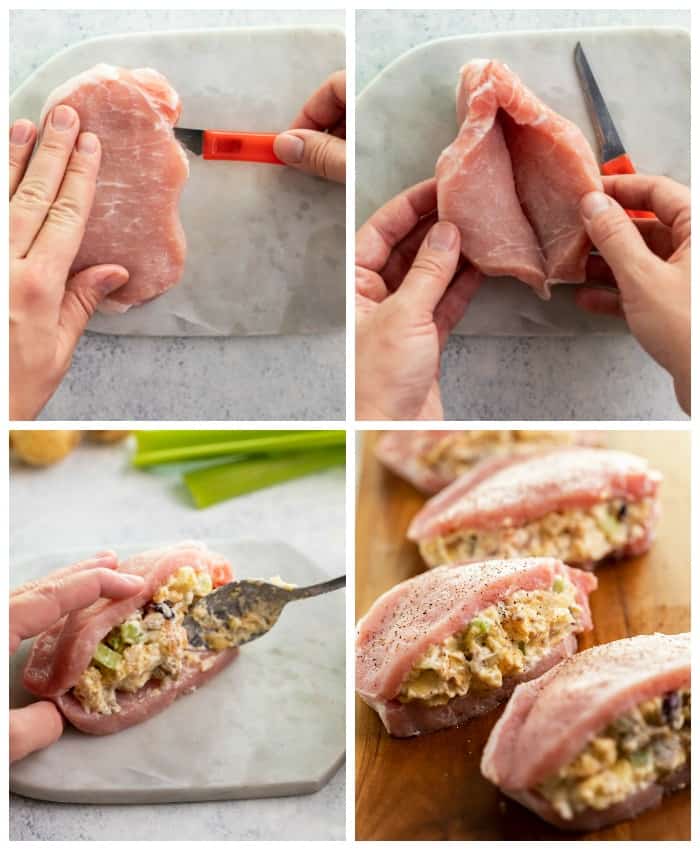 How Long Do You Bake Pork Chops?
Boneless pork chops take 15-20 minutes to bake in a 400 degree oven.
Freezing Stuffed Pork Chops
Stuffed Pork Chops make a great freezer food. Wrap each stuffed/unbaked pork chop in foil and place it in a labeled freezer bag. It's best to use them within 3 months.
When you're ready to serve them, simply let them defrost in the refrigerator overnight, uncover them, and bake them as instructed in the recipe below!
Using Leftover Stuffing
This recipe is a is a great way to use up leftover stuffing.
If you would like to avoid overcooking the stuffing since this is the second time around, I recommend searing the pork chops over medium heat for just a few minutes on each side to give it texture and color.
Then stuff them and bake them covered at 350 degrees for 15-20 minutes.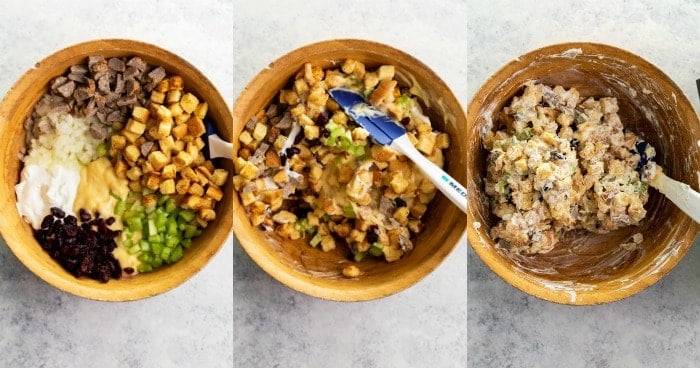 Storing Leftovers
Refrigerate leftovers in an airtight container and use within 3 days, or freeze and use within 3 months.
What to Serve with Stuffed Pork Chops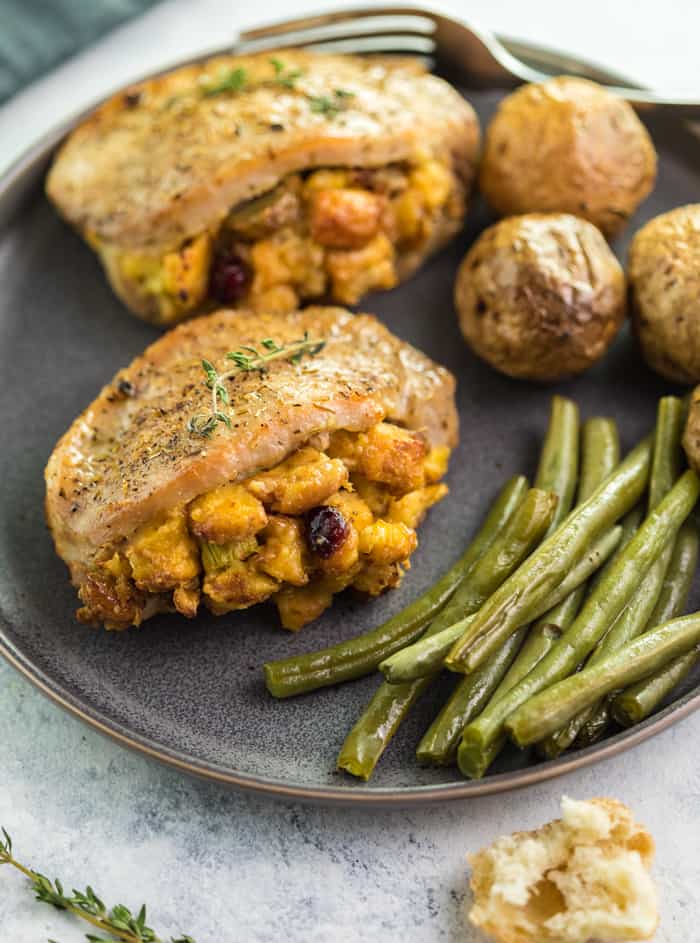 Try These Next!
Get My Free Meal Plan
I've got a Free Meal Plan with 7 of my super popular recipes (complete with grocery list)! Sign up for my email list and I'll send it over now along with weekly dinner recipes!
And follow me on Facebook, Instagram, and Pinterest!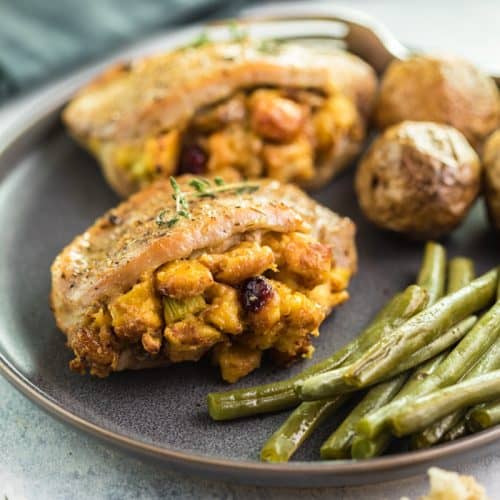 Oven Baked Stuffed Pork Chops
These Oven Baked Pork Chops are filled with savory cranberry sausage stuffing. They only take 20 minutes to bake and make a perfect easy dinner!

Ingredients
10 boneless pork chops
4 Tablespoons olive oil
Stuffing:
¼ cup diced onions, cooked until softened
¼ cup diced celery, cooked until softened
½ cup cooked sausage, diced
6 oz. Martin's Potatobred Stuffing
1/2 can cream of chicken soup
3 Tablespoons butter, melted
1/3 cup chicken broth
1/3 cup sour cream
¼ cup dried cranberries
2 teaspoons dried rosemary
Salt/Pepper, to taste
Pork Seasoning Mix
1 teaspoon Rosemary
¾ teaspoon oregano
¾ teaspoon thyme
¾ teaspoon sage
1/8 teaspoon nutmeg
1/8 teaspoon pepper
½ teaspoon salt
Instructions
Preheat oven to 400 degrees

Use a pairing knife to slice into the side of each pork chop to create a pocket for the stuffing.

Add all stuffing ingredients to a large bowl until just combined, don't overmix.

Scoop the stuffing into each pork chop, you'll be able to stuff it with more than you think! Place the pork chops in a baking dish.

Add 4 Tablespoons of olive oil to a medium bowl along with the pork seasoning ingredients. Use a pastry brush to brush it over the pork chops.

Bake, uncovered, for 15-20 minutes, until the top of the pork chops begin to turn golden brown.

Serve with roasted potatoes and green beans and enjoy!
Notes
This recipe makes enough to stuff 10 pork chops: -You can stuff them all and wrap any uncooked pork chops in foil to be baked at a later date, OR -You could stuff fewer chops and bake extra stuffing on the side to be served alongside the meal, for those who love extra stuffing!
Nutrition
Calories: 722kcal, Carbohydrates: 16g, Protein: 60g, Fat: 44g, Saturated Fat: 15g, Cholesterol: 209mg, Sodium: 880mg, Potassium: 1098mg, Fiber: 1g, Sugar: 5g, Vitamin A: 515IU, Vitamin C: 2.1mg, Calcium: 60mg, Iron: 2.3mg