Learn everything you need to know about how to brine a turkey! Whether you use a wet brine, a dry brine, use whole turkey, turkey breast, or even a frozen turkey! All of your questions are answered here.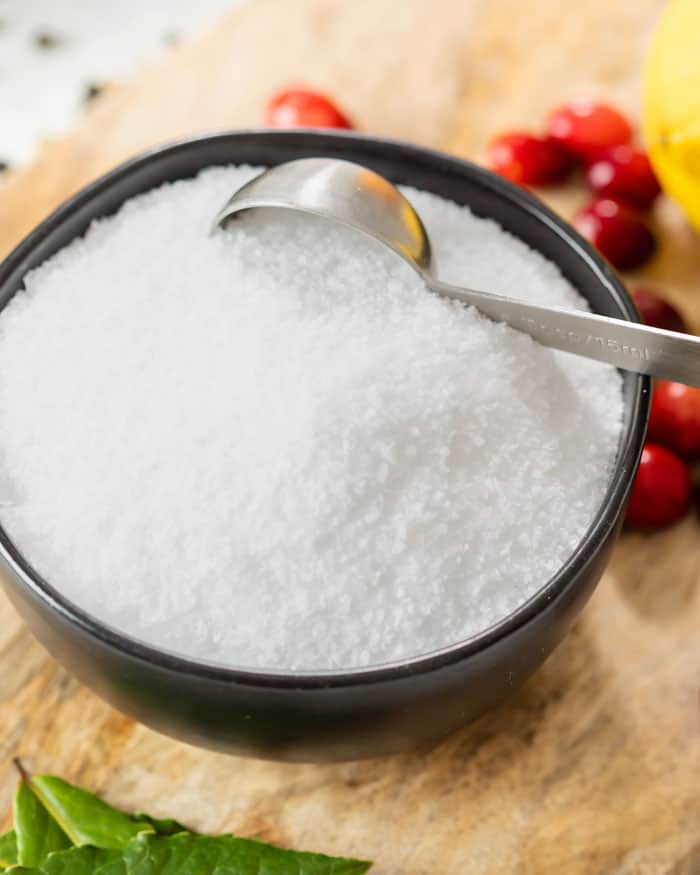 How to Brine a Turkey
When it comes to cooking up a Roast Turkey, there are a lot of questions that can come up, and brining is one such topic that is often discussed and questioned. I'm here to give you all of the information you need, and if you still have any lingering questions after this post, drop me a comment and I'll be sure to answer it for you!
Let's start with the basics:
What Is a Brine?
A brine is a solution that contains salt (and sometimes sugar and seasonings). The salt gets absorbed into the meat and not only flavors it while doing so, but it also works to break down the tough muscle proteins in the meat, which makes it tender and juicy.
Why Do You Brine a Turkey?
Turkey is a type of meat that can be prone to drying out. A brine helps keep it juicy. You can brine any kind of meat to make it more tender. (Pork Chops and Chicken Breasts are also great for brining.)
 Dry Brine vs. Wet Brine
(My personal preference)
A dry brine consists of only kosher salt (and sometimes seasonings and sugar) that is applied directly to the surface of the turkey.
From there, it's transferred to the fridge, uncovered, for 24- 72 hours.
What happens next: The salt extracts liquid from the turkey (through osmosis) and combines itself into that liquid, which is then reabsorbed back into the meat.
You'll use about 1/2 teaspoon Kosher salt for every pound of meat. (or 1/4 teaspoon per pound if using table salt.)
Not only do I find dry brining to be so much easier, but it's the best way to really dry out the skin which makes it extra crispy and evenly brown when you roast it. (A yet, the inside is super juicy and flavorful.)
Take a look at my dry brine turkey instructions.
A wet brine is a cold solution that usually contains a combination of salt, sugar, spices, and seasonings. The solution is typically brought to a boil first in order to let the flavors combine and dissolve. From there, it needs to cool completely prior to adding the turkey to it. You will need enough liquid to fully submerge the turkey.
You can follow the same process if using turkey breast.
You'll need about 3/4 cup of Kosher salt for every gallon of water.
Check out my wet turkey brine recipe.
How Long Should You Brine Turkey
Wet Brine:  18-24 hours prior to roasting .
Dry Brine: 24-72 hours prior to roasting.
Larger turkeys should be brined on the longer side of the scale.
Do You Rinse Brine Off Turkey Before Cooking?
Turkey brined in liquid should be rinsed under cool water and patted completely dry prior to roasting.
Dry brined turkey requires no rinsing or patting dry. It's ready to roast.
Can You Brine Frozen Turkey?
Although it's more effective to brine a thawed turkey, a partially frozen turkey can be brined as well. For a dry brine, the skin needs to be thawed however in order for you to incorporate the salt onto the surface.
Do You Brine a Turkey That Was Injected With a Salt Solution?
My recommendation is that you do NOT brine a turkey that has already been injected with a salt solution, as that is essentially the purpose of brining a turkey in the first place. You also run the risk of having an overly salted turkey.
That being said, there are plenty of home cooks who have brined injected turkeys for years and swear by that method. There are discussions on this Chowhound thread that are both pro and con.
Finally, you may choose to brine an injected turkey but can cut the amount of salt by half.
How to Know if Your Turkey Has Already Been Salted.
In the above scenario, it will say right on the package, (usually the front), if it has been injected with a percentage of salt solution.
Kosher turkey has salted added to it, so avoid that if you plan on brining.
When in doubt, check the label to see if salt is listed as an ingredient.
Fresh Turkey is less likely to have a salt solution added, and if it does, it's usually a lower percentage. (See images below.)
Another con of a salt solution is that it adds weight to the turkey, which means you'll be paying more for it.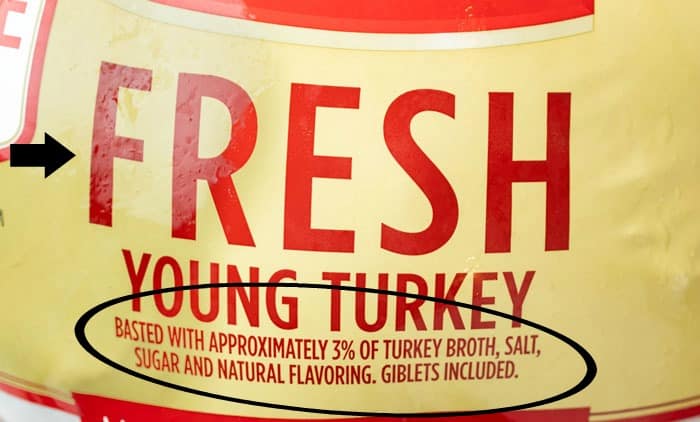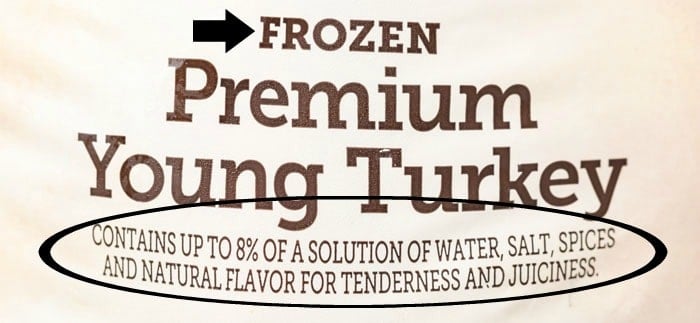 Best Kosher Salt for Brining
I recommend using Diamond Kosher salt. (A link to the product is included at the bottom of this post.) It's less potent than Morton Coarse Kosher Salt and will ensure your turkey isn't overly salty. (Morton is better for seasoning boiling water for potatoes, pasta, etc.)
Can You Make Gravy With Brined Turkey Drippings?
You can absolutely make gravy with drippings from a brined turkey, those drippings are gold! I do recommend however that you taste your turkey drippings prior to making the gravy as it may be too salty, in which case you should cut it with unsalted broth. (Link below.) It's easy to add salt to gravy, but it's very difficult to take it away without diluting it so much that it is no longer thick.
Check out my easy turkey gravy recipe here!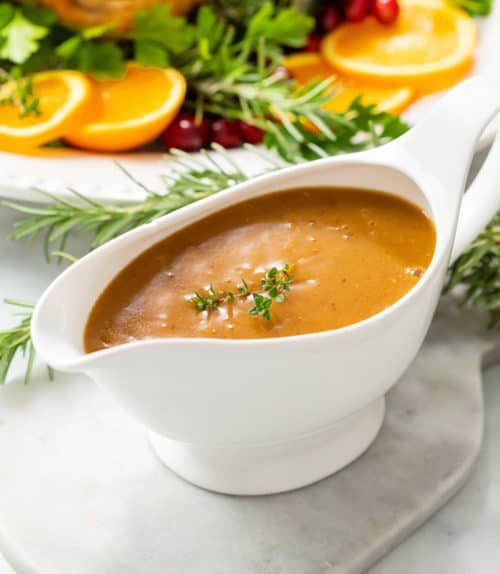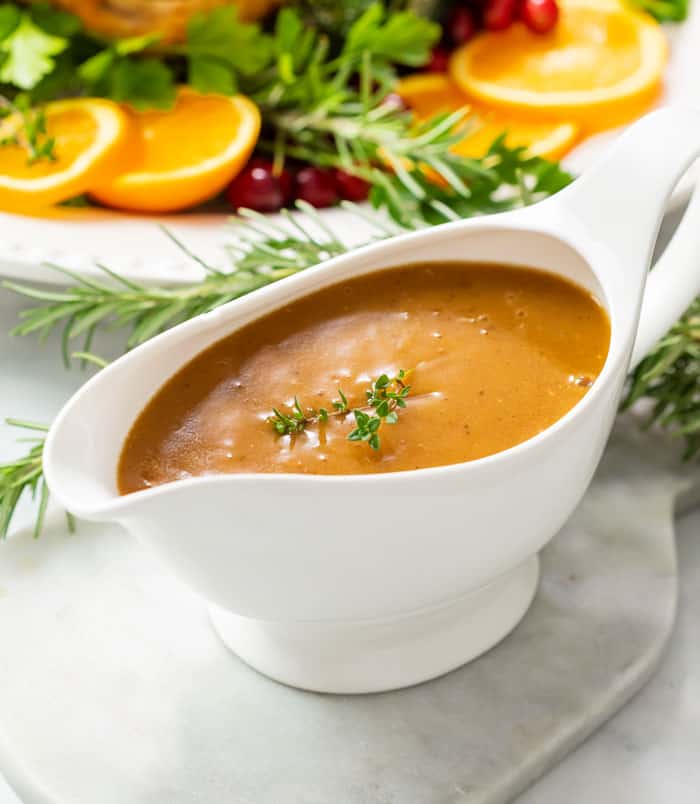 Tools to Help With Brining

(Amazon affiliate links)- Check out all of my kitchen essentials here.
What to Serve With Turkey