Learn how to wet brine a turkey with this easy recipe that adds ultimate flavor and aroma. Use it for a whole turkey, turkey breast, or even a frozen turkey. Check out my tools and tips to make this process simple for the holidays!
Check this out if you prefer to dry brine turkey. And be sure to check out my roast turkey and turkey gravy recipes as well!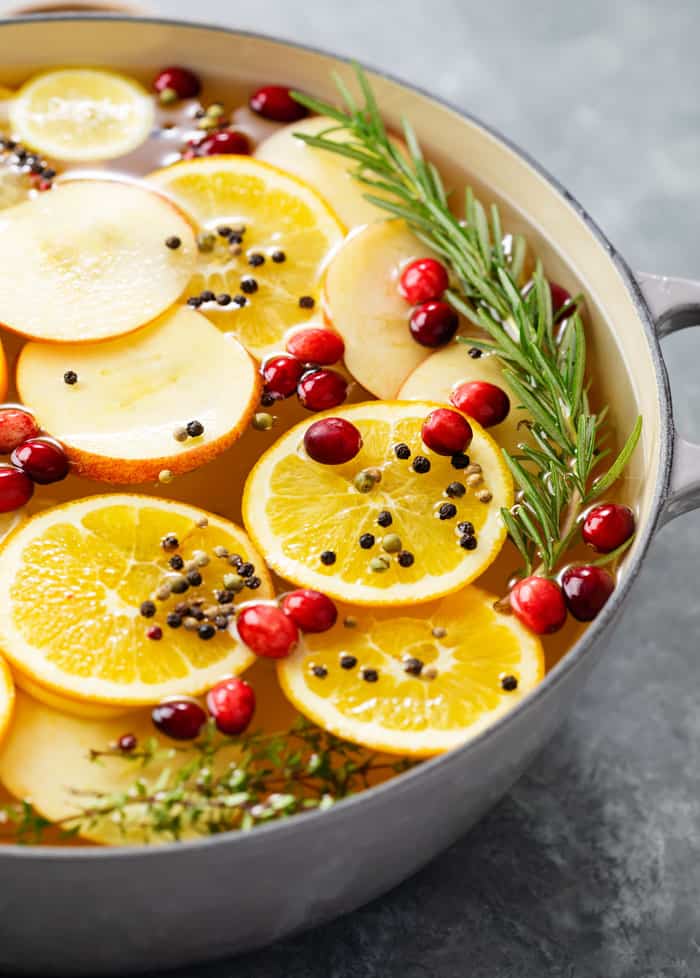 Wet Brine Turkey
If you are looking for a simple way to infuse your turkey with the best flavors for Thanksgiving and Christmas, look no further than this easy wet brine turkey recipe!
My favorite part about this recipe is that it is extremely forgiving. It's easy and fun to get creative or simply use what you have on hand to make this wet brine. 
Below you'll find the ingredients that I like to use, but feel free to mix it up with your own combination of fruits, herbs, spices, and sugars! (And please share in the comments what you like to use!)
For more information on what a brine is, why you brine a turkey, information on dry brining, etc, check out my post on how to brine a turkey.
Ingredients

Kosher Salt
Apple Juice or Apple Cider 
Brown Sugar
Peppercorns
Rosemary
Bay Leaf, Rosemary, Thyme
Lemon, Orange, and Apple Slices
Fresh Cranberries
Garlic
How Long Should You Wet Brine Turkey
18-24 hours prior to roasting
Larger turkeys should be brined on the longer side of the scale.
Do You Rinse Brine Off Turkey Before Cooking?
Wet Brined Turkey should be rinsed under cool water and patted completely dry prior to roasting.
Can You Brine Frozen Turkey?
Although it's more effective to brine a thawed turkey, a partially frozen turkey can be brined as well.
Do You Brine a Turkey That Was Injected With a Salt Solution?
Yes, but I recommend that you cut the amount of salt in half and that you try to find a turkey with the lowest percentage of salt solution, they are not all the same. (see examples of labels below)
A fresh turkey will likely have the least amount or no salt solution added.
How to Know if Your Turkey Has Already Been Salted.
It will say right on the package, (usually the front), if it has been injected with a percentage of salt solution.
Kosher turkey has salted added to it, so avoid that if you plan on brining.
When in doubt, check the label to see if salt is listed as an ingredient.
Another con of a salt solution is that it adds weight to the turkey, which means you'll be paying more for it.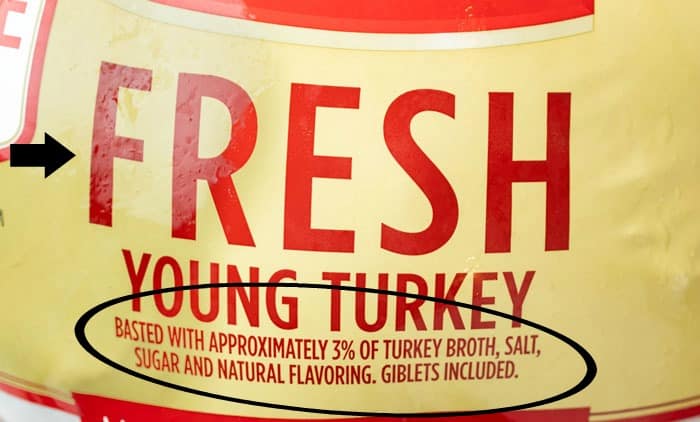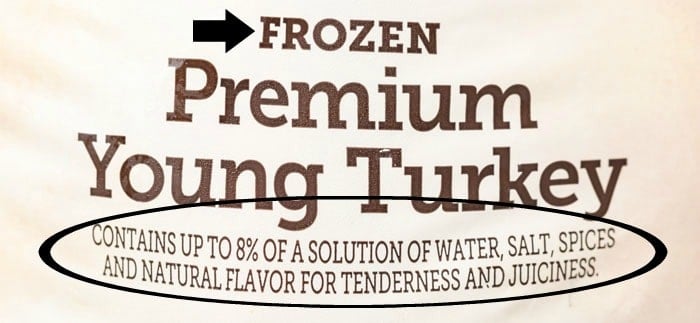 Best Kosher Salt for Brining
I recommend using Diamond Kosher salt. (A link to the product is included at the bottom of this post.) It's less potent than Morton Coarse Kosher Salt and will ensure your turkey isn't overly salty. (Morton is better for seasoning boiling water for potatoes, pasta, etc.)
Using Table Salt
If you only have table salt as an option, use about half as much as you would kosher.
Can You Make Gravy With Brined Turkey Drippings?
You can absolutely make gravy with drippings from a brined turkey, those drippings are gold! I do recommend however that you taste your turkey drippings prior to making the gravy as it may be too salty, in which case you should cut it with unsalted broth. (Link below.) It's easy to add salt to gravy, but it's very difficult to take it away without diluting it so much that it is no longer thick.
Check out my easy turkey gravy recipe here!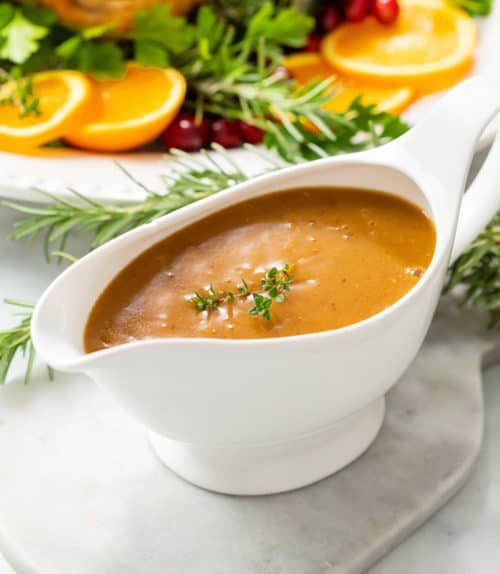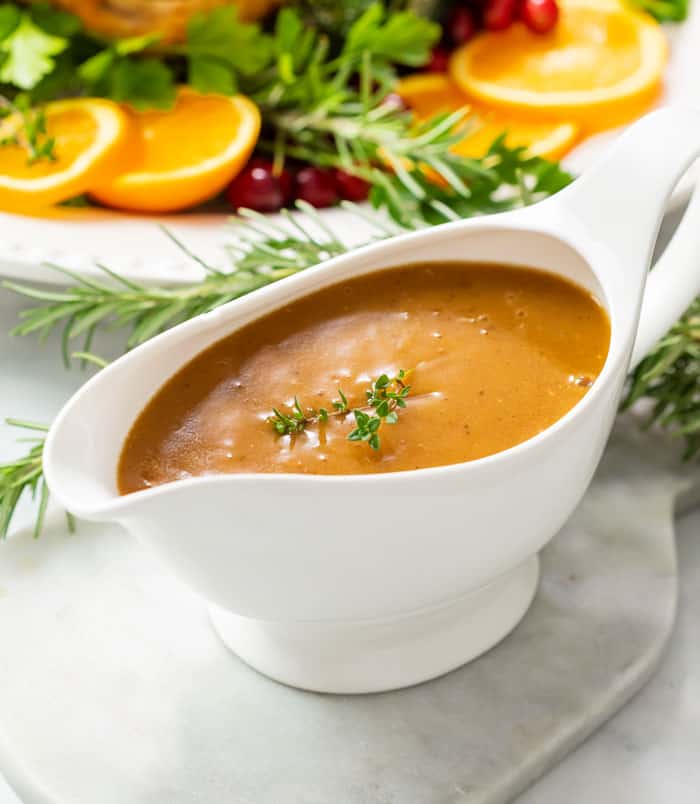 Pro Tips for Wet Brining:
The most difficult part about wet brining is finding a container large enough to hold the turkey and the liquid. Brining bags makes the process so much easier, as does a 5 pound bucket. (Both linked below.) Just make sure you clear our space in your fridge and you'll be good to go!
Another tip from the Kitchn is to place a brining bag in your refrigerator drawer (salad crisper) and brine the turkey in there.
Some people use a cooler, but you'll need to ensure you keep it around 40°. Ice can help with this, but make sure you're not adding more than 2 gallons of water total to prevent watering down the brine solution.
To speed up the cooling process after boiling the brine, reduce the amount of water that you add and replace it with ice cubes at the end.
For more information about how to brining turkey, including the differences between using a wet brine and a dry brine, check out this post on how to brine a turkey.
Tools to Help With Wet Brining

(Amazon affiliate links)- Check out all of my kitchen essentials here.
More For Your Holiday Table
Meow Gallery: The layout none is not available in this version.
Wet Brine Turkey
Learn how to wet brine a turkey with this easy recipe that adds so much flavor! Use it for a whole turkey, turkey breast, or even a frozen turkey. Check out my tools and tips to make this process simple for the holidays!
Ingredients
2 gallons water
1 ½ cups Kosher salt, see notes*
2 oranges
1 lemon
1 apple, I prefer honeycrisp
2 sprigs fresh Rosemary
2 sprigs fresh thyme
1 bay leaf
2 cups Apple Juice , or Apple Cider
1 cup Brown Sugar
3 Tablespoons Peppercorn
6 cloves garlic, smashed
2 cups fresh cranberries
Instructions
Combine all of the ingredients in a large pot over medium-high heat and stir to allow the sugar and salt to dissolve. Bring to a gentle boil, increasing the heat if needed.

Cover and allow it to cool completely. (See notes for my tip to help speed up the cooling process)

Pour the solution into a brining bag and add the turkey. Refrigerate for 18-24 hours.

Remove the turkey when ready to roast and carefully rinse under cool water to remove excess salt from the outside.
Notes
Pro Tip: Decrease a few cups of water and replace with ice cubes to quicken the cooling process.
---
I recommend Diamond kosher salt vs. Morton kosher salt as Morton is stronger and you don't want your turkey to be too salty.
---
This recipe works for chicken, turkey breast, and frozen turkey. In addition to roasting, it can be slow cooked, smoked, or fried after brining.
Nutrition
Calories: 1510kcal, Carbohydrates: 388g, Protein: 10g, Fat: 3g, Saturated Fat: 1g, Sodium: 170237mg, Potassium: 2252mg, Fiber: 32g, Sugar: 316g, Vitamin A: 1067IU, Vitamin C: 245mg, Calcium: 880mg, Iron: 9mg