Learn how to make a Christmas charcuterie board for the holidays using your favorite cheeses, crackers, and more!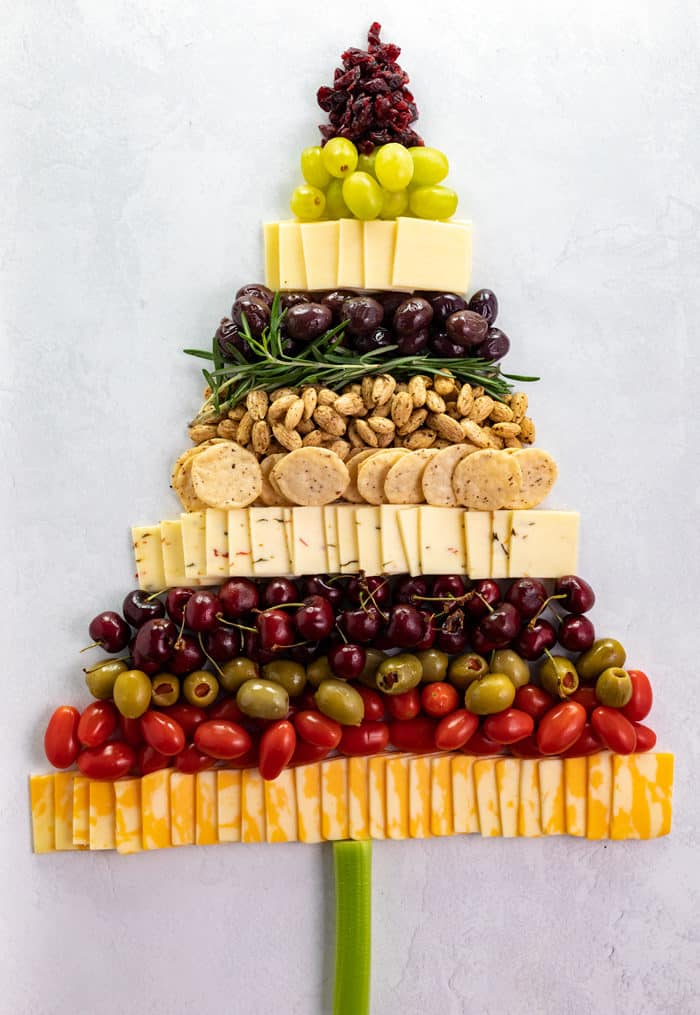 I absolutely love constructing this festive Christmas Tree Snack Board when guests come over for the holidays. It's basically a valid excuse to play with your food. There are a few must-have ingredients when I make this, but for the most part, it's a very forgiving thing to put together and you can really use whatever you've got on hand.
The first thing I always like to add are Blue Diamond Gourmet Almonds. I picked up the Garlic, Herb and Olive Oil variety as well as the Pink Himalayan Salt variety. They bring a decadence to this snack board that my friends find to be pretty irresistible, and yet they're such easy ingredients to toss in.
From there, it's kind of a free-for-all. Walmart has absolutely everything I need so this is where it gets fun. I love grabbing a few varieties of olives, and then I just bounce around the produce section. I love using celery for the stem, adding cherries and cherry tomatoes for some festive colors, a bit of rosemary for a green offset, and whatever else looks good at the time!
Ingredient Ideas for Holiday Boards
Click here for other holiday board ideas and visuals! Choose the holiday board that you like best and watch quick and easy watch step-by-step videos on how to put them together.
Or, simply use this post as a resource on how to build. There is no right or wrong way to put this snack board together. Just have fun with it- trust me, you'll surprise yourself. It'll look great.
Charcuterie Boards to Use
I used a large white cutting board for my surface, this Extra Large Bamboo Cutting Board would work well too.
Try These Next!
Follow Me!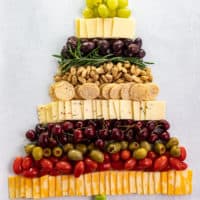 Christmas Tree Snack Board
From decadent almonds, to savory olives, a variety of cheeses, and crunchy rice crackers, this Christmas Tree Snack Board has it all! Guests will love snacking from this festive board and it's so fun to put together!

Ingredients
10 oz. Blue Diamond Gourmet Garlic, Herb and Olive Oil Almonds
4.25 oz. Blue Diamond Almond Nut-Thins
21 oz. Sliced cheese (I used Colby, sharp cheddar, and cheddar jack)
1 pint cherry tomatoes
1 pint Assorted olives, I used ½ green, ½ Kalamata
1 pound fresh cherries
3 sprigs rosemary
1 celery stalk
½ cup green grapes
¼ cup dried cranberries
Instructions
Create a horizontal line 15 inches long with one of the three cheese varieties (I chose Colby).

Stack the following ingredients on top of this first line, making each subsequent line just a touch shorter than the one before it: cherry tomatoes, green olives, cherries, cheddar jack cheese, Blue Diamond Almond Nut-Thins, Blue Diamond Gourmet Almonds, fresh rosemary, Kalamata olives, sharp cheddar, green grapes, and dried cranberries.

Serve with snack-sized serving plates and toothpicks!
Nutrition
Calories: 576kcal, Carbohydrates: 31g, Protein: 23g, Fat: 42g, Saturated Fat: 14g, Cholesterol: 62mg, Sodium: 1234mg, Potassium: 523mg, Fiber: 6g, Sugar: 12g, Vitamin A: 1050IU, Vitamin C: 14.4mg, Calcium: 543mg, Iron: 2.8mg