This Buffalo Chicken Pasta Recipe is made in ONE Pot with shredded chicken that's tossed in blue cheese dressing and combined with penne and a creamy buffalo sauce. This is a perfect way to use up rotisserie or leftover chicken!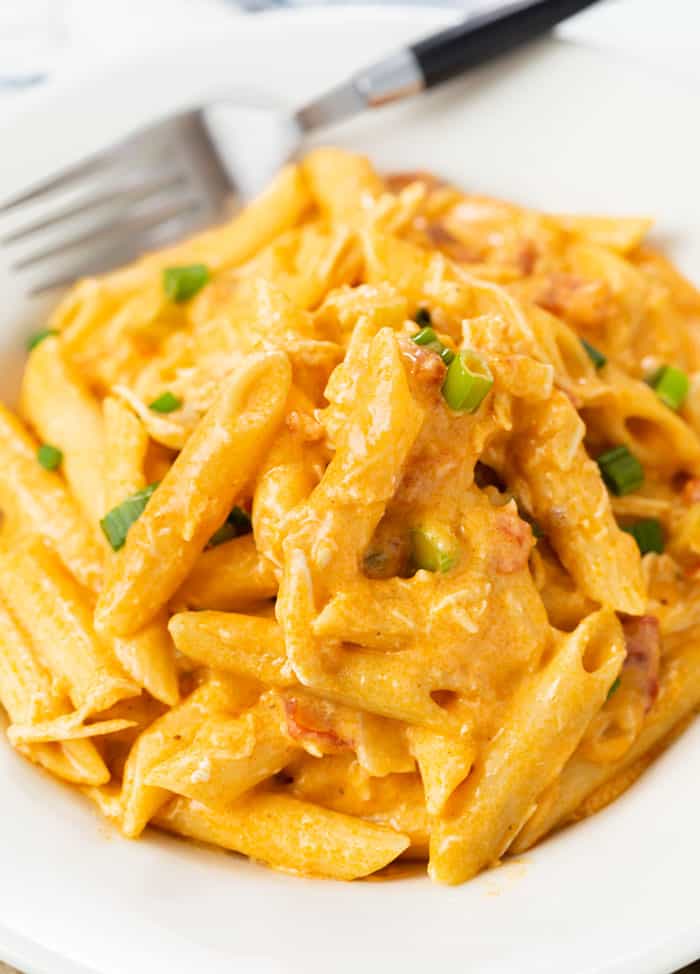 Buffalo Chicken Pasta
This One Pot wonder is perfect for buffalo chicken and pasta lovers. The sauce is so flavorful, you can't miss my secret trick at the end that makes all the difference. It's a technique that the chefs use to create a smooth, velvety finish to the sauce.
Feel free to add in your favorite vegetables to this Buffalo Chicken Pasta. Diced or frozen carrots work well and we've already got some finely diced celery in the mix.
As far as ingredients go, I'll share my absolute favorite brands for the buffalo sauce and blue cheese dressing. (Not sponsored, they will just forever be my my go-to's.) Let's get to it!
Ingredients

See recipe card at bottom of post for ingredient quantities and full instructions

Shredded Chicken– Feel free to shred up leftover chicken or use Rotisserie
Blue Cheese Dressing– Marie's Chunky Blue Cheese is my favorite, it's in the refrigerated section near the produce
Salt/Pepper- Not necessary if using rotisserie chicken
COLD Butter- I use salted, but you can use unsalted if preferred
Garlic- I recommend mincing fresh cloves at home for best flavor.
Onions
Celery
Diced Tomatoes– undrained
Chicken Broth
Water
Penne– or any other kind you have on hand, cooking time may need to be adjusted. Farfalle/Bow Tie Pasa makes a good substitute.
Buffalo Sauce– I use Frank's Redhot Buffalo Wing Sauce
Cream Cheese- Softened
Cheddar- Shredded from a block at home for creamiest results.
Mozzarella-  Low moisture shredded from a block at home will melt the best.
Red Pepper Flakes- Optional
Green Onions- to Garnish
How to Make it
Boil chicken for 15 minutes, drain, and shred. Season with salt/pepper and toss with Blue Cheese dressing. Set aside.
Sauté butter, garlic, celery and onions for 5 minutes.
Add chicken broth, water, and un-drained diced tomatoes.
Bring to a boil, add the penne and cook until al dente.
Add the buffalo sauce, cream cheese, cheddar, mozzarella. and red pepper flakes. Stir to combine.
Add the shredded chicken, stir to combine.
Note: The sauce will continue to thicken upon standing and the penne will continue to absorb more.
KEY LAST STEP: Remove sauce from heat.  Add 2 Tablespoons COLD butter and swirl to combine into the sauce. This is a technique that chefs use called "monter au beurre", which creates a smooth finish when added to warm sauces. It also helps to thicken it.
Garnish with green onions and serve!
PRO Tips for Buffalo Chicken Pasta
Using 3/4 lb. pasta will give you lots of extra sauce, (which I love). It will take a little longer to thicken up but this is preferable if you plan on having leftovers, as the pasta will absorb more sauce in the fridge.
Make sure the cream cheese is fully softened when you add it to the pasta.
Shred the cheese and set aside before you begin for creamiest results.
Storage
Store leftovers in an airtight container and refrigerate for 3-4 days. You can also freeze for up to 3 months.
PRO Tips for Reheating:
For best results, reheat in a double boiler with the lid on. The consistency, texture, and flavor is much better than microwaving. (Here's how to make your own double boiler.)
Frozen pasta should be thawed overnight in the fridge before reheating.
Try These Next
Get My Free Meal Plan
I've got a Free Meal Plan with 7 of my super popular recipes (complete with grocery list)! Sign up for my email list and I'll send it over now along with weekly dinner recipes!
And follow me on Facebook, Instagram, and Pinterest!
Buffalo Chicken Pasta
This Buffalo Chicken Pasta is smothered in a Creamy Buffalo Sauce with shredded chicken and blue cheese dressing and made in just ONE Pot in 30 minutes.
Ingredients
2.5 cups shredded chicken, see instructions for cooking your own.
½ cup blue cheese dressing
Salt/Pepper
4 Tablespoons cold butter, separated
3 cloves garlic, minced
½ cup onions
1 stalk celery, finely diced
1 14.5 oz. can diced tomatoes, *not* drained
2 ½ cups chicken broth
1 ½ cups water
1 lb. penne
1/2 cup buffalo sauce
8 oz. cream cheese, softened and cubed
1 cup cheddar, shredded
1 cup mozzarella, shredded
½ teaspoon red pepper flakes, optional
Green onions, to garnish
Instructions
PRO Tip: Set your cheddar, mozzarella, and cream cheese out ahead of time, we want them near room temperature when we add them to the pasta.
Boil/Shred the Chicken:
Place chicken in a pot of water and bring to a boil. Cook for 15 minutes, remove from heat and drain. PRO Tip: Add chicken bouillon to the water to add more flavor to the chicken.

Use two forks to shred. Lightly season with salt and pepper. Toss with blue cheese dressing and set aside.
Prepare the Pasta:
Heat 2 Tablespoons of butter in a large high-walled skillet over medium heat. Add the garlic, onions, and celery. Cook for 5 minutes, until softened.

Add the diced tomatoes, chicken broth, and water. Bring to a boil, add the pasta, and stir to combine.

Cover and let it boil for 10-13 minutes, or until al dente. Refer to box for guidance on cooking time. Don't cook any more than al dente as we will be keeping it over low heat until the sauce is thickened.

Reduce heat to low. Add the buffalo sauce, cubed cream cheese, shredded cheese, and red pepper flakes. Use a silicone spatula to gently stir. The sauce will seem thin at first, but it continues to thicken as it stands, and will thicken further at the next step. Add the shredded chicken,

Once sauce is near desired consistency, swirl in remaining 2 Tablespoons COLD butter. Don't skip this step. This is a technique that chefs use called "monter au beurre", which creates a smooth finish when added to warm sauces.

Garnish with green onions and serve.
Notes
Butter: I use salted butter for this recipe but you may also choose to use unsalted.
---
If using rotisserie chicken, no need to season it with salt/pepper.
---
For saucier pasta: use ¾ pound of pasta. It will take longer to thicken up but this is a good idea if you plan to have leftovers as the penne will continue to absorb the sauce overnight.
Nutrition
Calories: 1126kcal, Carbohydrates: 96g, Protein: 57g, Fat: 57g, Saturated Fat: 31g, Cholesterol: 210mg, Sodium: 2608mg, Potassium: 929mg, Fiber: 5g, Sugar: 10g, Vitamin A: 1814IU, Vitamin C: 22mg, Calcium: 518mg, Iron: 5mg