This healthy and hearty zucchini soup recipe is the BEST way to use up fresh garden zucchini! The broth is perfectly seasoned with herbs, spices, and potatoes that are blended in to thicken it with no need for additional cream or cheese. (But feel free to add some for extra indulgence!)
Be sure to try my Roasted Butternut Squash Soup and Eggplant Rollatini next!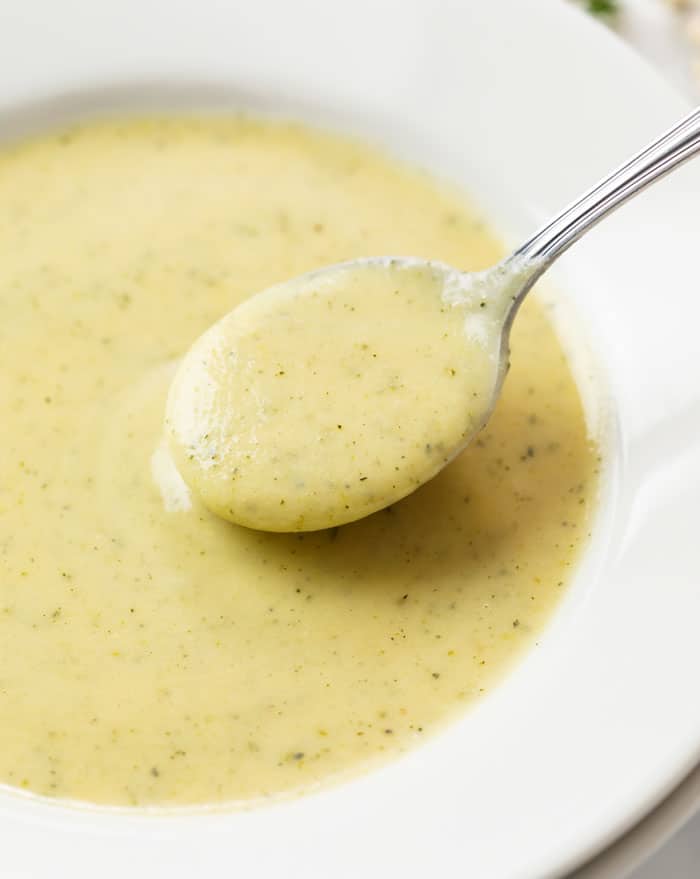 This is the first recipe in history, in all of my 7 years of blogging, that I emailed straight to my mom and best friend to make before it was even up on the blog. When I say that this is the best zucchini soup recipe, I am not kidding.
(It definitely made the cut for The Cozy Cookbook!)
The best part is that there is no need to add any cream to it if you want to keep things lighter. It tastes perfectly good without it! (Of course, me being The Cozy Cook and all, added just a little bit.)
The cheese options are endless, I went with a sharp orange cheddar. White cheddar, Parmesan cheese, or even Gouda cheese would be excellent additions to this soup.
How to Make it
Cook diced onion and garlic in melted butter until softened. Add zucchini and seasonings, saute for 5 minutes.
Add chicken broth, soy sauce, and diced potatoes.
Bring to a boil and reduce to a simmer, cook for 20 minutes, until vegetables are very soft.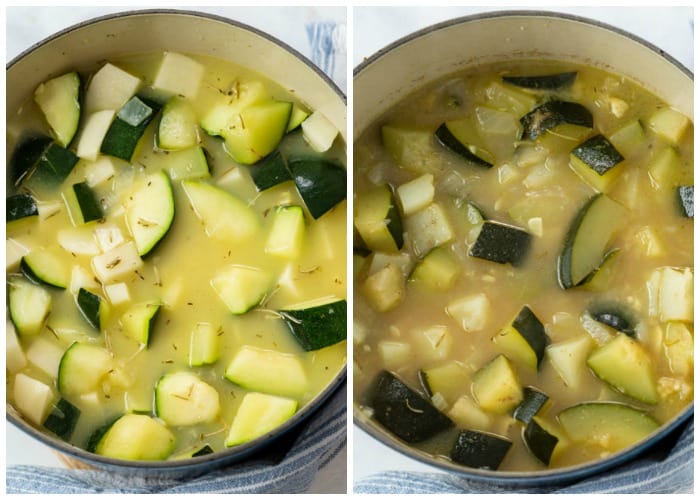 Use an immersion blender (you can buy one on Amazon here) or blender to blend until smooth. Serve, or add cream or half and half if desired.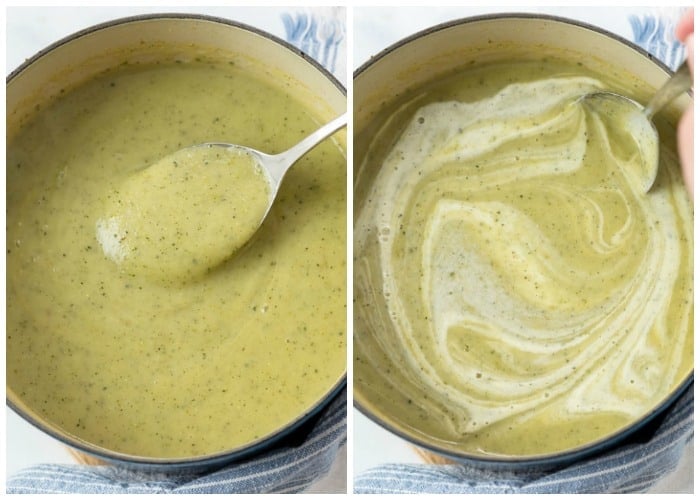 Shredded cheese may also be added. Options include Cheddar, Parmesan, and Gouda. Stir until combined and smooth. Serve!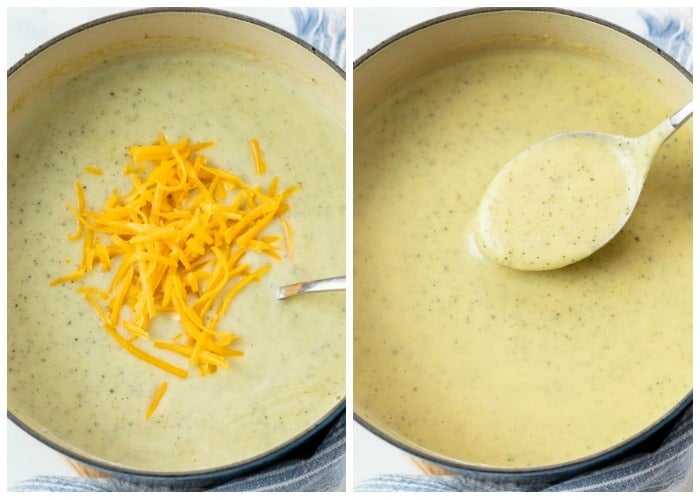 Do You Peel Zucchini for Soup
If you are working with a very large zucchini, you may choose to peel it first as sometimes the skins can become tough and bitter if they're overly large. Otherwise, no need to peel.
The ideal size for a zucchini is about 6 inches, this is when it's at it's most ripe.
How Do You Thicken Zucchini Soup
This zucchini soup recipe doesn't require a roux or slurry in order to thicken it. Instead, potatoes are added to the soup and are blended into the broth until smooth and creamy. This makes the broth nice and thick without the need to add anything extra.
PRO TIP: I love the convenience of using my immersion blender to blend this soup, (you can get one on Amazon here), however others have had success using a potato masher as well! It will have a little more texture, but some prefer it that way.
Storage
Store in an airtight container and refrigerate for up to 3 days or in the freeze for up to 3 months. This soup freezes/reheats super well!
Health Benefits of Zucchini
As reported by Healthline, zucchini is rich in nutrients, high in antioxidants, aids in digestion, can improve heart health and reduce blood sugar levels and more. So feel good about eating this soup!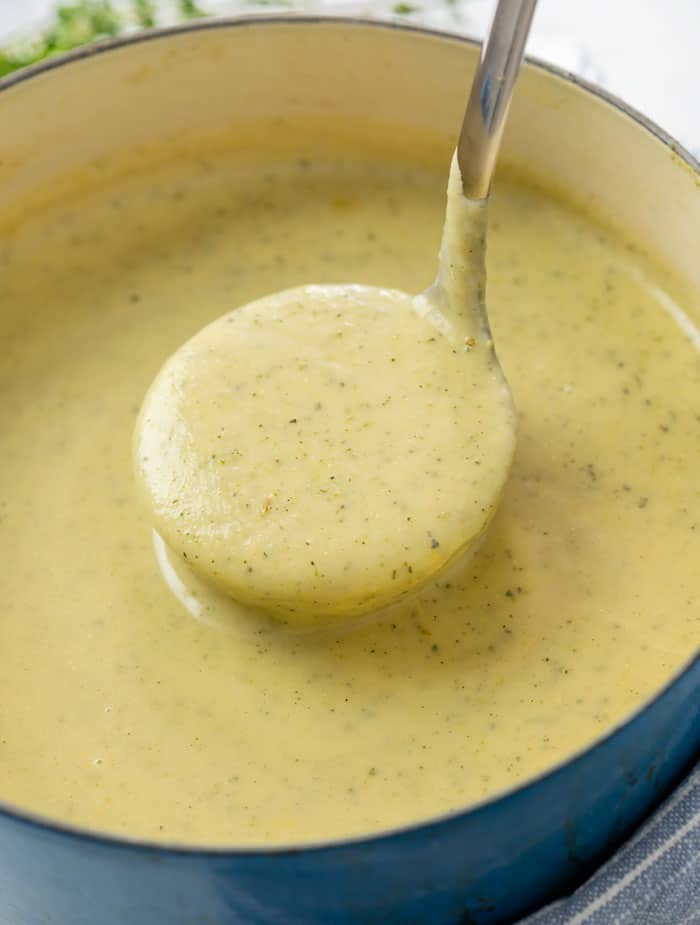 Try These Next
Get My Free Meal Plan
I've got a Free Meal Plan with 7 of my super popular recipes (complete with grocery list)! Sign up for my email list and I'll send it over now along with weekly dinner recipes!
And follow me on Facebook, Instagram, and Pinterest!
Tried This Recipe?
Leave a review, I love hearing your feedback! ⭐⭐⭐⭐⭐
Zucchini Soup
This creamy zucchini soup is the BEST way to use up garden zucchini with no need for a roux to make it nice and thick! Simply blend seasoned zucchini with potatoes to create a thick and flavorful broth. Add a touch of cream and your choice of cheese if desired for even more indulgence!
Ingredients
2 Tablespoons butter
1 small yellow onion, diced
2 cloves garlic, minced
¼ teaspoon dried rosemary
¼ teaspoon dried thyme
¼ teaspoon celery salt
¼ teaspoon black pepper
¼ teaspoon kosher salt
1 pinch cayenne, optional
5 cups zucchini, cut into chunks
3 cups chicken broth
1 Tablespoon soy sauce, (or Worcestershire sauce)
2 Russet potatoes, equal to 1 pound
1/2 cup Half and Half, or heavy cream
1 cup Cheddar Cheese
Instructions
Note: There is no need to peel the zucchini for this soup unless yours is jumbo sized, in which case it's possible that the skins are tough and slightly bitter.

Shred the cheese from a block for best results. Set aside to allow to come down to room temperature. This will allow it to melt and combine into the soup smoothly.

Melt butter in a soup pot over medium heat. Add onions, cook until softened, about 5 minutes. Add garlic and cook 1 more minute.

Add diced zucchini and seasonings: (1/4 tsp each of: dried rosemary, thyme, celery salt, kosher salt, pepper, and an optional pinch of cayenne.) Sauté for 5 minutes.

Peel and rinse the potatoes. Cut them into small pieces of equal size so that they cook evenly and quickly.

Add diced potatoes, chicken broth, and soy sauce. Bring to a boil, then reduce heat to medium. Skim up any brown foam from the top if needed.

Let simmer, partially covered, until the vegetables are very fork tender. About 20 minutes.

Remove from heat. Use an immersion blender or transfer to a blender in batches to blend until smooth.
Optional:
Transfer back to the heat on low. Stir in the half and half.

Slowly sprinkle in the cheese and stir to combine. Remove from heat and serve!
Notes
Pro Tips:
The dairy is optional, this soup tastes great without it. If adding cheese, feel free to experiment with different varieties such as Sharp White Cheddar, Parmesan, Gouda, or a combination of different cheeses.
The addition of soy sauce adds umami and enhances the other flavors in the soup, you won't be able to taste it, but it's a great cooking tool.
You can get an immersion blender on Amazon, it makes it easy to blend soups and sauces right in the pot without having to transfer it elsewhere and blend in batches.
Need more ways to use Zucchini? Try my Zucchini Crust Pizza, Zucchini Parmesan, and Minestrone Soup!
This recipe is in The Cozy Cookbook on page 67!
---
Storage
Store in an airtight container and refrigerate for up to 3 days or in the freeze for up to 3 months. This soup freezes/reheats super well! 
---
Nutritional information:
Nutritional information is an estimate and is per serving. There are 6 servings in this recipe. Cheese/Dairy are included in the calculation.
Nutrition
Calories: 226kcal, Carbohydrates: 20g, Protein: 9g, Fat: 13g, Saturated Fat: 8g, Cholesterol: 37mg, Sodium: 963mg, Potassium: 738mg, Fiber: 2g, Sugar: 4g, Vitamin A: 583IU, Vitamin C: 33mg, Calcium: 196mg, Iron: 2mg