Asiago Bisque
Asiago cheese + warm bisque = a happy, happy me. (Plus, there's bacon on top. Sweet MAMA!) I think I'm allowed to have a little extra bisque today. Because it just so happens that…
I'm eating for two!
WOOO! This is a food bloggers DREAM! Pass the bread… let's do this!
….that's right 😀  We are expecting a little baby girl on April 30th- our first baby, so exciting!
What kind of recipes do you think this will bring? Homemade ice cream garnished with some pickles!? (mmm… sounds pretty good actually…) Well either way, my appetite has been better than ever so I think we're gonna have some fun. If you're not yet on my recipe emailing list, I think this might be a good time to join….
Have you, or someone you know had any crazy pregnancy cravings?! The other week I wanted pancakes so bad that I would have given up my right arm…. pretty serious stuff. Other than that, nothing too crazy, (yet)… this bisque really hit the spot though.
While we're at it, you should probably also follow me on Facebook, Twitter, Pinterest, & Instagram! – I'm always sharing different kinds of shhhhtuff.  😛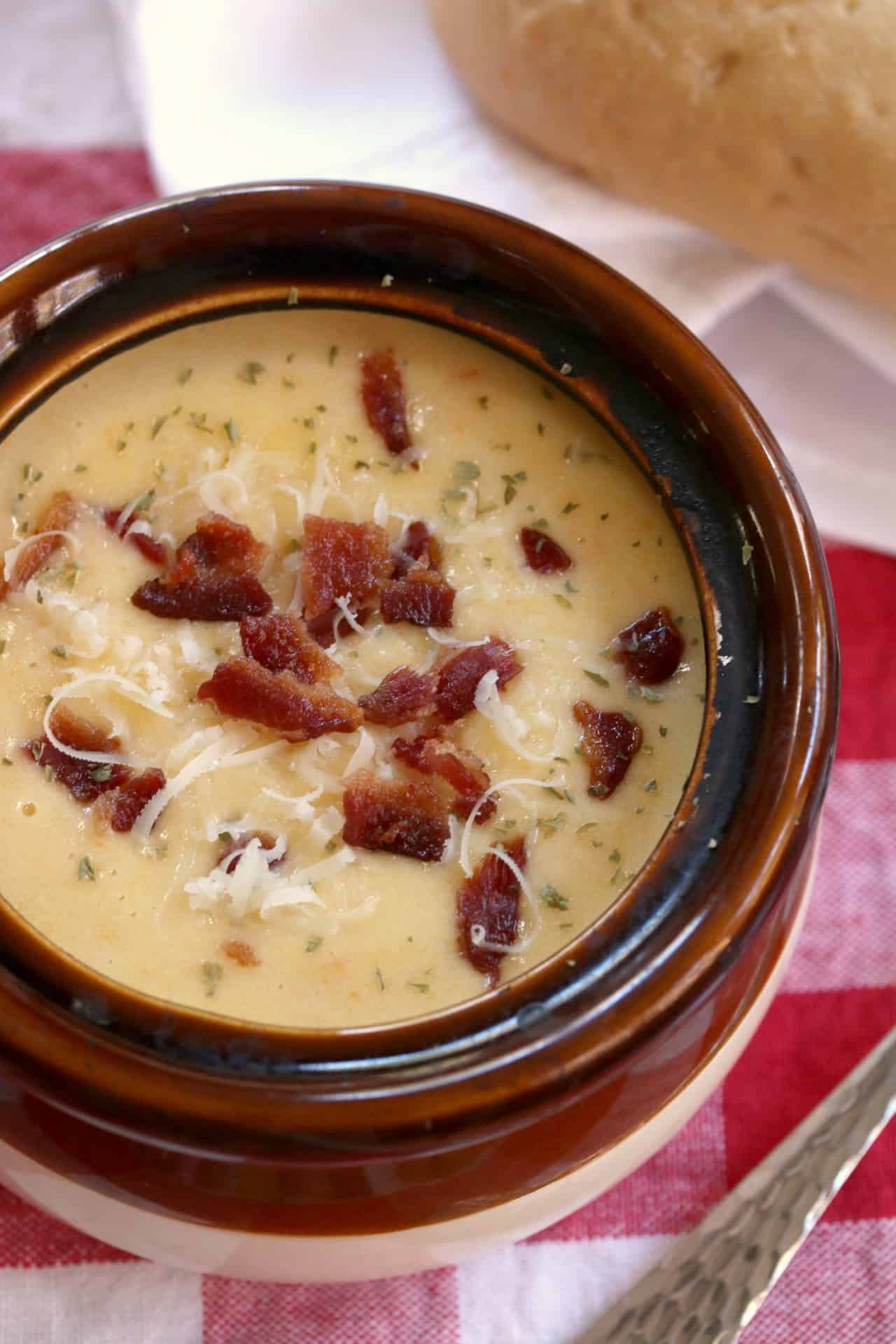 Asiago Bisque
This thick & creamy Asiago bisque is topped with crunchy bacon and a touch of parsley. It's a simple, yet savory, must-try recipe!
Ingredients:
3 Tablespoons butter
1 cup diced yellow onion
3/4 cup diced carrots
3/4 cup diced celery
1.5 cups peeled & cubed potatoes
1/2 cup white wine (Pinot Grigio is a good one)
1 cup chicken broth
1 cup half and half, at room temperature
1 cup shredded Asiago cheese
4 slices cooked bacon, chopped
Directions:
Add butter, onions, carrots, and celery to a medium saucepan and heat on medium until vegetables are tender.
Mix in the potatoes, then add the wine and chicken broth. Cook, covered, for 35 minutes or until potatoes or tender.
Slowly pour in the half and half and heat for another 5 minutes. *My half and half didn't dissolve perfectly into the soup mixture, but once you blend it, it's all good!
Remove the soup from heat and mix in the Asiago cheese.
Blend the soup until creamy or until slightly textured, depending on your preference. I used my Immersion Blender and blended it until it was completely creamy! (De-lish!)
Spoon into serving bowls and garnish with crumbled bacon, parsley, and maybe even a sprinkle of cheese 😉
*This post may contain affiliate links