Creamy Tomato Spinach Pasta
This creamy tomato spinach pasta is an easy Italian dinner idea that your family will love! Pair it with chicken, sausage, shrimp, or enjoy it meatless! Cream cheese is the secret to this deliciously creamy sauce.
Try my Eggplant Parmesan recipe next! And don't forget a side of CHEESY Homemade Garlic Bread!
Creamy Tomato Spinach Pasta
Guys, this is a recipe you can make for others and be darn proud of it. I've been making it for years.
I promise you, once you try this recipe, you'll definitely want to make it again.
You can make this with any kind of pasta you want. Spaghetti and Penne are my two favorite choices.
Let's talk about the ingredients, how to store leftovers, and PRO tips for making tomato spinach pasta.
Ingredients

Olive Oil
Yellow Onion
Garlic- Mince it yourself at home for best results. This garlic twister makes it easy.
Canned diced tomatoes
Dried Oregano
Dried Basil
Red Pepper Flakes
Tomato Paste
Cream Cheese
Fresh Spinach (can sub frozen)
Parmesan Cheese
Your favorite Pasta

Ingredients you can add:

Sausage
Chicken
Shrimp
Ground Beef
Mushrooms
A dash of red wine
Sun Dried Tomatoes
PRO Tips For This Recipe: 
Make sure the cream cheese is fully softened in order for it to melt smoothly into the sauce.
For picky eaters who don't like spinach: Cut the spinach into very small pieces pass it off as herbs/spices!
Storing Leftovers
Refrigerator- Store in an airtight container for up to 3 days.
Freezer- For best results, freeze the sauce separately and boiling fresh pasta when ready to serve. Otherwise, the pasta and sauce can be frozen together. Best if eaten within 3 months.
Don't forget a side of CHEESY Homemade Garlic Bread!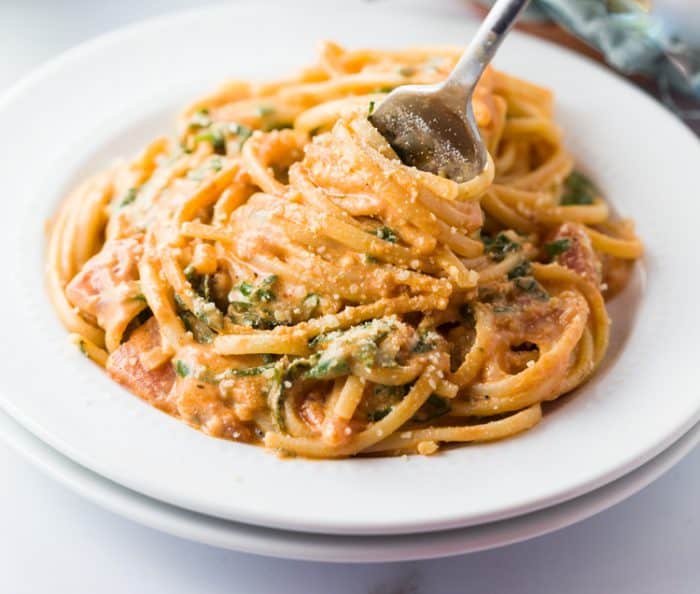 Try My Most Popular Recipes Next!
Get My Free Meal Plan
I've got a Free Meal Plan with 7 of my super popular recipes (complete with grocery list)! Sign up for my email list and I'll send it over now along with weekly dinner recipes!
And follow me on Facebook, Instagram, and Pinterest!
Creamy Tomato Spinach Pasta
This thick and creamy tomato spinach sauce is easy to make and pairs perfectly with linguini or your favorite pasta. An easy weekday meal that the family will love.
Ingredients
1 Tablespoon olive oil
½ cup yellow onions, finely diced
1 tablespoon garlic, minced
14.5 oz. diced tomatoes, undrained, 1 can
½ teaspoon dried oregano
½ teaspoon dried basil
1 Pinch red pepper flakes, optional
1 cup chicken broth
2 Tablespoons tomato paste
2 oz. cream cheese, softened., equal to 1/4 cup.
3/4 cup fresh spinach, frozen may also be used, see notes
½ cup grated Parmesan cheese
8 oz. spaghetti or penne
Instructions
Heat the oil in a large pan over medium-high heat. Add the onions and garlic and cook until soft and translucent, about 5 minutes.

Add the diced tomatoes, (with juices), along with the oregano, basil, red pepper flakes, chicken broth, and tomato paste. Let it simmer for about 5 minutes.

Reduce the heat to low. Cut the cream cheese into smaller squares and whisk it into the sauce.

Whisk in half of the Parmesan cheese.

Let the sauce simmer, uncovered, on low while you prepare the pasta according to package instructions. Keep an eye on the sauce, stir it occasionally, and cover it if it reaches your desired level of thickness.

Once the pasta is done, drain it and stir it into the sauce along with the spinach.

Turn off the heat once the pasta and sauce are well-combined and the spinach has wilted.

Top with remaining Parmesan cheese and serve!
Notes
Frozen spinach may also be used, be sure to thaw it and squeeze out excess liquid first.
Nutrition
Calories: 453kcal, Carbohydrates: 57g, Protein: 17g, Fat: 18g, Saturated Fat: 8g, Cholesterol: 42mg, Sodium: 723mg, Potassium: 797mg, Fiber: 5g, Sugar: 9g, Vitamin A: 3490IU, Vitamin C: 25.4mg, Calcium: 263mg, Iron: 3.6mg