Creamy Tomato Spinach Pasta
This thick and creamy tomato spinach sauce is easy to make and pairs perfectly with linguini or your favorite pasta. An easy weekday meal that the family will love.
Try my Eggplant Parmesan recipe next! And don't forget a side of CHEESY Homemade Garlic Bread!
A big thanks to Hannaford for sponsoring this post! All opinions are my own.
You know what's rough? Coming back from vacation.
You know what I just did? Came back from vacation.
A week of having gourmet meals prepared for me every day, not having to lift a finger, and finally feeling the warm sun, (which doesn't exist in New Hampshire at the moment). *Sigh*
It's times like this, that I turn to meals like creamy tomato spinach pasta, also known as heaven on a plate because it gets my family to eat spinach and love every minute of it. And thankfully it barely requires any effort to make, which is perfect, because I have no effort to give at the moment. In fact, I even ordered my groceries from Hannaford online and picked them up. How did anyone survive before drive-up grocery pickup?! (My fellow New Englanders, you have this option near you too! Same with you NY!)
So anyhoo, I recently found out that Hannaford has started a My Hannaford Rewards program, which can only mean good things for me since I am obsessed with Hannaford store-brand products. Not just because of their low prices, but they truly have the best produce, meats, seafood, deli items, and staple ingredients that I always need in my recipes. This rewards program allows shoppers to earn 2% back on the food they buy most often. Um, win, because I'm already buying their stuff anyway.
I signed up online (in like, 2 minutes), but you can also do it in the store or through the Hannaford app, which I actually love because I can track my rewards here and easily redeem personalized coupons. Is that not the best? I love saving money, and always picture what I can buy with the money I save on stuff (I usually picture myself getting a free bowl of soup from my favorite restaurant. Is that weird? I'm soup obsessed.) Anyway, each quarter when you're ready, redeem your rewards, and then you can just scan your phone or enter your phone number at checkout to have money come off your bill! Super easy.
Finally, even if you haven't registered for My Hannaford Rewards, you still get the same low prices that everyone else does. I'm not a fan of stores that don't let you get the lowest prices unless you're a member of something.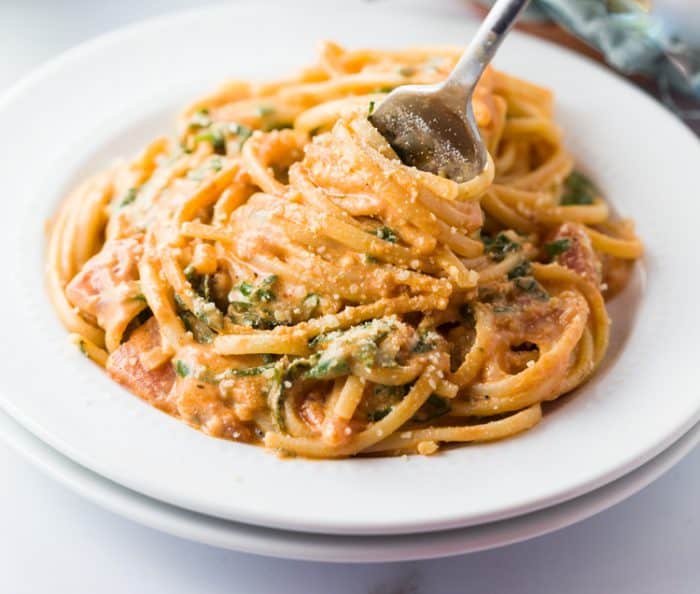 So I recently asked you guys what kinds of recipes you wanted to see more of this year. I heard two things: meatless recipes and meat-filled recipes (bound to happen). And while this one is meatless, (and can be made into a vegetarian meal by subbing vegetable broth instead of chicken broth), it's also really easy to add meat to it. Hannaford brand fresh chicken breasts can be diced up and seared on a pan in some olive oil first. Then, simply set the chicken to the side, leave the chicken remnants in the pan, and make the sauce from there. It adds even more flavor to the sauce and gives the meal some added protein. You could do the same with seared shrimp, (I fully intend on doing that next time. Hannaford has the best seafood).
And there you have it. I know for sure that once you try this, it'll be in the regular meal rotation for you and your family. Now if you'll excuse me, I must go watch my tan disappear.
Oh look at that, it's gone.
If you like recipes like this, then you'll definitely want to join my email list and Facebook group 😉
Check out my other recipes!
Creamy Tomato Spinach Pasta
This thick and creamy tomato spinach sauce is easy to make and pairs perfectly with linguini or your favorite pasta. An easy weekday meal that the family will love.
Ingredients
1 Tablespoon olive oil
½ cup yellow onions finely diced
1 tablespoon garlic minced
14.5 oz. diced tomatoes, undrained 1 can
½ teaspoon dried oregano
½ teaspoon dried basil
1 Pinch red pepper flakes optional
1 cup chicken broth
2 Tablespoons tomato paste
4 oz. cream cheese softened.
4 oz. fresh spinach* half a bag
½ cup grated Parmesan cheese
8 oz. linguini
Instructions
Heat the oil in a large pan over medium-high heat. Add the onions and garlic and cook until soft and translucent, about 5 minutes.

Add the diced tomatoes, (with juices), along with the oregano, basil, red pepper flakes, chicken broth, and tomato paste. Let it simmer for about 5 minutes.

Reduce the heat to low. Cut the cream cheese into smaller squares and whisk it into the sauce.

Whisk in half of the Parmesan cheese.

Let the sauce simmer, uncovered, on low while you prepare the pasta according to package instructions. Keep an eye on the sauce, stir it occasionally, and cover it if it reaches your desired level of thickness.

Once the pasta is done, drain it and stir it into the sauce along with the spinach.

Turn off the heat once the pasta and sauce are well-combined and the spinach has wilted.

Top with remaining Parmesan cheese and serve!
Nutrition Information
Calories:
453
, Fat:
18g
, Saturated Fat:
8g
, Cholesterol:
42mg
, Sodium:
723mg
, Potassium:
797mg
, Carbohydrates:
57g
, Fiber:
5g
, Sugar:
9g
, Protein:
17g
, Vitamin A:
3490%
, Vitamin C:
25.4%
, Calcium:
263%
, Iron:
3.6%
Course: Main Course
Cuisine: Italian
Keyword: spinach pasta, Tomato Spinach Pasta Recipe