Anchovies? -Just a little bit. Mayo? Not a chance. This classic Caesar Dressing recipe tastes like it's from a Gourmet restaurant. Use it in salads, pastas, marinades, and more!
Be sure to use this in my One Pot Chicken Caesar Pasta and my Chicken Caesar Pasta Salad recipes!
Homemade Caesar Dressing
My favorite part about this Homemade Caesar Dressing recipe is that it has no mayo.
I'm always leery about ordering Caesar salads at a restaurant if I haven't tried the dressing before. Sometimes I swear they give me a ramekin of straight mayo. Which is why I love making this recipe from scratch.
There are tons of ways to use Caesar Salad dressing too. Read on!
Ingredients
High-quality Olive Oil- see below for my recommendations
Romano Cheese- shredded from a block at home
White Vinegar
Egg Yolk
Lemon Juice
Salt
Black Pepper
Garlic- Fresh garlic, not the jarred stuff.
1 Anchovy Filet
Don't be afraid of the anchovy filet. You can't even tell it's in there, except that really adds a nice depth of flavor.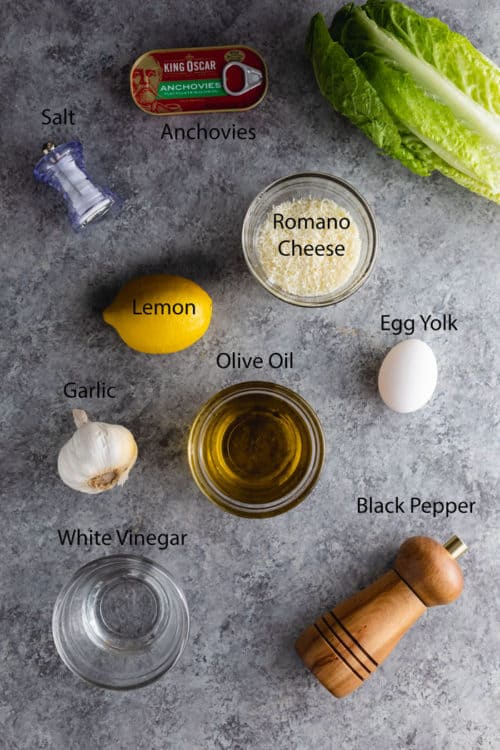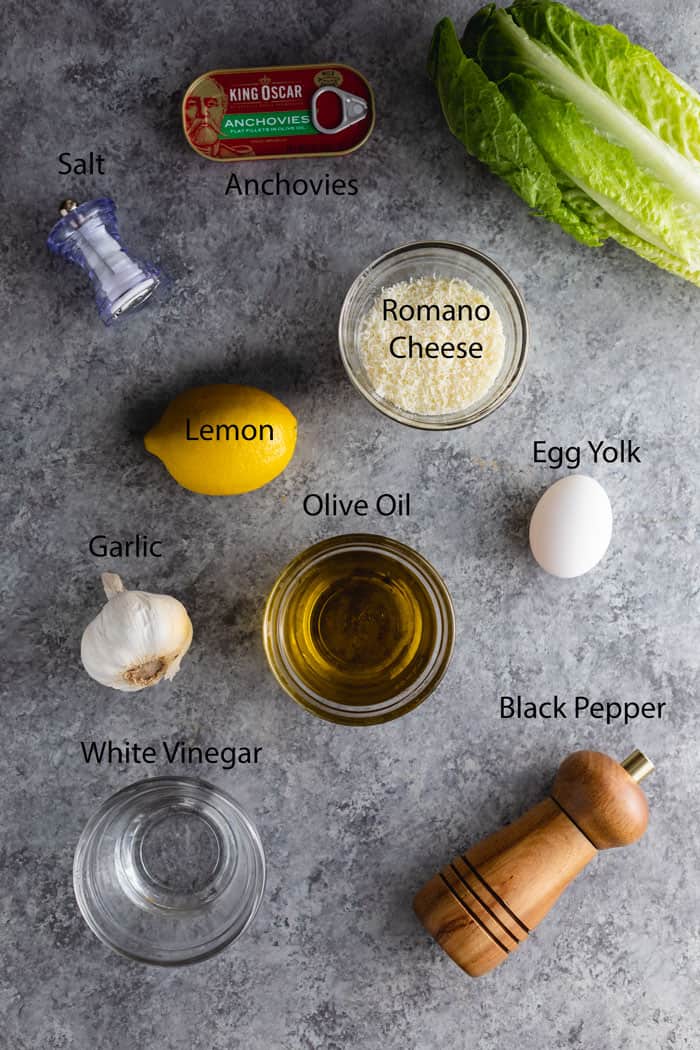 What Do You Eat Caesar Dressing With?
Aside from putting Caesar Dressing on Salad, it also tastes great in:
Chicken Caesar Pasta (a delicious one pot meal.)
Cold Pasta Salads
It makes a great chicken marinade
Put it on a warm burger or on chicken wings before baking
Use it as a binder for tuna or chicken salad instead of mayo
Check out a complete list of options from TheKitchn.
Best Olive Oil for Salad Dressing
-Make sure you use high quality extra virgin olive oil when making this recipe. You'll have a high-quality salad dressing that will remain in liquid form when refrigerated. (Cheap olive oil can actually solidify in the fridge.)
–Lucini olive oil is a high-quality brand that I like to use.
-For more information about picking the highest quality olive oil that you can, check these guys out.
Raw Egg Yolks in Salad Dressing
The USDA considers it safe to consume raw egg yolks from pasteurized eggs as there is a low risk of an egg being contaminated. Of course, the decision is always up to you.
This article contains more information about raw egg yolk consumption.
Storage
Homemade Caesar Dressing should be stored in an airtight container for up to one week.
These mason jars make perfect storage containers. (This is the jar featured in these recipe images.)
Serve with Homemade Croutons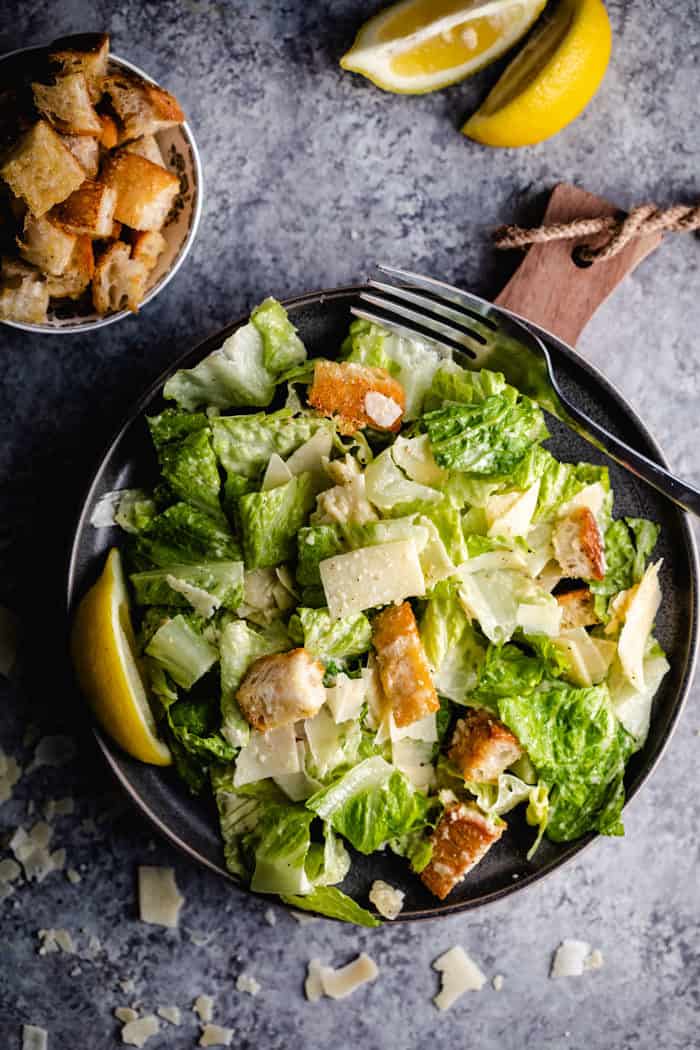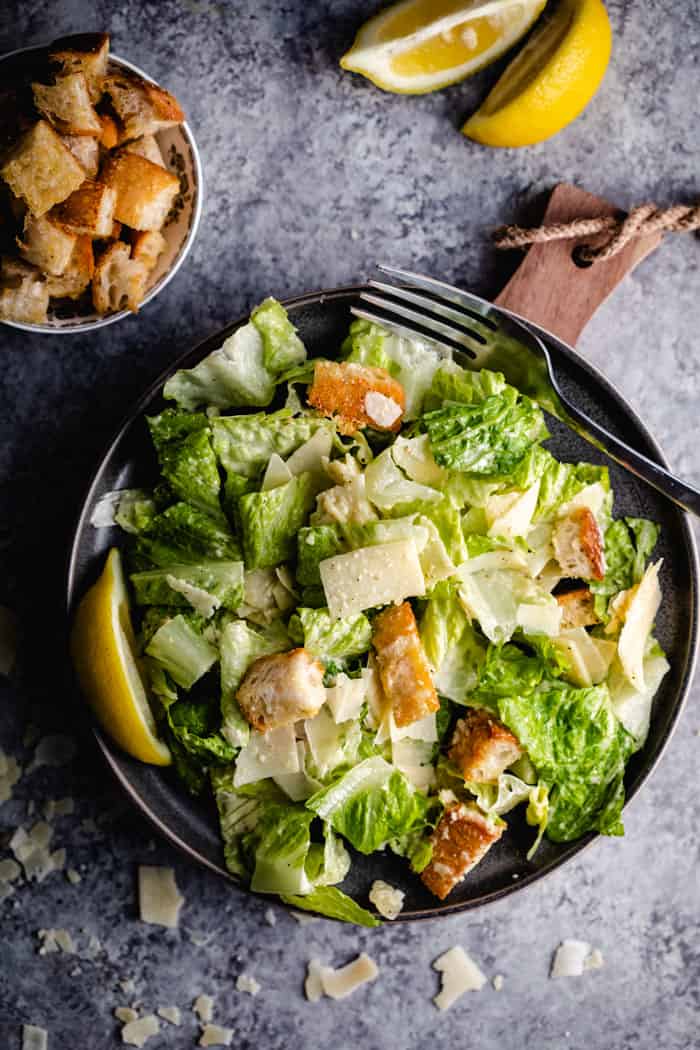 Tools For This Recipe
(Amazon affiliate links)- Check out all of my kitchen essentials here.
Food Processor: If you don't have a mini food processor, I really love this one.
Box Cheese Grater: This box cheese grater is super sharp and has every size of grate that you need. Buying blocks of cheese and grating it at home will always yield a better result.
Garlic Peeler: This garlic peeler will remove the super thin skin from a garlic clove in a second.
Try These Next
Meow Gallery: The layout none is not available in this version.
Get My Free Meal Plan
I've got a Free Meal Plan with 7 of my super popular recipes (complete with grocery list)! Sign up for my email list and I'll send it over now along with weekly dinner recipes!
And follow me on Facebook, Instagram, and Pinterest!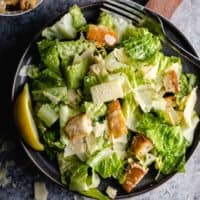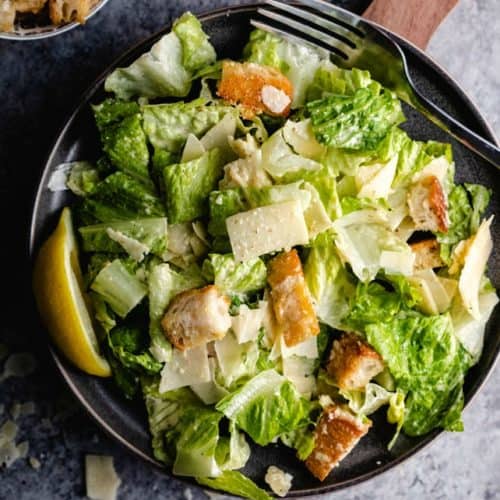 Homemade Caesar Dressing
Make restaurant-style Chicken Caesar Salad at home with this homemade dressing recipe! It comes together in 10 minutes and is great in pasta and marinade recipes too!

Ingredients
½ cup high-quality olive oil, see notes
1/3 cup Romano Cheese, finely shredded
1 Tablespoon white vinegar
1 egg yolk
1 teaspoon lemon juice
1 dash salt
¼ teaspoon black pepper
2 small cloves garlic
1 whole anchovy filet,, or 1/2 tsp anchovy paste
Instructions
In a medium bowl, whisk together all ingredients except for the garlic cloves and anchovy filet. Whisk for a good 60 seconds, until well combined.

Add the combined mixture to a food processor along with the garlic cloves and anchovy filet. Blend until completely smooth.

Refrigerate for a minimum of one hour prior to serving, it will thicken upon standing.

Store the dressing in an airtight container in the refrigerator for up to a week
Notes
You may consider using 1/4 cup regular olive oil with 1/4 cup light olive oil.
---
If the salad dressing is thicker than you'd prefer, add one teaspoon of water and stir well to combine. Repeat until you've attained your desired consistency. (Just tread lightly and add small amounts at a time.)
These mason jars make perfect storage containers for homemade dressing.
---
Nutritional information is per tablespoon, this recipe makes about 14 tablespoons.
Nutrition
Calories: 83kcal, Carbohydrates: 0.3g, Protein: 1g, Fat: 9g, Saturated Fat: 2g, Polyunsaturated Fat: 1g, Monounsaturated Fat: 6g, Cholesterol: 17mg, Sodium: 37mg, Potassium: 7mg, Fiber: 0.02g, Sugar: 0.04g, Vitamin A: 29IU, Vitamin C: 0.3mg, Calcium: 29mg, Iron: 0.1mg