This Tuscan Tortellini Salad Recipe is so easy to make and customize with your favorite Italian ingredients! It's easy to make ahead and can be served cold or warm!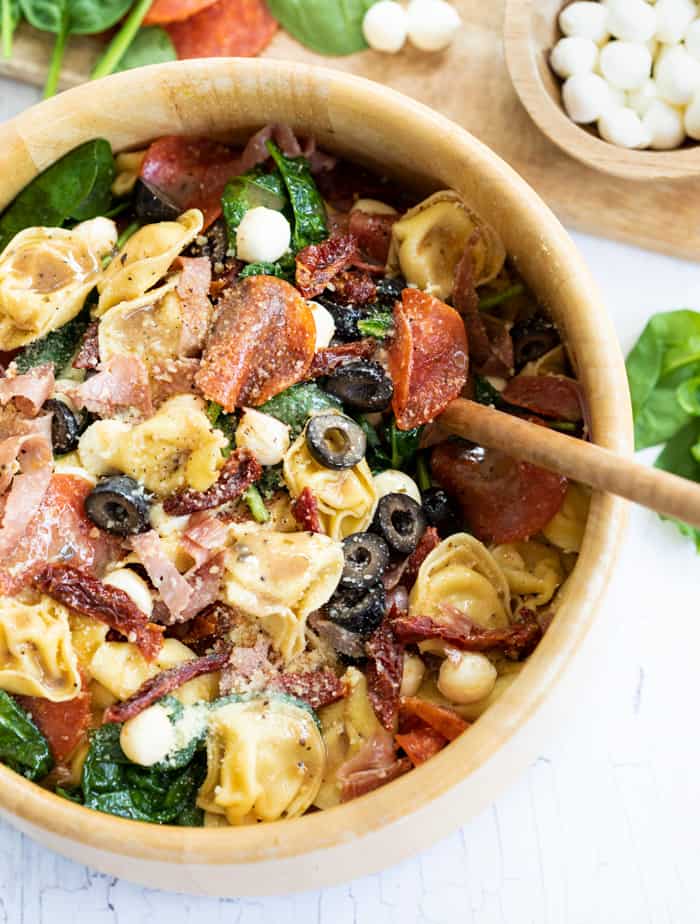 This Tuscan Tortellini salad encompasses everything I love about Italian food. My ultimate favorite part about this dish is that you can serve it warm or chilled. How convenient is that?
Not to mention, it's totally forgiving as far as which ingredients you decide to use. I first made this recipe in 2016 but have since tweaked it based on my favorite flavors from Tuscany. (Not that I've actually been there, but a girl can dream.)
Be sure to browse through all of my pasta salad recipes!
Ingredients

Tortellini- I prefer mine to be cheese-filled. You can use refrigerated or frozen tortellini.
Fresh Spinach
Salami
Pepperoni
Black Olives
Mozzarella Pearls
Sundried Tomatoes
Balsamic Salad Dressing
Parmesan Cheese
Make-Ahead Method
-Being able to make pasta salad ahead of time is part of its charm! Although for the best consistency, I would recommend making this no more than one day in advance.
-Since the tortellini tends to absorb a lot of the salad dressing while it chills, I also recommend that you drizzle a little bit of extra dressing prior to serving it if the salad seems a touch on the dry side.
I'd mix it around a little bit to let the oil from the sun-dried tomatoes re-disburse throughout the salad before you serve it.
Other Pasta Options
The best kind of noodles for pasta salads are the ones with a lot of nooks and crannies so that the dressing can be totally locked in to every bite.
Farfalle, Fusilli, and bowtie pasta are all great choices.
Dressing Options
I have to admit, the salad dressing section at the grocery store can be a little bit daunting. There are so many options. Balsamic, Balsamic with Rosemary… I even saw one that was labeled straight-up "Tuscany".
Homemade Italian Salad Dressing is also great in this salad!
Try These Next!
Follow Me!
I've got a Free Meal Plan with 7 of my super popular recipes (complete with grocery list)! Sign up for my email list and I'll send it over now along with weekly dinner recipes!
And follow me on Facebook, Instagram, and Pinterest!
Tuscan Tortellini Salad
This tortellini salad is loaded with classic flavors of Tuscany, including mozzarella, pepperoni, salami, olives, sun-dried tomatoes, and more. Better yet, it can be served warm or chilled!
Ingredients
20 oz. tortellini
1 cup fresh spinach
3 oz. salami, sliced
1 cup pepperoni
¾ black olives, sliced.
1 cup mozzarella pearls
½ cup oil-packed sundried tomatoes, sliced
½ cup Balsamic salad dressing, of choice
¼ cup Parmesan cheese, grated.
Instructions
Cook tortellini according to package instructions, adding an extra minute doesn't hurt. (I cooked my refrigerated tortellini for 5 minutes as opposed to 4.) Drain and pour into a large bowl.


Immediately add the balsamic dressing to the warm pasta and use a silicone spatula to gently mix until well-combined.


Add all remaining ingredients, mix until well-combined. Transfer to a clean bowl if desired. Serve immediately if serving warm.If serving chilled, refrigerate for 4+ hours. Before serving, you may choose to drizzle up to 1/4 cup additional salad dressing and toss before serving.

Notes
Giovanni Rana 5-Cheese Tortellini is my brand of choice. 
Nutrition
Calories: 407kcal, Carbohydrates: 35g, Protein: 20g, Fat: 20g, Saturated Fat: 6g, Cholesterol: 56mg, Sodium: 886mg, Potassium: 225mg, Fiber: 3g, Sugar: 4g, Vitamin A: 465IU, Vitamin C: 8.1mg, Calcium: 198mg, Iron: 2.6mg