Ramen Noodle General Tso's Chicken
Crispy chicken smothered in a thick and savory General Tso's Chicken sauce and tossed with Broccoli and Ramen Noodles!
Try my Chinese Chicken Fingers recipe next!
I woke up this morning with two cravings: General Tso's Chicken, and Ramen Noodles. OH- and I was also craving not having to go to the grocery store. And I mean, I really didn't want to go. So I sat in my nice warm bed around 5am thinking about it. I knew that I had chicken, duh, and I knew that I had Ramen Noodles. (Double duh.) But did I have broccoli? I really couldn't make General Tso's chicken and not add broccoli to it. I just had a personal issue with that. Was it worth getting out of bed to check? Was it worth risking waking my 6 month old baby to look for broccoli? If she heard me get up, she would surely get up…. 😬
Needless to stay, I stayed in bed but all I could think about was about that damn broccoli! Well this exhilarating story has a happy ending guys, because I did end up having broccoli. I might have done a happy dance about it. Later that day I evaluated my life and decided that I should probably get one.But I do just love when you want to make a new recipe and actually have all of the ingredients in the house already. I mean I even had green onions, dang!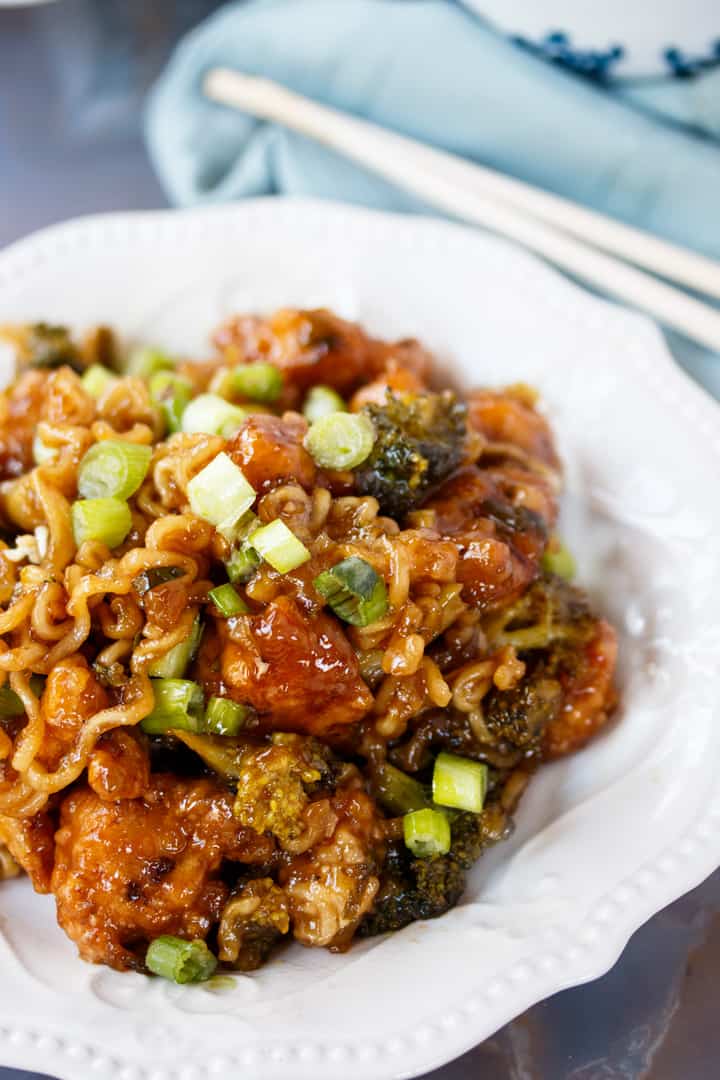 I love the thick, shiny sauce that this recipe has to offer. And when I say thick, I mean thick. Restaurant-style thick… yeaaahhhh buddy!
This recipe makes enough for 8 people, but you have a few options with that. I ended up making the full portion of sauce. I used half of it and saved the other half to freeze, and then halved the rest of the recipe so that I'd only make enough for 4 people this time around, (it's just me and the hubs, after all!)
Try these recipes next!
Follow me!
Okay, last thing. You should probably join my free recipe email list. You'll get a weekly email with my brand new recipes. And follow me on Facebook, Instagram, and Pinterest. 😊
Servings: 8
Ramen Noodle General Tso's Chicken
Course: Main Course
Cuisine: Chinese
Keyword: General Tso Chicken, recipes with ramen noodles
Crispy chicken smothered in a thick and savory General Tso's Chicken sauce and tossed with broccoli and Ramen Noodles!

Ingredients
3 Boneless Skinless Chicken Breast
1 cup chopped green onions diced
1 quart vegetable oil
2 Tablespoons Peanut oil Can sub vegetable oil
2 cups broccoli florets
3 oz. Ramen Noodles
Salt/Pepper to taste
Chicken Coating
1/4 cup soy sauce
1 egg beaten
1 cup cornstarch
Sauce
1/2 cup cornstarch
1/4 cup water
1.5 tsp garlic minced
3/4 cup sugar
1/2 cup soy sauce
1/4 cup white vinegar
1/4 cup white wine
14.5 oz. chicken broth
Instructions
First, combine the ingredients for the sauce, (easiest to do this in a *large* jar and shake!), but you can also use a bowl. Set the sauce aside for now.
Coat the chicken and Fry:
Cut the chicken into bite sized pieces and sprinkle with salt and pepper.

In a large bowl, mix the chicken coating ingredients together, they will form a very thick paste, with a rather weird texture. Fear not!

Drop the chicken pieces into the coating mixture and mix around so that each piece is well coated. Now, we fry them!

Heat the oil to about 365 degrees in a deep fryer and gently drop in each piece of chicken, cook until golden brown, and use a slotted spoon to remove the pieces. To make them extra crispy, place them on a wire rack (lined a pan on the bottom for the oil to drip on). You can also place them on plates lined with paper towels.
To fry the chicken on the stovetop
Fill a dutch oven or high walled skillet with enough oil to submerge the chicken, and heat the oil over medium-high heat (About 365 degrees, which you can test with a candy thermometer). You can also test the temperature by adding a single piece of battered chicken, and adjust the temperature accordingly depending on how that piece cooks.

Carefully add the chicken to the oil and fry until golden brown, and use a slotted spoon to transfer to a plate lined with paper towels to absorb excess oil.
Heat the Sauce & Finish the meal:
In a large sauté pan over medium high, heat 3 Tablespoons of peanut (or vegetable) oil and add the broccoli, cook for about 5 minutes to soften them up.

While the broccoli is cooking, cook the Ramen Noodles in 2 cups of boiling water for no longer than 1.5-2 minutes, then drain. (Don't use the flavor packet.)

Add the sauce mixture to the skillet along with the green onions, and bring it to a boil. It will thicken right up, make sure you stir it constantly.

Cook the sauce until it's reached your desired level of thickness (it gets very thick), then stir in the chicken, green onions, and ramen. Remove from heat, and serve!
Recipe Notes
8 Dried red chili peppers (seeds removed) are great in this dish as well, you'd add them as the same time as the green onions. For a tasty twist, try marinating the chicken pieces in pineapple juice for a few hours or overnight!
Nutrition Information
Calories:
478
, Fat:
23g
, Saturated Fat:
15g
, Cholesterol:
47mg
, Sodium:
1689mg
, Potassium:
382mg
, Carbohydrates:
51g
, Fiber:
1g
, Sugar:
20g
, Protein:
14g
, Vitamin A:
6.2%
, Vitamin C:
32.6%
, Calcium:
3.5%
, Iron:
9.8%
Recipe Adapted from: Food.com