One Pot Pizza Pasta
One pot is all you need for this mouth-watering Pizza Pasta! It's loaded with your favorite pizza toppings like ground beef, pepperoni, onions, peppers, and olives! The sky is the limit!
Don't forget a side of CHEESY Homemade Garlic Bread!
I'm always looking for those One Pot "hidden gems" that both my husband and my toddler will eat. This is definitely one of those meals. I first published it in 2016, and decided to dig it out of the archives and freshen it up a bit for ya.
You'll see the ingredients below are super basic and you probably already have most of these things in your house. I like the fact that you can top this pasta with any favorite pizza topping that you want.
You could even section it off so that everyone in the fam can enjoy their own favorites! (Hawaiian Pizza Pasta? Yes, I've tried it. It's amazing.)
Rolling the meat is totally optional, you can also just dump the ground beef in there and cook and crumble it up, it's certainly faster that way. But sometimes I like to spring for the neat little balls of meat. 😉
Once the meat is mostly browned, add the onions and cook those for about five minutes, then toss in the garlic and bell peppers. (I like to reserve some of the bell peppers for topping the pizza with.)

At that point it's time to add the sauce. Rao's marinara is my go-to brand, I can't live without it. (It's worth the extra couple of bucks…(and no, I'm not paid to say that). 😄
Then you toss in the pasta and chicken broth. I love using Rotini for this recipe but Rigatoni and Penne make good alternatives.
I always recommend homemade chicken broth if at all possible, it makes your cooking taste so much better!
Stir the pasta often as it simmers so that it doesn't stick to the bottom of the pan. Refer to the pasta package to see how long you need for it to cook for, you may need to add an additional minute or two since the pasta isn't at a rolling boil.
Wa-bam. It's done.
Of course the meal is delicious if you stop right here and now, but who wants to do that when there is cheese to be added? (And pizza toppings of course.)
From there you just bake it at 375 degrees until the top is all hot and melted. Then, prepare for your family to love you even more than they already do.

Storage:
Leftovers should be stored in an airtight container and are best if eaten within three days. 
More One Pot Favorites!
Follow Me!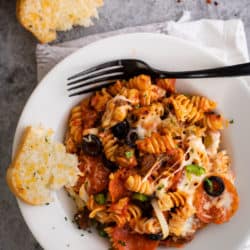 One Pot Pizza Pasta
One pot is all you need for this mouth-watering Pizza Pasta! It's loaded with your favorite pizza toppings like ground beef, pepperoni, onions, peppers, and olives! The sky is the limit!
Ingredients
1 Tablespoon vegetable oil
½ lb. ground beef
Salt/Pepper to taste
1 small onion diced
2 cloves garlic minced
½ green bell pepper diced
15 oz. marinara sauce about 2 cups
1 ½ cups chicken broth See Note #1
½ lb. Rotini pasta uncooked
¼ teaspoon red pepper flakes optional
1/3 cup pepperoni
¼ cup black olives thinly sliced
2 cups mozzarella cheese shredded
½ cup Parmesan cheese shredded (optional)
Fresh Parsley finely diced
Instructions
Preheat the oven to 375 degrees.

Heat the vegetable oil over medium-high heat in a large, oven-safe skillet.

Slice ¼ of the onion into strings and set them aside to top the pizza pasta. Finely dice the rest.

Roll the ground beef into small balls and season with desired amounts of salt and pepper. See Note #2

Place the meatballs in the preheated skillet, you should hear a sizzle. Brown all sides and then reduce the heat to medium.

Add the finely diced onions and cook until they're soft and translucent.

Add the minced garlic and half of the diced bell peppers and cook for an additional minute.

Use a spoon to remove some of the meatballs to top the pizza pasta with later. Set them aside.

Add the marinara sauce, Rotini, and chicken broth. Stir to combine.

Let the pasta gently bubble for the amount of time instructed on the package, use a

silicone spatula

to stir it often so it doesn't stick to the bottom. The texture should be just at the al dente point once finished.

Remove the pan from the heat. Top it with the Mozzarella and Parmesan cheese.

Top the pasta with the reserved onion strings, pepperoni, black olives, remaining bell peppers, and reserved meatballs.

Place in the oven, uncovered, for about 10 minutes, or until the cheese is hot and melted. You may choose to warm some garlic bread during this time as well.

Remove from the oven and sprinkle with parsley. Serve, and enjoy!
Recipe Notes
Note #1: Water may be used instead of chicken broth, but I prefer the flavor of using chicken broth. You may also want to consider using low sodium chicken broth.
Note #2: To save time, you can also cook and crumble the ground beef as opposed to rolling it into balls. Ground sausage may also be used instead of ground beef, or you can use a combination of the two.
Pasta Substitution Options: Rigatoni and Penne make good alternatives.
Don't forget the Garlic Bread!
Nutrition Information
Calories:
596
, Fat:
22g
, Saturated Fat:
9g
, Cholesterol:
68mg
, Sodium:
1842mg
, Potassium:
865mg
, Carbohydrates:
54g
, Fiber:
5g
, Sugar:
8g
, Protein:
44g
, Vitamin A:
955%
, Vitamin C:
28.1%
, Calcium:
746%
, Iron:
3.6%
Course: Main Course
Cuisine: American, Italian
Keyword: One Pot Pizza Pasta, Pizza Pasta