Taco Chicken Alfredo
Perfectly seared chicken smothered with taco seasoning and served over Alfredo pasta along with your favorite taco ingredients!
Honestly, I could season this chicken with anything and it would taste amazing over Alfredo pasta. Today, I chose taco seasoning due to the fact that tacos are delicious and I love black beans. Black beans and pasta might not be something you typically combine, but trust me, it's time to be adventurous. It's absolutely amazing. You might not even make regular Alfredo pasta ever again. 
The reason that I am so confident in this chicken is because I'm mastered the art of searing, which is pretty easy, but also pretty important. This isn't just a big ol' plumpy chicken breast sitting up there, with barely any color or texture. This is restaurant quality seared chicken that you can *easily* master at home. Once you do, it will totally take all of your chicken meals up a notch.
MY LATEST VIDEOS
What Does it Mean to Sear Chicken?
Searing chicken is the process of cooking it in a hot skillet until the surface area of the chicken develops a crispy browned crust.
-This makes the chicken more visually appealing as it adds greater depth of brown on the outside.
-It also creates a differentiation in texture between the softer inside of the chicken vs. the crisp outside.
-The brown flecks of cooked chicken left in the skillet adds excellent flavor to the rest of the dish when the same skillet is used.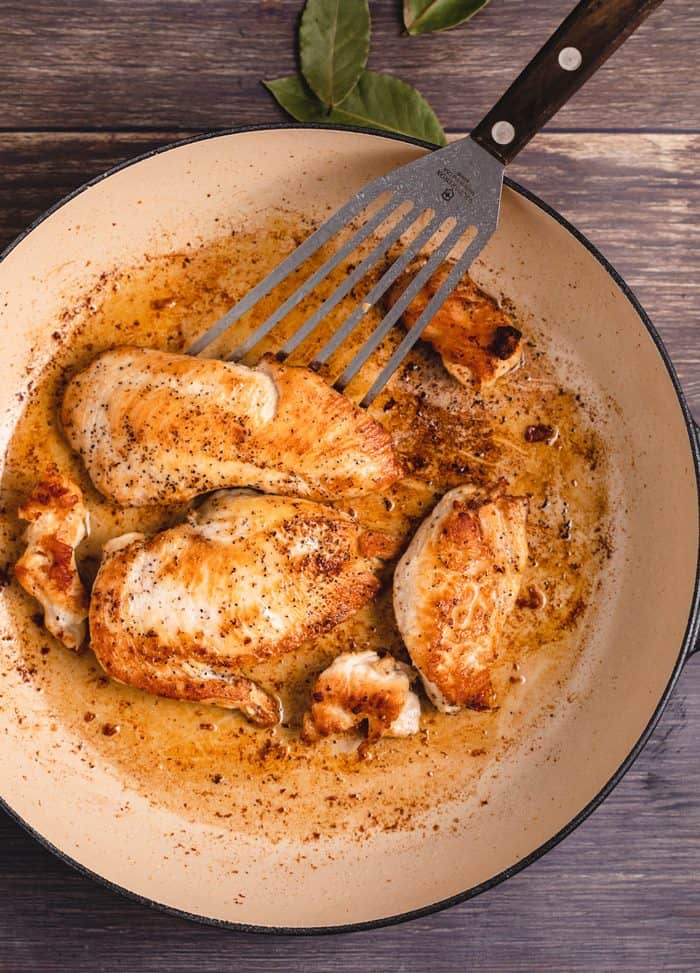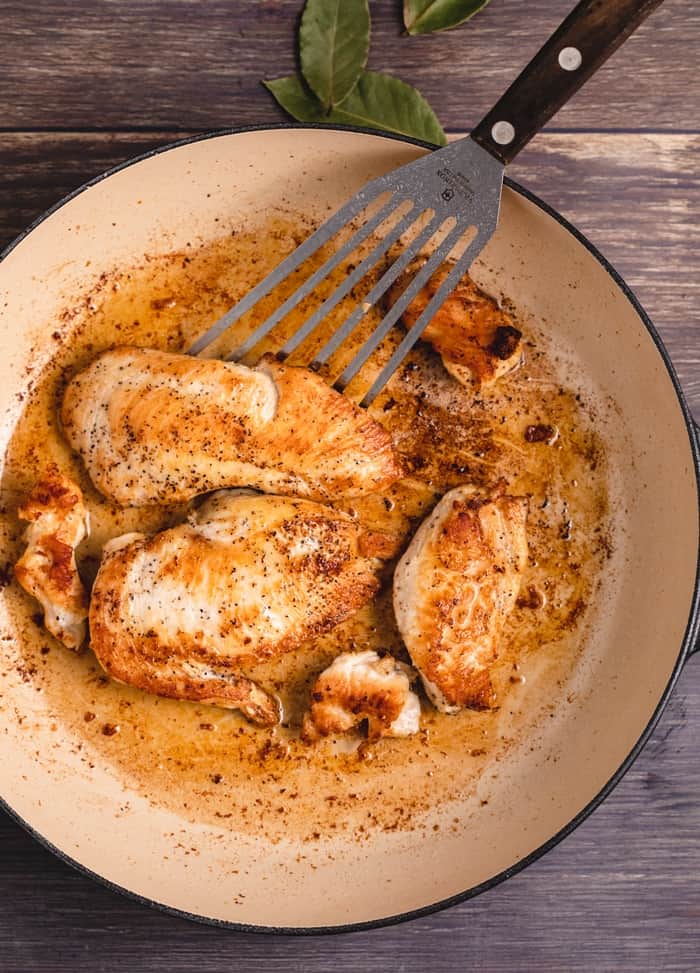 How to Make Perfectly Seared Chicken:
✔️Cast iron skillets conduct heat very well and are perfect to use when searing meat.
✔️Medium-high heat works well for searing, and it's important to use oil with a high smoke point such as vegetable, canola, or peanut oil to prevent the meat from burning.
✔️It's important to refrain from moving the meat around as it cooks. Allowing the meat to stay in the same place in the skillet ensures that the sear isn't disrupted. You'll notice that the chicken starts to release from the surface when it's ready. If it's sticking a lot to the pan, it's not done searing.
✔️Butterfly the chicken and cut the seam to create two thinner slices of equal size. This will allow them to cook evenly and prevent them from being too thick.
✔️Don't be afraid to season that meat and really get some flavor on there! Some of it will flavor the pan itself which will work it's way into the sauce that you'll cook in the same pan.
That's it, time to hit the streets. Or the kitchen, rather. And hey, add whatever taco additions that you like and share your ideas with me! Go crazy!
You should also try these!
Follow me!
You should join my free email list and be the first to know about my latest recipes! I sent out just one email a week so you won't get sick of me.  And while you're at it, I'd love for you to like my Facebook Page and follow me on Pinterest and Instagram too!
Servings: 4
Taco Chicken Alfredo
Course: Main Course
Cuisine: Italian, Mexican
Keyword: Chicken Alfredo
Perfectly seared chicken smothered with taco seasoning and served over Alfredo pasta along with your favorite taco ingredients!

Ingredients
10 ounces penne pasta
3 Tablespoons vegetable oil separated
1 boneless skinless chicken breast, large in size
2 Tablespoons taco seasoning
6 Tablespoons butter high quality
1 Tablespoon garlic minced
2 Tablespoons all-purpose flour
1 + 1/3 cups half and half
1 + 1/3 cups Parmesan cheese shredded
1 cup cherry tomatoes halved
1 cup black beans rinsed
2 Tablespoons fresh cilantro roughly chopped
Instructions
Prepare the penne according to package instructions. Drain, toss with 1 Tablespoon of vegetable oil to prevent the noodles from sticking together and set aside.

In a large

cast-iron skillet

, heat the remaining 2 tablespoons of vegetable oil on medium-high heat.

Butterfly the chicken

breast and cut the seam to create 2 thinner slices, each about an inch thick. Season the chicken generously with taco seasoning.

Carefully lower the chicken into the preheated skillet and leave it untouched for several minutes while it gets a nice, crisp sear. This takes about 5-7 minutes.

Once the chicken begins to release a bit from the bottom of the pan, it's ready to flip. Make sure it has a nice golden brown color prior to flipping. You may need to decrease the heat slightly while the other side sears.

Once done, remove the chicken from the pan and set aside. Leave the oil and chicken remnants in the pan as it will give the sauce added flavor.

Temper the half and half by warming it in the microwave for 30 seconds.

In the same pan over medium heat, melt the butter and use a spatula to release some of the browned bits from the bottom of the pan. Gradually add the flour to the melted butter, whisking continuously

Gradually add the half and half, whisking continuously. Once incorporated, gradually add the Parmesan cheese and continue to whisk until you have a nice thick sauce.

Use a

silicone spatula

to mix the pasta into the sauce. Add in the diced tomatoes and black beans.

Top the dish with the seared chicken, heat for a minute or two, top with cilantro, and serve!
Nutrition Information
Calories:
854
, Fat:
47g
, Saturated Fat:
31g
, Cholesterol:
115mg
, Sodium:
859mg
, Potassium:
631mg
, Carbohydrates:
73g
, Fiber:
6g
, Sugar:
3g
, Protein:
34g
, Vitamin A:
27.7%
, Vitamin C:
13%
, Calcium:
51.8%
, Iron:
15.4%