Parmesan Crusted Tortellini Bites
Cheese-filled tortellini that's surrounded by a crispy Parmesan crust, fried to golden perfection and dipped in warm marinara sauce.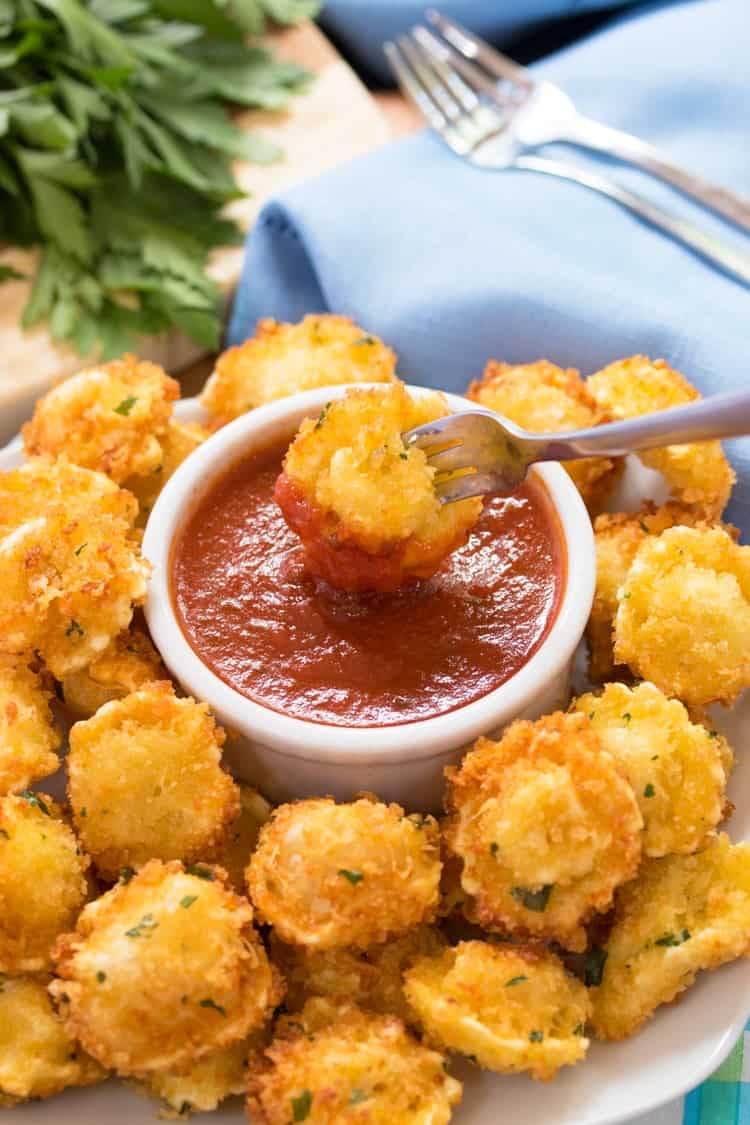 Sometimes, I just have to republish past recipes that are super-duper good…and Parmesan crusted tortellini bites are one of my all-time favorite tortellini recipes on the planet. I mean let's see. Cheese tortellini that's breaded, fried to golden perfection, and dipped in warm marinara sauce. Uhhhhh…. yeah. Republishing. The world needs another reminder about these bad boys. 
I love frying these up in my Le Creuset Cast-Iron Dutch Oven. (Which was an award that I won at work, I didn't actually shell out the cash for it myself). But in case you do have one laying around, try using it for frying, it's terrific. You can also use a deep fryer but where the breaded tortellini is a little bit more delicate, I would recommend using a deep pot on the top of the stove so they don't get tossed around as much.
More about this recipe:
When it comes to the warm Marinara, my go-to brand is Rao's. (Not paid to say that, I just happen to love-love-love them.)
I've always gone with Panko breadcrumbs for the breading because it really gives it that golden color and it has the most texture and crunch. I also love mixing grated Parmesan and parsley into the breading for added flavor!
The recipe itself is very easy, but throw a good show on the TV before you start the breading process, because that can become a little time-consuming since there so many itty bitty pieces to coat (3 times each: flour/egg/breadcrumbs.) My husband happened to text me a couple of funny YouTube clips during my breading process which was perfect 😉
You should also try these!
Follow me!
Waiiiit! I'm full of delicious recipes like this one, join my email list for free and I'll send you one weekly email with my latest recipes. And while you're at it, follow me on Facebook, Pinterest, and Instagram!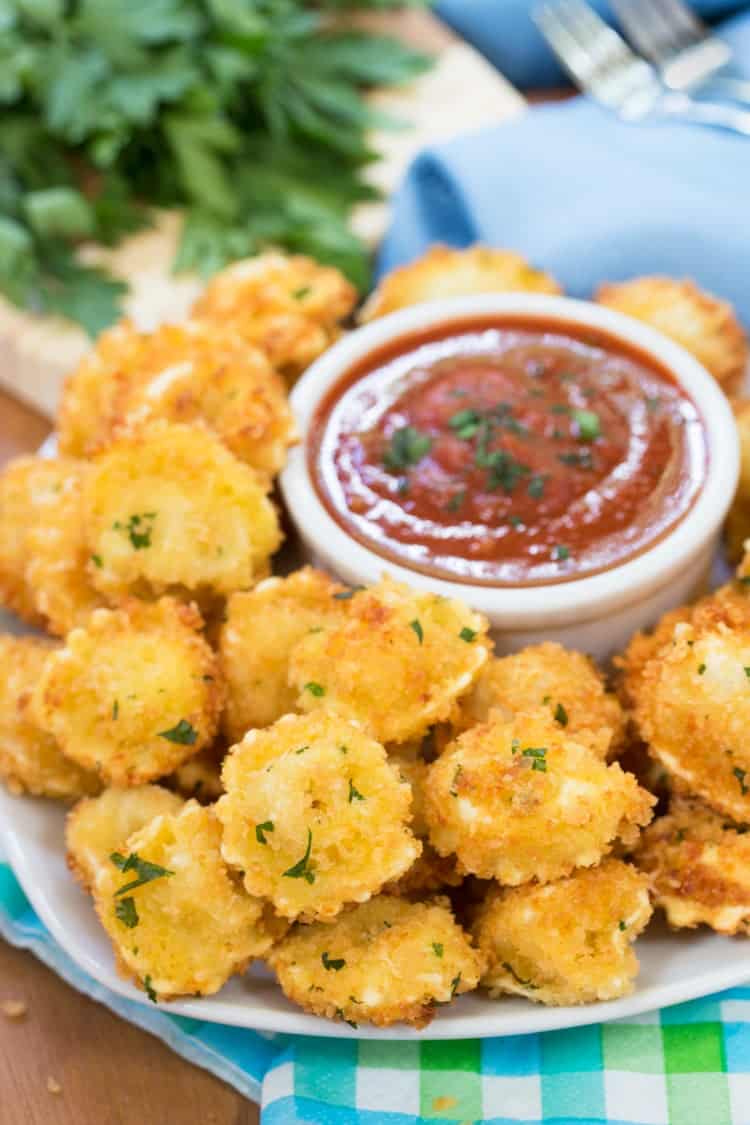 Try These Next!
Follow Me!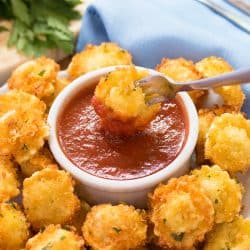 Servings: 6
Parmesan Crusted Tortellini Bites
Course: Appetizer
Cuisine: Italian
Keyword: Fried Tortellini, Tortellini Recipe
Cheese filled tortellini that's fried to golden perfection and dipped in warm marinara sauce.

Ingredients
9 oz. refrigerated three cheese tortellini see notes for my preferred brand
48 oz. Canola oil (6 cups)
½ cup all-purpose flour
2 large eggs beaten
1 cup Panko breadcrumbs
¼ cup Parmesan cheese finely grated
2 teaspoons parsley finely chopped
¼ teaspoon of red pepper flakes (optional)
½ cup marinara sauce
Instructions
Mix together the panko breadcrumbs, parmesan cheese, parsley, and red pepper flakes.

Cook the tortellini until it's 1 minute before it's al-dente. Drain, and coat generously with flour.

Dip each tortellini into the beaten eggs, and then into the panko mixture.

Heat the oil in a dutch oven to 375 degrees. You may not need to use all of the canola oil but ensure that the tortellini is covered by an inch or two.

If you're unsure if the oil is the right temperature, put a test piece of tortellini in the oil and ensure that it begins to fry almost immediately, but not too intensely. Cook the tortellini pieces for about 5 minutes on each side, until golden brown. You may have to do this in batches.

Place on a paper towel, pat dry, and serve with warm marinara sauce!
Recipe Notes
BUITONI Refrigerated Three Cheese Tortellini is great with this recipe.
Nutrition Information
Calories:
377
, Fat:
20g
, Saturated Fat:
3g
, Cholesterol:
73mg
, Sodium:
453mg
, Potassium:
118mg
, Carbohydrates:
34g
, Fiber:
2g
, Sugar:
2g
, Protein:
12g
, Vitamin A:
4.5%
, Vitamin C:
1.7%
, Calcium:
13.9%
, Iron:
14.2%