Copycat Longhorn Parmesan Crusted Chicken
This Copycat version of Longhorn's famous Parmesan Crusted Chicken tastes just like the restaurant! From the flavorful marinade, to the creamy, crunchy Parmesan Crust. Get ready to make this easy recipe every week! 
Be sure to try my Copycat Texas Roadhouse Steak Rub recipe next!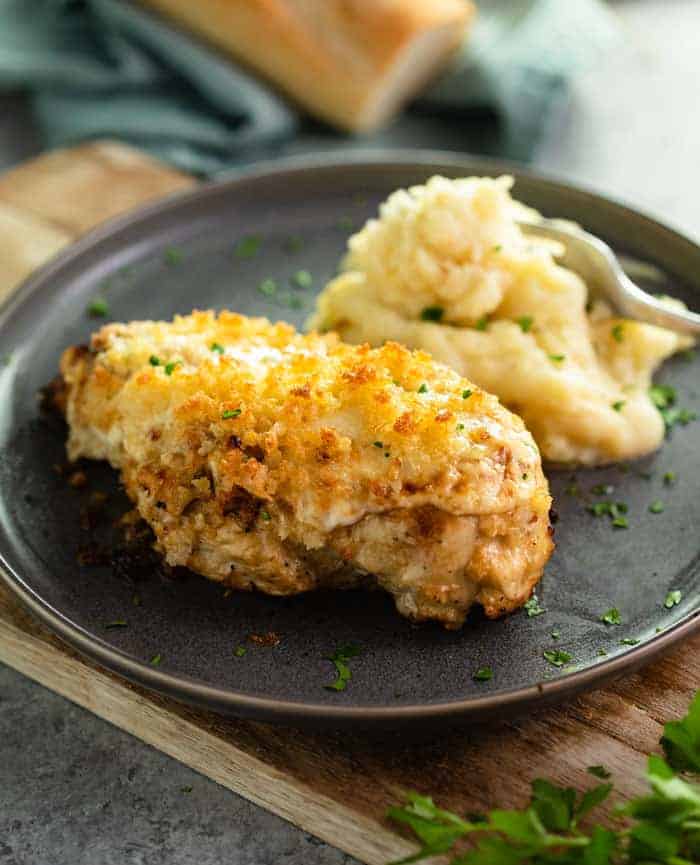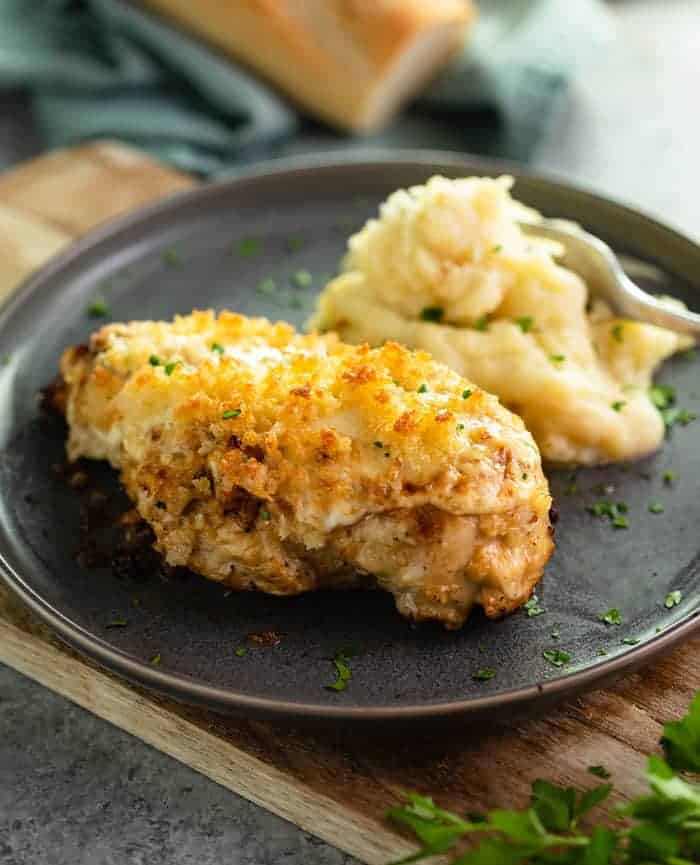 The day that a waitress from Longhorn wrote down their prized Parmesan-crusted topping, was the day I died and went to heaven. 
This was over five years ago, before I had a food blog, and I kind of forgot that I had this recipe. (Which is odd because it's amazing. Beyond amazing.) Well anyway, I'm here to share the wealth with you.
But first, the marinade. Hold the phone. Because the flavor of this marinade is amazing. It definitely gives my current go-to chicken marinade a run for its money. Let's do this.
Copycat Longhorn Chicken Marinade Ingredients
Honestly, it's nothing fancy. Nothing that you probably don't already have in your house, actually. It's amazing that such simple ingredients can combine and make such an unbeatable marinade.
Alright, onto that creamy, crunchy, unbeatable Parmesan Crusted topping. *Drum roll Please* 🥁….
Copycat Longhorn Parmesan Crust Ingredients
Crazy, right? Nothing more to it than that! This is why you can whip up this chicken in 30 minutes, and repeat it every single week.
Can you put it on top of steak? Yes. 
Can you put it on top of pork chops? Yes. 
Can you drink it as a beverage? Yes. Eh… better not. 
Of course you can prepare this chicken on the grill, but for an all-year-round version, I like to sear it. I have strong opinions about how delicious seared chicken can be.
How to Make Perfectly Seared Chicken
✔️Cast iron skillets conduct heat very well and are perfect to use when searing meat.
✔️Medium-high heat works well for searing, and it's important to use oil with a high smoke point such as vegetable, canola, or peanut oil to prevent the meat from burning.
✔️It's important to refrain from moving the meat around as it cooks. Allowing the meat to stay in the same place in the skillet ensures that the sear isn't disrupted. You'll notice that the chicken starts to release from the surface when it's ready. If it's sticking a lot to the pan, it's not done searing.
✔️Butterfly the chicken or pound it thin to create pieces of equal size. This will allow them to cook evenly and prevent them from being too thick.
Substitute for Provolone
–Mozzarella makes an acceptable substitute for provolone in this recipe.
–1/3 mozzarella and 2/3 muenster cheese is an even closer replicate.
Storing Leftovers
Leftovers should be refrigerated and should be used within 3 days. 
Longhorn Parmesan Crusted Chicken Nutrition Info
Longhorn's website indicates that their Parmesan Crusted Chicken contains 560 calories. My recipe has 557 calories calculated. (Nailed it.) 
See the bottom of the recipe card for additional nutritional information.
Try These Next!
Follow Me!
Servings: 4
Copycat Longhorn Parmesan Crusted Chicken
Course: Main Course
Cuisine: American
Keyword: Longhorn Parmesan Crusted Chicken
This Copycat version of Longhorn's famous Parmesan Crusted Chicken tastes just like the restaurant! From the flavorful marinade, to the creamy, crunchy Parmesan Crust.
Ingredients
4 skinless/boneless chicken breasts pounded to ¾ inch thick
Salt/Pepper to taste
2 Tablespoons vegetable oil
Marinade:
1/2 cup olive oil
1/2 cup ranch dressing
3 tablespoon Worcestershire sauce
1 teaspoon vinegar
1 teaspoon lemon juice
1 tablespoon minced garlic
1/2 teaspoon pepper
Parmesan Crust
3/4 cup Parmesan cheese chopped into bits
3/4 cup Provolone cheese chopped into bits
6 Tablespoons Buttermilk Ranch salad dressing
1 cup panko
2 teaspoons garlic powder
5 Tablespoons melted butter
Instructions
Whisk all marinade ingredients together until well-combined and uniform in consistency.

Place the chicken in a gallon freezer bag, remove the air, and seal. Use a

meat mallet

to pound it to ¾ inch thick.

Sprinkle each side of the chicken lightly with salt and pepper if desired.

Place the chicken in a new freezer bag along with the marinade. Seal out the air and refrigerate for a minimum of 30 minutes, or overnight.

Sear the chicken in the hot skillet on each side. Refrain from moving the chicken around as it sizzles, it will hinder the nice golden sear color. If the pan gets too hot, reduce the heat to medium. Each side will take 3-5 minutes. Once each side is a nice, golden brown and the middle is cooked, set the chicken aside.
Parmesan Crust
Preheat the oven to a low broil.

Combine the chopped Parmesan, Provolone, and Buttermilk Ranch dressing in a small bowl.

Microwave for 30 seconds.

Use the back of a fork to mash and stir the cheese around until they're about the consistency of lumpy mashed potatoes.

Microwave for an additional 15 seconds. Stir, and spread on top of the chicken.

Combine the panko with the garlic powder. Stir in the melted butter and top the chicken with it.

Bake until the cheese is hot and melted, about 3 minutes.

Serve with mashed potatoes and enjoy!
Recipe Notes
The chicken can also be grilled instead of searing.
Nutrition Information
Calories:
557
, Fat:
42g
, Saturated Fat:
11g
, Cholesterol:
114mg
, Sodium:
1043mg
, Potassium:
577mg
, Carbohydrates:
12g
, Sugar:
2g
, Protein:
31g
, Vitamin A:
370%
, Vitamin C:
5.5%
, Calcium:
231%
, Iron:
1.8%