Homemade Strawberry Banana Dog Treats
These homemade dog treats are loaded with strawberries, bananas, peanut butter, and oats. Everything you need to keep your dog happy and energized!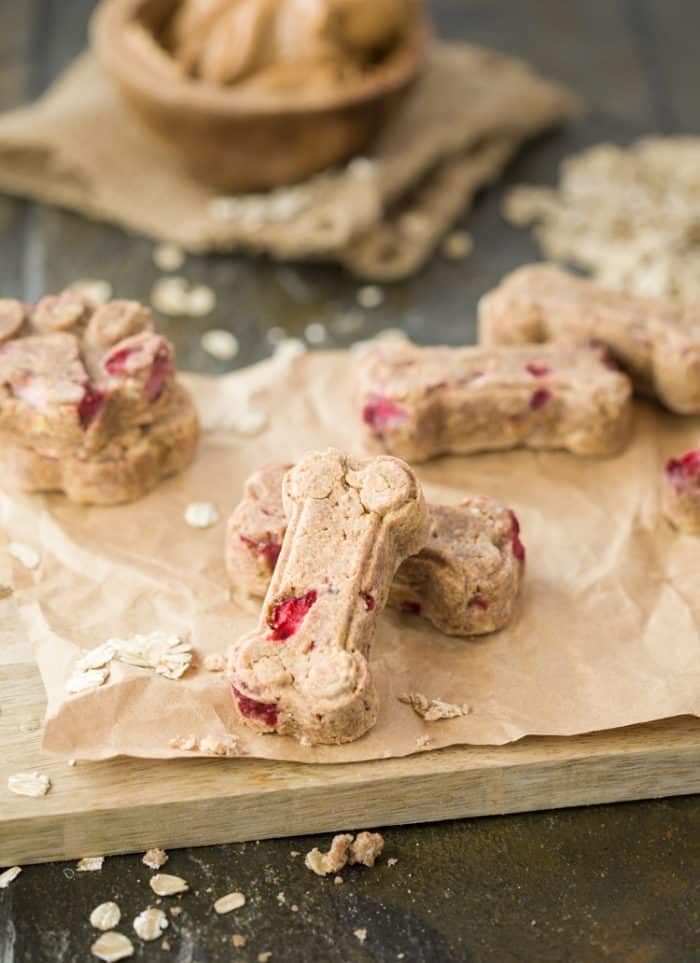 Guys, meet Toby. Toby is my sweet little morkie who deserves to eat homemade dog treats all day, every day. Of all of the dog treat recipes that I've made him over the years, (including homemade dog cake), these might be his all-time favorite, because they're packed with so many of his favorite things. My inspiration for these began the other day when I dropped a big ol' strawberry on the floor. Since Toby is my personal robotic vacuum, he polished that sucker up before I could even attempt to bend down and pick it up. I panicked and grabbed my phone for what was probably my 50th random Google search that day:
Can dogs eat strawberries?
Yes. Dogs can absolutely eat strawberries. They have lots of vitamins and minerals that are actually very good for dogs, but they're also sweet, and should be served to dogs and puppies in moderation to prevent stomach aches.
Welp, that settled it. Homemade strawberry banana dog treats comin' right up! These dog treat molds hold the shape perfectly, and makes the process even faster because you don't have to roll out the mixture and cut shapes, (although you could)!
Since Toby is just a little guy, I freeze the treats and take them out of the freezer one at a time, letting them come to room temperature before giving them to him. Then I just break off a piece after he does his business outside. Once I use the last bit of a treat, I grab the next one from the freezer. Pretty handy.
How cute are these little paw prints?! Between the little dog bone shapes and the paw prints, you can probably see why these homemade dog treats also make fabulous gifts!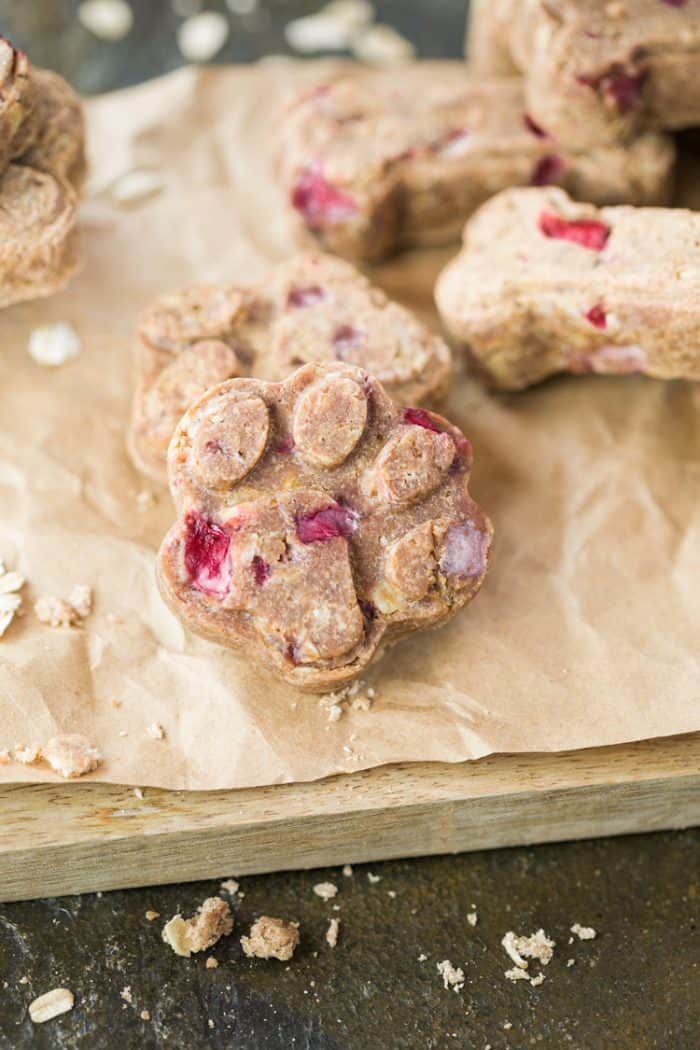 Other Dog Treat Recipes:
Follow me!
Don't let this be goodbye! Follow me on Facebook, Twitter, & Instagram! And signup to receive my latest recipes right to your inbox…it's free. 😊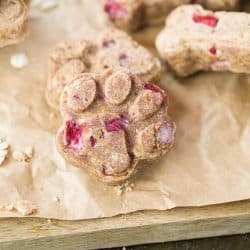 Keyword:
Dog Treat Recipe
These homemade dog treats are loaded with strawberries, bananas, peanut butter, and oats. Everything you need to keep your dog happy and energized!

1

egg

1/3

cup

peanut butter*

1

cup

whole wheat flour

1/2

cup

oats

1

mashed banana

(1/2 cup)

5

ripe strawberries

finely diced
Preheat oven to 300 degrees

Combine all ingredients in a large bowl and knead until a dough ball forms. If it's too sticky, add a little more flour.

Roll it out on a lightly floured surface and cut into shapes with cookie cutters or treat molds. I used

these dog treat molds

.

Place the cutouts or the mold sheets on a baking pan and bake for about 20-25 minutes.

Remove them from the oven and let them cool completed before handling.
*All-natural peanut butter without added salt or sugar is best. Do not use lite or sugar-free peanut butter, as those may have artificial sweeteners (such as xylitol) which is toxic to dogs.
Storage: These can be stored in an airtight container for 3-4 days, and can also be frozen until ready to use, at which point you may remove them and let them thaw at room temperature.
Nutrition Information
Calories:
79
, Fat:
2g
, Cholesterol:
10mg
, Sodium:
35mg
, Potassium:
115mg
, Carbohydrates:
11g
, Fiber:
1g
, Sugar:
1g
, Protein:
3g
, Vitamin A:
0.4%
, Vitamin C:
3.7%
, Calcium:
0.8%
, Iron:
3.3%
Serving Dogs Strawberries Source: Cuteness.com