Grilled Portobello Mushrooms
Learn how to grill portobello mushrooms with an easy marinade recipe! Soy sauce and balsamic make the best flavor combination for this simple vegetable side dish.
This post was created in partnership with Kingsford Charcoal. All thoughts and opinions are my own.
Do you use your grill all year long? I definitely do, and I've partnered with Kingsford to inspire you to keep that grill going during the Fall (and winter!) months.
I love the earthy, smoky flavor of these mushrooms when they're cooked on the grill. Especially a charcoal grill, which adds a smoky element to recipes that you just can't beat.
(Does anyone else love when their shirt smells like charcoal? Mine does right now. It's the best.)
Before we get started, let's go over some information about this recipe.
Storing portobello mushrooms
Avoid storing portobello mushrooms in a plastic bag.
Instead, wrap them loosely in paper towels or place them in a paper bag and place them in the fridge until you're ready to cook them.
The sooner you can cook them after purchasing, the better.
How to clean  and prepare them for cooking
Use a damp paper towel to wipe off and clean the mushrooms instead of running them under water, (unless they're very dirty). Mushrooms are very absorbent and can become rubbery when baked if they absorb too much water.
Remove the stems. (PRO TIP: Dice them up and freeze them for later use in a batch of homemade stock.)
Use a small spoon to remove gills prior to grilling as well. (You can leave the gills on but most prefer the texture with them removed.)
3 components to a perfect marinade
There are 3 critical components to a good marinade: Acid, fat, and seasoning.
Easy marinade recipe
Extra Virgin Olive Oil– They high quality fat component in this marinade.
Balsamic Vinegar– The tangy acidic component.
Soy Sauce– Consider using low sodium.
Rosemary– Fresh or dry. A perfect seasoning for this recipe.
Garlic Powder– Fresh garlic can burn on the grill, stick to the powdered version.
Cayenne Pepper– Adds a little kick but isn't overpowering or too spicy.
Vegetable or Canola oil can also be brushed on the grill to prevent sticking.
Marinade time
10-30 minutes is a sufficient amount of marinating time, as mushrooms are very absorbent.
Don't exceed 30 minutes. Not only can the texture be compromised, but they can also become too salty from the soy sauce.
How to grill portobello mushrooms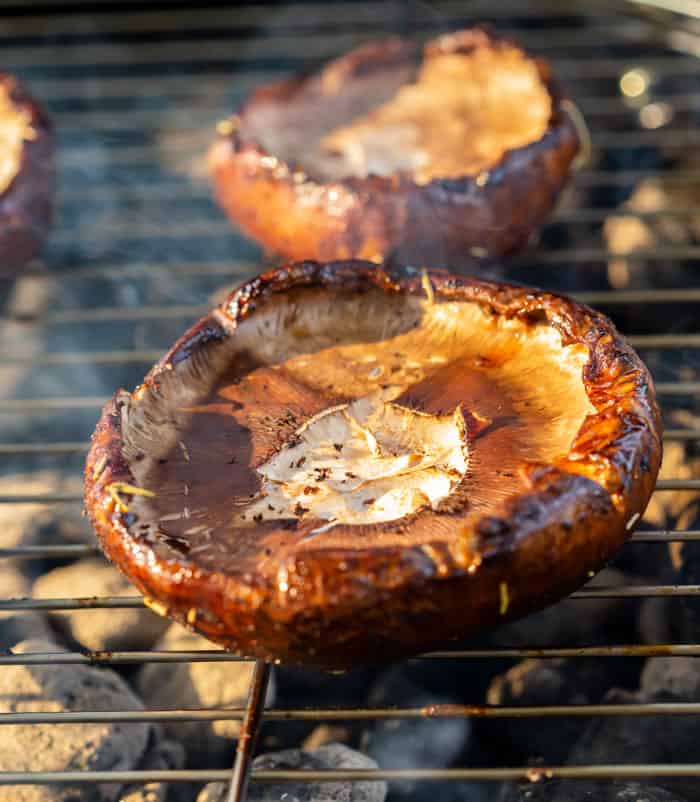 Prepare the grill
Clean the grill grates.
Dip a paper towel in vegetable or canola oil and brush it along the grates to prevent sticking.
Preheat the grill to medium heat. The temperature should be about 350°F. (Up to 400° is fine too.)
Cooking time
Portobello mushrooms need no more than 4 minutes of grilling time per side.
How to know when they're ready
The mushrooms will have darkened and may have light grill marks.
They will be nice and hot, but the consistency is still firm enough to hold up well on your plate. (Or on top of a burger!)
What to serve with portobello mushrooms
This recipe is perfect with a variety of foods, including eggs, chicken, pork chops, seafood, and ham.
Other uses for grilled mushrooms
These mushrooms can be stuffed with something like herb cream cheese and topped with a cheddar and panko topping.
They can also be hollowed out and used as a pizza crust!
What to do with leftovers
Leftovers can be diced up and used for stir fry, omelettes, or as a topping on Grilled Flatbread Pizza.
About Charcoal Grilling
Using a charcoal grill adds a delicious, smoky flavor to foods.
They also get hotter, which leaves you with a crisp, grilled exterior and a tender interior.
You have great control over the temperature of the food you're preparing. If you're grilling multiple things and something is finished, move it over cooler charcoals to keep it warm while still allowing it to absorb all that smoky flavor.
Finally, they're a lot easier to transport which makes them ideal for tailgating, camping, or cooking at someone else's house.
Learn all of the key information about charcoal grilling from Kingsford.
---
Stock up on more Kingsford charcoal and keep the grill going with these recipe ideas!
Grilled Portobello Mushrooms
Learn how to grill portobello mushrooms with an easy marinade recipe! Soy sauce and balsamic make the best flavor combination for this simple vegetable side dish.
Ingredients
4 large portobello mushrooms
For the Marinade
1/3 cup balsamic vinegar
2 tablespoons olive oil
2 tablespoon soy sauce, low sodium
1 tablespoon chopped fresh rosemary, or ½ teaspoon dried
1 teaspoon garlic powder
Dash cayenne pepper, optional
For the Grill
2 Tablespoons vegetable or canola oil, to prevent sticking.
To Garnish
Fresh arugula and rosemary, (optional)
Instructions
Use a slightly damp paper towel and gently pat the mushrooms to clean off any dirt. Do not run them under water as they can become rubbery and waterlogged.

Combine the marinade ingredients in a casserole dish.

Add the mushrooms, round side up. Use a pastry brush to periodically brush the marinade on top while the bottoms sit in the liquid.

Marinade for 10-30 minutes.

Clean the grill grates.

Preheat the grill to medium, (about 350 degrees, or up to 400). Let the grill preheat for 15 minutes.

Place some oil on a paper towel and use grilling tongs to run it along the grates to mitigate sticking.

Use a spatula to carefully remove the mushrooms from the marinade and place them on the grill.

Grill for 3-4 minutes per side, use grilling tongs to remove and serve with fresh garnishes.

Tip: Fresh arugula makes a great edible garnish with these mushrooms. Fresh rosemary is a visually appealing garnish as well.
Nutrition
Calories: 13kcal, Carbohydrates: 1g, Protein: 1g, Fat: 1g, Saturated Fat: 1g, Sodium: 252mg, Potassium: 18mg, Fiber: 1g, Sugar: 1g, Iron: 1mg
Follow Me!
Join my free email list and find me on Facebook, Instagram, and Pinterest.