French Onion Burgers
These extra juicy, perfectly cooked French Onion Burgers are topped with melted Gruyere cheese, caramelized onions, and are served over golden burger buns.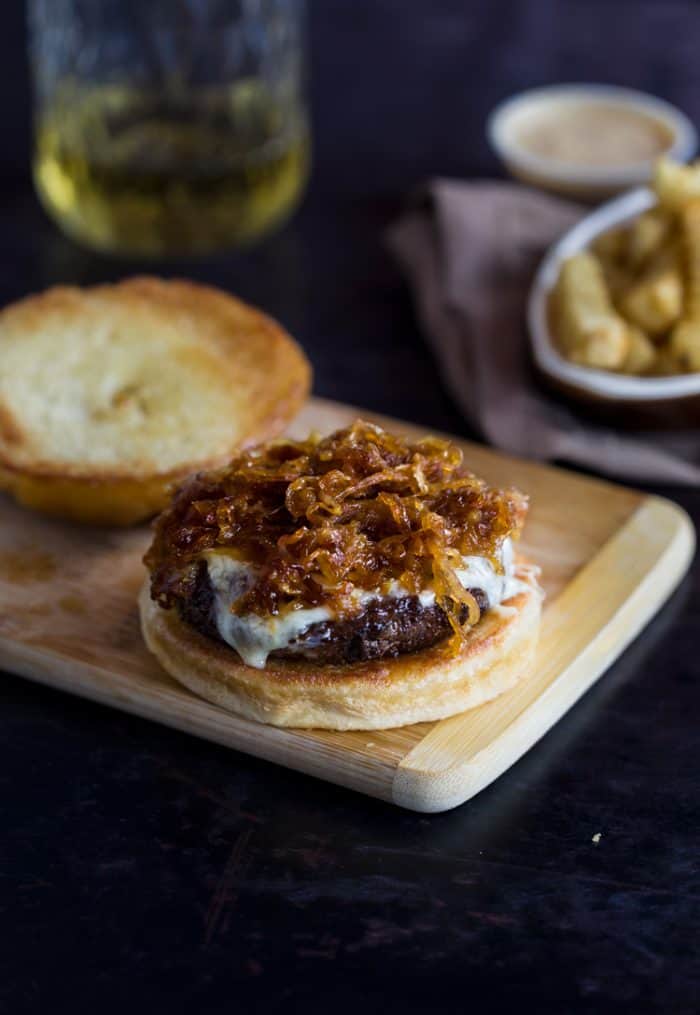 Man. Ever since I made French Onion Soup the other week, I've got it on the brain. Apparently a huge pot of the stuff wasn't enough to get the French Onion craving out of my system. And so, I decided that it was only right of me to concoct some sort of a French Onion Soup Burger. And OH my gosh… they couldn't taste better. The sweetness from the caramelized onions perfectly offset the juicy burger and hot, melted Gruyere cheese. (Cue the mouth watering. I'm literally drooling all over myself.)
Adding a  bit of finely grated onions to my burger meat is something I started doing awhile ago. Onions are extremely moist and not only does having them mixed in with the beef add delicious flavor but it makes the burgers soooo juicy. So does the heavy cream, whew. Talk about burger heaven.
The toughest part about these burgers is waiting for the onions to caramelize. It can feel like an eternity- but it's completely worth it, I swear. And I'll caution you about this- the amount of onions that you'll have in your pot will seem like ten times more than what you'll need. But they break down SO much as they cook and caramelize, that eventually you might even wonder if you'll have enough. So don't skimp on the onions.
These burgers can be dressed up with any other ingredients that you like, some crispy bacon maybe?! Some lettuce? Tomato? Avocado? The sky's the limit, don't be shy 😉
By the way, if you like this recipe, you should try my Cowboy Queso next. It's another fabulous way to use up some ground beef. (And PS: there's beer involved 🙂
Check out my other recipes!
Okay, one more thing, I promise. You should probably join my free recipe email list. You'll get a weekly email with my brand new recipes. And follow me on Facebook, Instagram, and Pinterest. (Don't make this be our last goodbye!)
French Onion Burgers
These extra juicy, perfectly cooked French Onion Burgers are topped with melted Gruyere cheese, caramelized onions, and are served over golden burger buns.
Ingredients
1 large yellow onion
1 large sweet onion*
2 Tablespoons butter
1-2 Tablespoons olive oil, or vegetable
2 pounds ground beef, 80% lean is great for burgers
2 Tablespoons heavy cream
Salt/pepper
4 bulky burger rolls
4 slices gruyere cheese**
Instructions
Take part of the yellow onions and finely grate it until you have 3 Tablespoons. Set aside. (We'll mix this into the burger meat, it makes it nice and juicy!)

Finely slice the rest of the yellow onion and the sweet onion as well. (Using a mandoline slicer makes this much easier).

In a large pot, add the sliced onions and butter. Cook, uncovered, for at least 45 minutes or until they are very brown and caramelized. Stir it occasionally as it cooks. You will have a lot of onions in the beginning, but they reduce a tremendous amount as they cook.

When the onions are nearly done, gently mix the ground beef, finely grated onions, heavy cream, and salt and pepper until just combined- don't over-mix, you want the meat to stay nice and tender!

Mold the meat into 4 burger patties, each about ½ - ¾ inches thick. Put a thumb indentation in the middle of each one for even cooking.

Heat the 1 Tablespoon of oil in a large pan over medium heat. Cut the burger buns in half and gently place the middle sides in the oil until they are a nice golden brown. Set aside.

If needed, add an additional tablespoon of oil to the same pan and increase heat to medium-high. Don't add the burger patties until the oil is nice and warm so that you can get a nice sear on each side.

Add the patties to the pan, you should hear a nice sizzle. Cook the patties for about 5 minutes on each side if you prefer your burgers well done. Otherwise, cook for 4 minutes on each side.

Use a wide spatula to flip each burger and add the cheese on top right away. Place a lid or aluminum foil over the pan towards the end to help the cheese melt.

Place each burger on a bun and top with the caramelized onions. Eat up!
Nutrition
Calories: 933kcal, Carbohydrates: 25g, Protein: 52g, Fat: 68g, Saturated Fat: 28g, Cholesterol: 217mg, Sodium: 515mg, Potassium: 744mg, Fiber: 1g, Sugar: 4g, Vitamin A: 550IU, Vitamin C: 3.3mg, Calcium: 412mg, Iron: 6mg