Crock Pot Chicken and Stuffing
This easy Crock Pot Chicken and Stuffing recipe is one of the most popular recipes on The Cozy Cook! It's made with just a few simple ingredients and is served with a side of green beans!
Be sure to try my super popular Crock Pot Pork Roast and Gravy recipe next!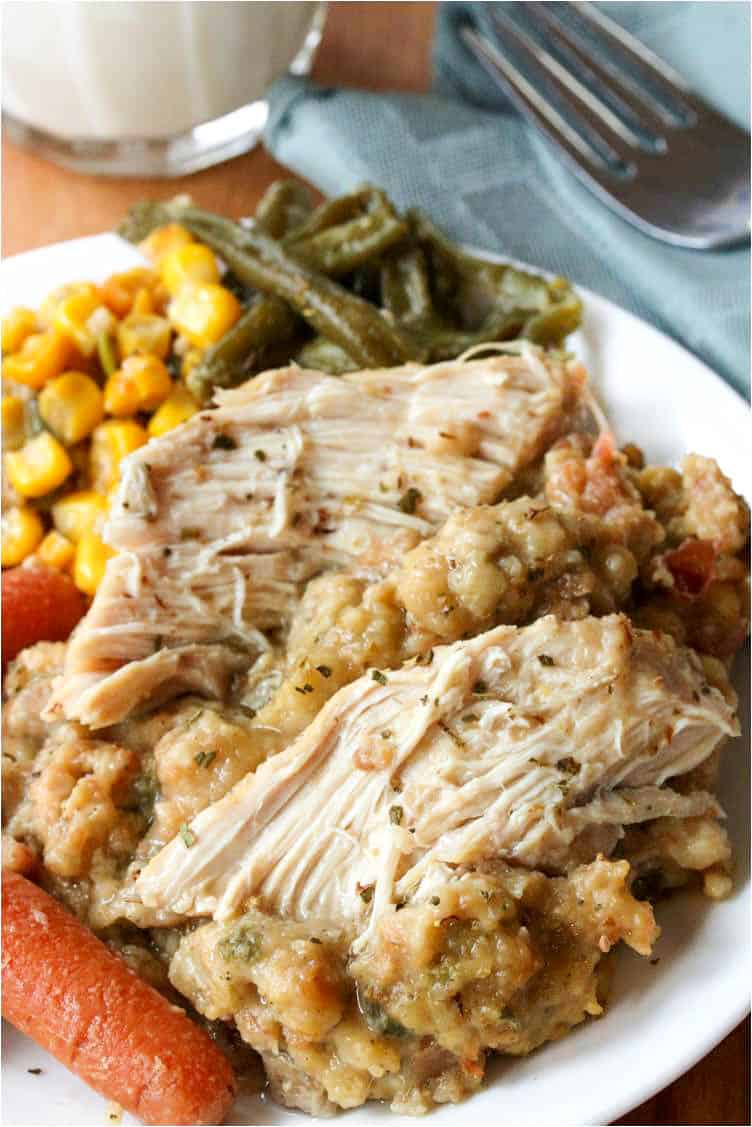 Welcome welcome, to one of the most popular recipes on the blog! You must have really good taste to have landed here.  I suggest slapping a bookmark on this recipe now and calling it a day, because you will be back to make this again.
Are you ready? Let's go over just a few things you need to know.
Perfecting the Consistency of Crock Pot Stuffing
If you like firm stuffing:
If you like your breadcrumbs still very much intact and firm, use more stuffing, up to 12 ounces. You can always add more moisture if needed (such as additional chicken broth).
If your stuffing is too moist:
Leave the lid off for the last 30-40 minutes of cooking to let some of that moisture escape.
You can also pop the stuffing in a 350º oven for 10-15 minutes or until it reaches your preferred consistency.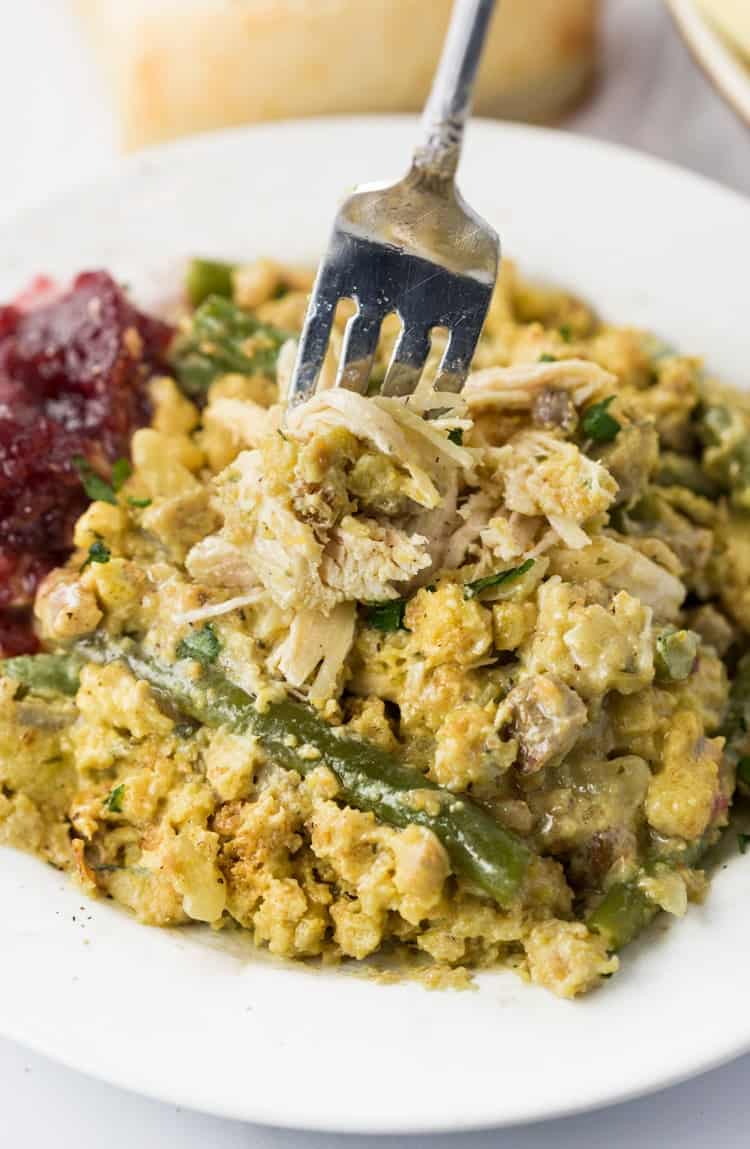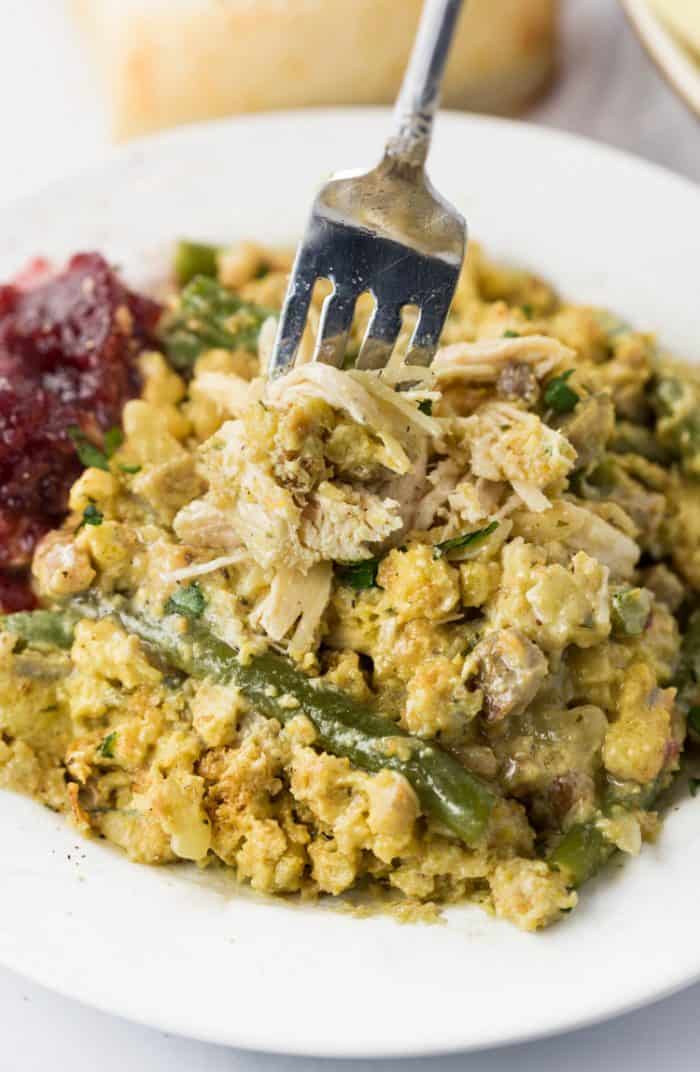 Adding Green Beans
If you prefer to keep your vegetables separate from the stuffing, place a layer of foil over the chicken and stuffing.
This will allow you to lift up and remove the green beans and give the stuffing a stir if you'd like, while also keeping them separate from one another.
Poking holes in the foil allows the green beans to steam in the Crock Pot.
Some people prefer to place the green beans right on top of the stuffing and mix them together for a casserole-style result. This is definitely a delicious option as well!
Other Vegetable Options Include: Carrots, Corn, Baby Potatoes, and Broccoli.
Sour Cream Substitutes
If for whatever reason you're unable or would rather not use sour cream, here are some substitutions:
Plain Greek Yogurt
Mayonnaise
1 cup evaporated milk + 1 tablespoon vinegar or lemon juice. Let stand 5 minutes to thicken.
Homemade Cream of Chicken Soup
If you prefer to steer clear of the canned stuff, here's an easy recipe for homemade cream of chicken soup!
Lower Sodium Options
Campbell's makes a low-sodium Cream of Mushroom soup that is a great substitute for the Cream of Chicken.
Low-Sodium Chicken Broth is always a safer option, you can always add salt, but you can't really take it away.
You can also wait on salting the chicken until you're ready to eat, you may not find it necessary!
Need Dinner Ready Sooner?
Instant Pot Chicken and Stuffing will do the trick!
My Favorite Crock Pot
This is the Crock Pot that I have, I love that you can sear meat right on the stove-top with it.
It also automatically switches to warm once the cooking time is up, which is hugely convenient when you're out of the house.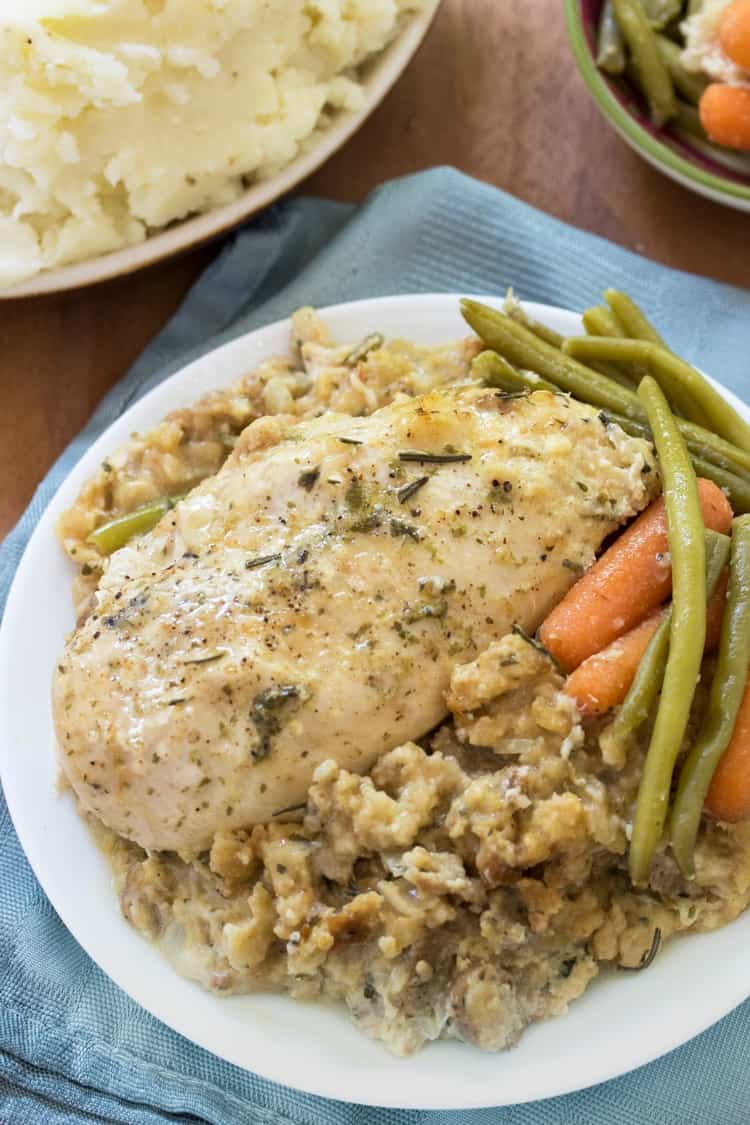 What to Serve with Crock Pot Chicken and Stuffing
Try These Next!
Follow Me!
Sign up for my free email list to get a weekly notification with my latest recipes! Then, after that, follow me again on Facebook, Pinterest, Instagram, I'm everywhere!
Crock Pot Chicken and Stuffing
Extra juicy chicken and savory stuffing simmer together in the crock pot with your favorite vegetables for an easy, comforting meal that the family will love!

Ingredients
4 boneless skinless chicken breasts,, salted and peppered if desired.
10.5 oz. cream of chicken soup
8 oz. sour cream,, (equivalent to 1 cup)
6 oz. box stuffing mix
¾ cup chicken broth
2 cups green beans,, fresh or frozen
1 cup baby carrots
1 teaspoon fresh parsley
Optional stuffing additions:
1/2 cup onions,, diced
1/2 cup celery,, diced
1/4 cup dried cranberries
1/2 cup crumbled sausage,, (cooked or raw)
2 teaspoons dry rosemary
Instructions
Place the chicken on the bottom of the crock pot and sprinkle with salt and pepper if desired.

In a large bowl, mix together the soup, sour cream, stuffing, and *half* of the broth. Layer the stuffing mix over the chicken.

To keep the vegetables separate from the stuffing, place a layer of foil over the stuffing, then place your vegetables on top of the foil. Poke holes on the bottom of the foil to allow the moisture to circulate instead of collecting on the top of the foil. You can also layer the vegetables right on top of the stuffing if you'd prefer.

Cook on high for 4 hours, or on low for 6-7.

Before eating, check on the stuffing. If you'd prefer additional moisture, add the rest of the chicken broth, stir, and heat for an additional 10 minutes.

Garnish the chicken with parsley if desired!
Notes
I personally like to stir the stuffing mixture occasionally to gauge the moisture level, but this isn't necessary.
If the stuffing seems too moist for your liking, leave the lid off the crock pot for the last 30-40 minutes of cooking, or until your desired consistency is achieved. You can also pop it in the oven to firm it up a bit if needed. (I never need to, but people's texture preferences vary.)
Nutritional facts include the optional ingredients listed as well. 
Nutrition
Calories: 565kcal, Carbohydrates: 54g, Protein: 34g, Fat: 23g, Saturated Fat: 9g, Cholesterol: 115mg, Sodium: 1564mg, Potassium: 954mg, Fiber: 4g, Sugar: 14g, Vitamin A: 5370IU, Vitamin C: 14.4mg, Calcium: 163mg, Iron: 4mg
Recipe Adapted from: isavea2z.com