Copycat Olive Garden Chicken Gnocchi Soup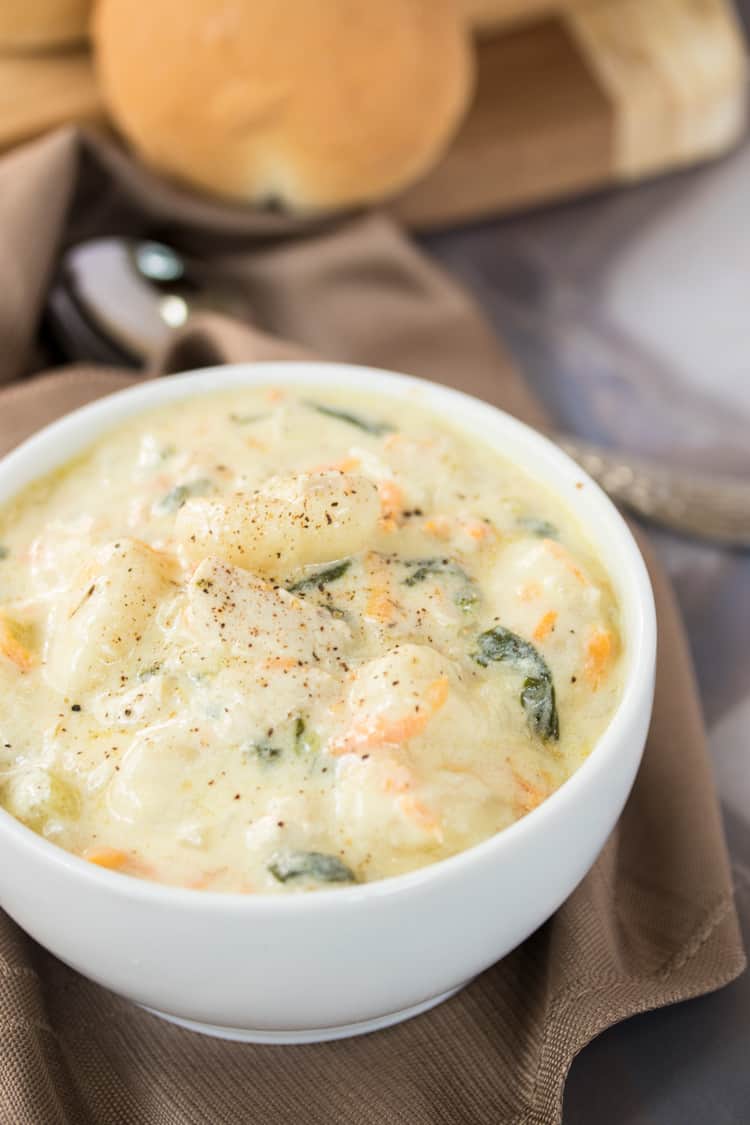 My awesome reader friends come up with the best recipe ideas. (Shout out to Janni!) Without her brilliant suggestion, I wouldn't have dabbled in this classic copycat Olive Garden recipe, mainly because I didn't really know what a "Gnocchi" recipe would entail, work-wise. I like my quick & easy recipes, after all. Who knew you could buy it right in the pasta aisle at?! (Listen, I never claimed to have the brightest crayons in the box, even when it comes to food.)
So, needless to say, I was pretty pleased to discover that I was able to make this in about 30 minutes from start to finish…pretty handy when you have a teething baby on your hands, lemmie tell ya.  
The last brilliant reader-inspired recipe I made was one pot chicken & dumplings, another one that I would never have tried, at least not for a while… simply because I had no idea what a dumpling was! (Hey, I went to school for finance, okay?) Welp, it turns out that a dumpling is just a little ball of dough. I can handle that. And Gnocchi, is a kind of dumpling, in this recipe's case, it's one that's made of potato. (Okay wait, now my head hurts.)
Anyway, this one's definitely a keeper. It definitely thickens up as it sits, so be patient for that- it'll happen. You might even want to reserve some extra chicken broth just in case you want to thin in out a little.
Now, next up on your soup list definitely needs to be this Copycat Olive Garden Zuppa Toscana Soup – WHOA BABY 😉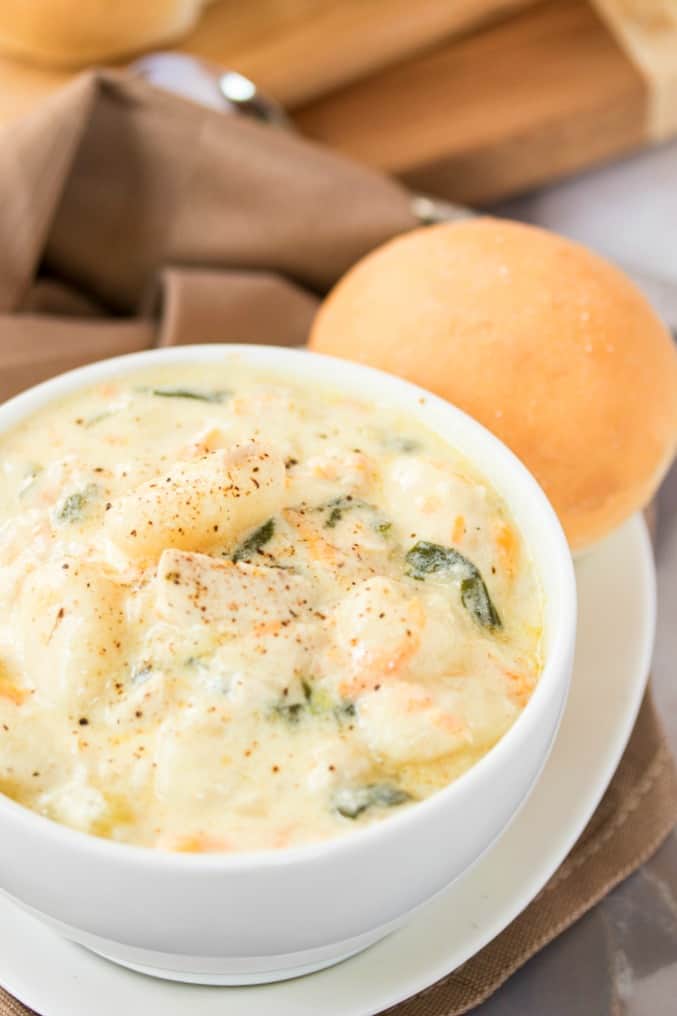 Copycat Olive Garden Chicken Gnocchi Soup
This thick & creamy soup is filled with savory chicken, gnocchi, spinach, and a hint of garlic.  An Olive Garden classic made right in your own kitchen!
Ingredients:
3 tablespoons butter
1 tablespoon olive oil
¾ cup onion, diced
½ cup celery diced
2 garlic cloves, minced
¼ cup all-purpose flour
2 cups half-and-half (equivalent of 1 pint)
1 (14 oz. can) chicken broth. (For a thinner soup, use 2 cans)
1 Tablespoon fresh thyme
1 cup shredded carrots
1 cup fresh spinach leaves, chopped
1 + ½ cups diced cooked chicken breast (Rotisserie works well)
1 (16 oz.) package potato gnocchi (in the pasta isle)
Salt and pepper to taste
Directions:
In a large pot over medium heat, melt the butter and the olive oil. Add the diced onion, celery, and minced garlic and heat until tender. Mix in the flour to create a roux and cook for another minute.
Gradually stir in the half and half and chicken broth and let it simmer until it starts to thicken (about 10 minutes).
Add the thyme, carrots, spinach, chicken, and gnocchi, and simmer for another 5 minutes or under the gnocchi is cooked and the soup has thickened. Add salt and pepper to taste, and serve!
*This post may contain affiliate links