Copycat Olive Garden Chicken Gnocchi Soup
This thick & creamy Copycat Olive Garden Chicken Gnocchi Soup is filled with savory chicken, gnocchi, spinach, and a hint of garlic. An Olive Garden classic made right in your own kitchen!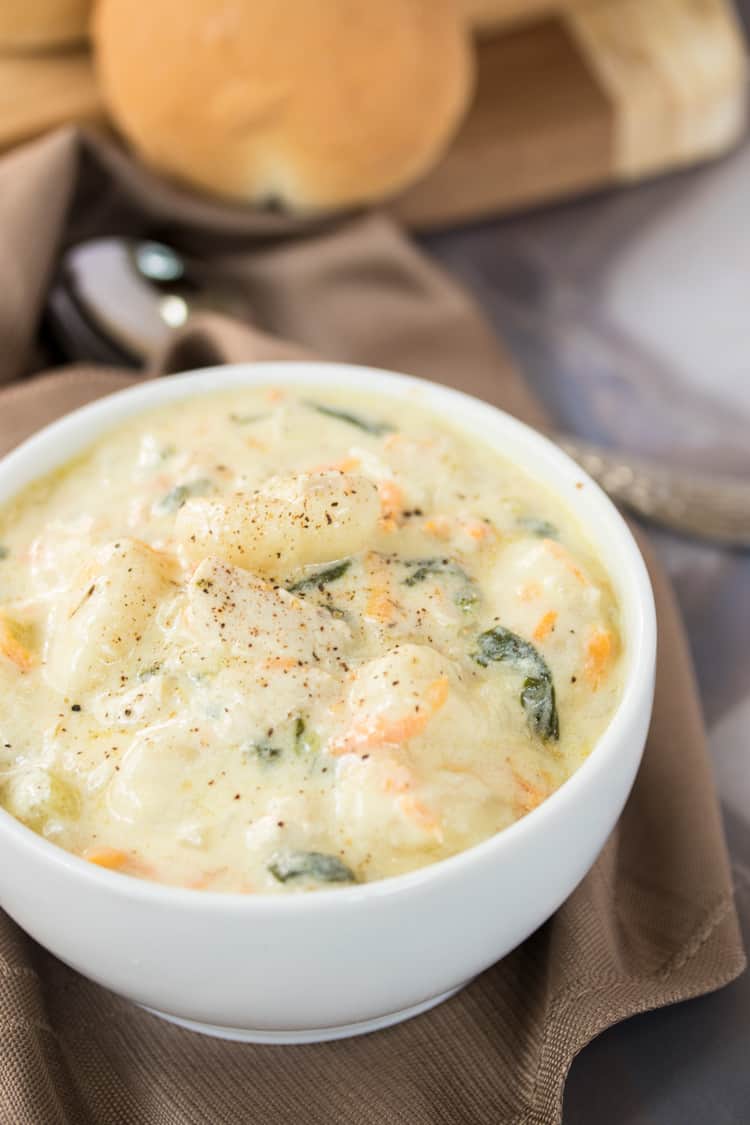 I think a serious thing for Olive Garden. I have seven Olive Garden copycat recipes and counting right now. I'm too scared to bring my screeching toddler there so, a girl's gotta do what a girl's gotta do. I actually just made their Alfredo sauce the other day. It's almost too good, just like this soup.
Before we start, you might be wondering…
What is Gnocchi
-Gnocchi are small dumplings that are typically made from potato and served with sauce. They are typically served as a main course similarly to how pasta would be served.
Where do I find Gnocchi
-Gnocchi can be found in the dried pasta aisle at the grocery store. If you're feeling adventurous, you can also make your own Gnocchi in about an hour, with an extra 10 minutes added for cooking time. A homemade version would definitely make this soup that much better.
Can this Soup be Frozen
Cream-based soups such as this can be frozen for up to three months and reheated for a future meal, although this soup can separate when reheated due to the cream base, I have reheated this soup without issue!
Can Milk be used instead of Half and Half
Milk can be used as a substitute for half and half in this recipe, however it won't be as thick or as creamy.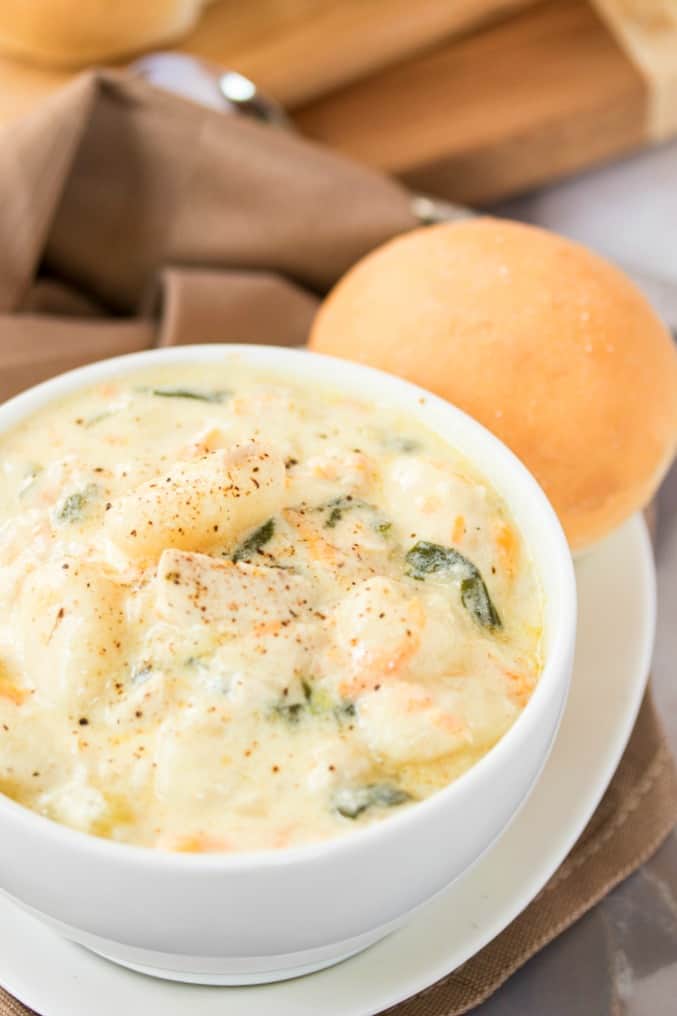 ⭐Recipe Tip⭐ If it doesn't seem as though your soup is thick at first, it will definitely thicken more as it continues to simmer. You may even find yourself adding a tad more chicken broth to obtain a thinner consistency.
You should also try these!
Follow me!
Okay, one more thing, I promise. You should probably join my free recipe email list. You'll get a weekly email with my brand new recipes. And follow me on Facebook, Instagram, and Pinterest. (Don't make this be our last goodbye!)
Servings: 6
Copycat Olive Garden Chicken Gnocchi Soup
Course: Soup
Cuisine: Italian
Keyword: Chicken Gnocchi Soup Recipe
This thick & creamy soup copycat Olive Garden chicken gnocchi soup is filled with savory chicken, gnocchi, spinach, and a hint of garlic. An Olive Garden classic made right in your own kitchen!

Ingredients
3 tablespoons butter
1 tablespoon olive oil
¾ cup onion diced
½ cup celery diced
2 garlic cloves minced
¼ cup all-purpose flour
2 cups half-and-half
14 oz. chicken broth
1 Tablespoon fresh thyme
1 cup carrots shredded
1 Cup fresh spinach chopped
1 + ½ cups diced cooked chicken breast (Rotisserie works well)
16 oz. potato gnocchi (in the pasta isle)
Salt and pepper to taste
Instructions
In a large pot over medium heat, melt the butter and the olive oil. Add the diced onion, celery, and minced garlic and heat until tender. Mix in the flour to create a roux and cook for another minute.

Add the chicken broth. Gradually stir in the half and half and bring it to a boil. Reduce the heat to medium-low and simmer for 10 minutes.

Add the thyme, carrots, spinach, chicken, and gnocchi, and simmer for another 5 minutes or under the gnocchi is cooked and the soup has thickened. Add salt and pepper if desired and serve!
Recipe Notes
If it doesn't seem like your soup is thickening, just wait it out- it definitely will. You may even choose to add a little more chicken broth to thin it out a bit.
Nutrition Information
Calories:
373
, Fat:
18g
, Saturated Fat:
10g
, Cholesterol:
62mg
, Sodium:
637mg
, Potassium:
388mg
, Carbohydrates:
39g
, Fiber:
3g
, Sugar:
2g
, Protein:
12g
, Vitamin A:
82.8%
, Vitamin C:
13.2%
, Calcium:
12.7%
, Iron:
19.8%
Recipe Adapted from: The Recipe Critic