Chinese Chicken Noodle Soup
This hearty, homemade Chinese Chicken Noodle Soup is loaded with flavorful seared chicken, savory noodles, bok choy, and a hard boiled egg with a sprinkling of green onions. A kicked-up version of classic chicken noodle soup!
Soup, is seriously my favorite thing in the world. (Honestly. It's the second thing that I mention about myself after my love for cheese. Because cheese is pretty important.
But sometimes, even I need a little break from cheesy deliciousness, which is when I turn to recipes like this Chinese Chicken Noodle Soup. It's loaded with protein and the Asian flavors in this soup really blend together perfectly. My biggest tip when making this soup, is to really sear that chicken well.

Using Homemade Chicken Broth:
Homemade chicken broth is easy to make at home and makes your soups and stews taste twice as good:
-Take a leftover chicken carcass (even a small rotisserie chicken is great for this), and place the bones and all of the scraps into a medium/large pot.
-Add enough water to cover the chicken by an inch or so. Add in any onions/celery if you have them.
-Cover the pot, leaving a small crack for steam to escape and simmer for an hour or two.
-Place a fine mesh strainer over another large pot and pour the mixture into the strainer, allowing the broth to seep through the strainer into the pot. The remains in the strainer can be discarded.
-Allow the chicken broth to cool and freeze for your future soup needs!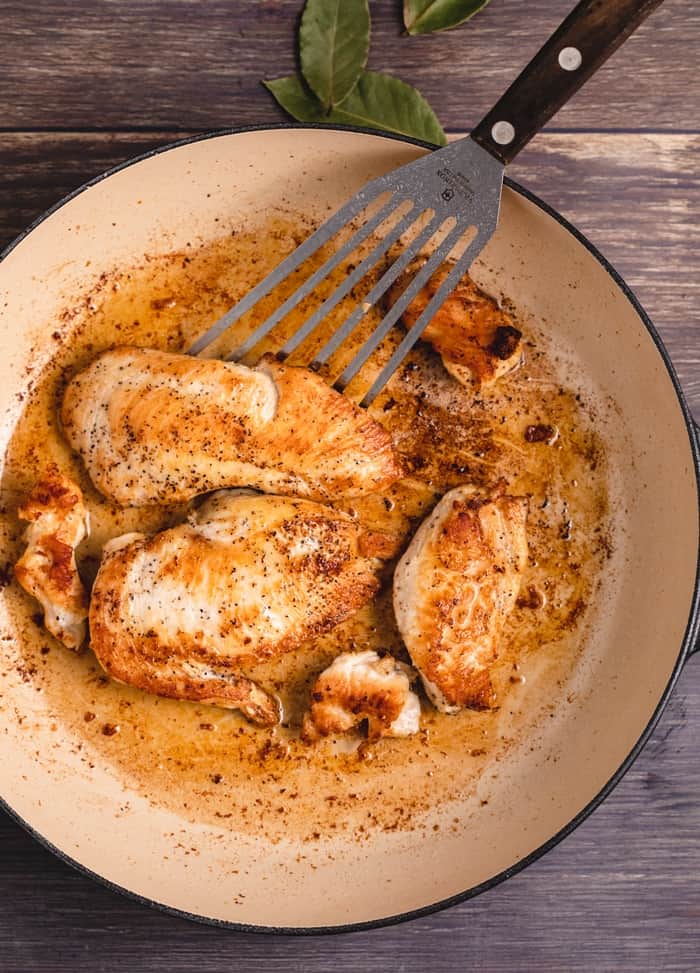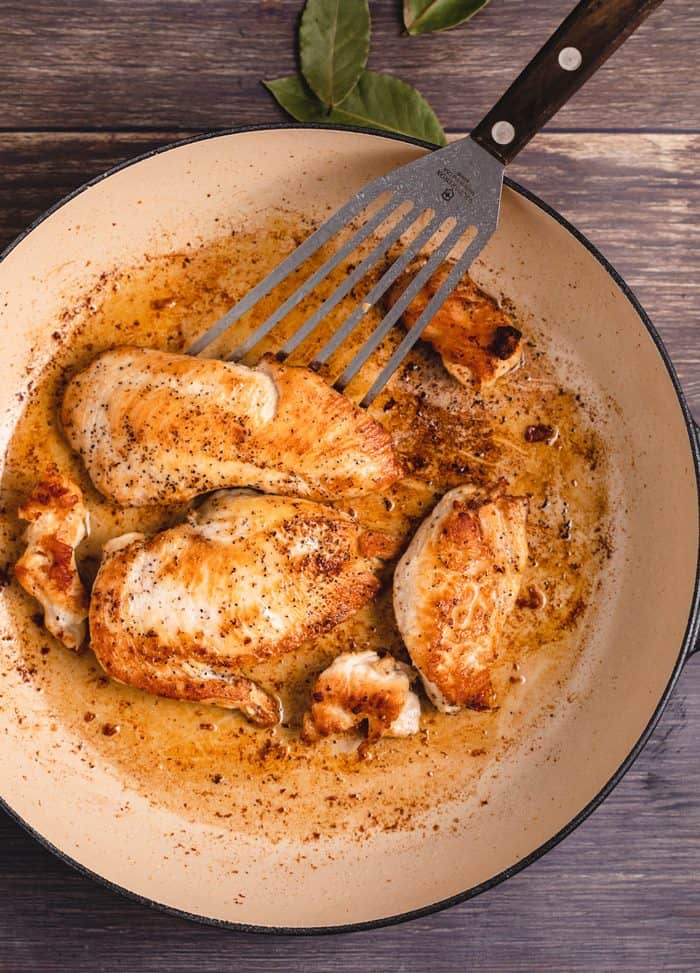 Pan Seared Chicken:
Getting a good sear on that chicken is the first step in the process, which happens over fairly high heat and works best if you don't move the chicken around as it cooks, just let the chicken absorb the heat from the pan until it reaches a golden brown color. This process also leaves chicken sediments on the bottom of the pot, the very same pot we cook the soup in. It gives the broth insanely good flavor. Searing chicken and using the same pan for the rest of the meal is the best way to obtain ultimate flavor in tons of dishes, not just soup!
Follow me!
Before you go, you should probably check out my entire soup collection for future recipe ideas. While you're at it,  signup to receive my latest recipes right to your inbox for free!
(And follow me on Facebook, Pinterest, Twitter, & Instagram.) Okay I'm done now!
Servings: 4 servings
Chinese Chicken Noodle Soup
Course: Soup
Cuisine: Chinese
Keyword: Chinese Chicken Noodle Soup, comfort food, kid-friendly recipe
This healthy, protein-packed Chinese Chicken Noodle Soup that will leave you satisfied and energized.
Ingredients
2 Tablespoons Olive Oil
2 boneless skinless chicken breasts cut into thin strips
Salt/Pepper to taste
4 cups chicken broth low sodium if preferred
1 Tablespoon Oyster Sauce
2 Tablespoons soy sauce low sodium if preferred, light or dark is fine!
3-4 ounces Asian noodles of choice*
4 leaves Bok Choy (Asian Cabbage), sliced into strips
3 green onions diced
4 hard boiled eggs
Instructions
In a large soup pot, heat the olive oil over medium high heat.

Season the chicken strips with desired amounts of salt/pepper and add it to the heated pot. Sear the strips on each side until they reach a nice, golden-brown color, about 5 minutes on each side. Try not to touch them too much as they cook in order to sear them properly.

Once the chicken strips are nice and brown on each side, remove them from the pot. You will notice brown specs at the bottom of the soup pot, this will give the soup excellent flavor!

Reduce the heat to medium and add in the chicken broth, (preferably homemade), oyster sauce, and soy sauce.

Bring the soup to a boil and cook the noodles according to package instructions. Once the pasta is nearly done, reduce the heat to medium low and add the chicken back in, along with the Bok Choy and green onions. Simmer for 1-2 minutes, then remove from heat.

Spoon the soup into 4 serving bowls and top each with a hard boiled egg!
Nutrition Information
Calories:
305
, Fat:
14g
, Saturated Fat:
3g
, Cholesterol:
222mg
, Sodium:
1662mg
, Potassium:
539mg
, Carbohydrates:
21g
, Sugar:
1g
, Protein:
21g
, Vitamin A:
19.8%
, Vitamin C:
30.5%
, Calcium:
6.7%
, Iron:
10.5%