This Lemon Chicken Piccata is a restaurant-quality meal that is easy to make at home! You will love this flavorful white wine reduction sauce that has just the right amount of lemon and butter! With this recipe, there is plenty of sauce to go around.
Serve this with Creamy Herb Pasta, Parmesan Garlic Pasta or Buttered Noodles.

Chicken Piccata
If you want to make a restaurant-worthy meal at home, get ready- you're about to do it.
I'll start by saying this: Preparing the chicken (i.e. Slicing, pounding, dredging, searing), is the most laborious part of this recipe. From there, it's really quick and easy.
Unlike most recipes, this one includes the addition of chicken broth, which adds great flavor and helps create even more of that flavorful, gourmet-worthy sauce. It's not overly loaded with butter and the flavor from the lemon is perfect but not overwhelming.
Check out my step-by-step shots on how to make this, PRO tips, storage info, and more:
How to Make it
See recipe card at bottom of post for ingredient quantities and full instructions.
Cut the chicken into 2-3 thinner slices (I prefer 3 if using very large chicken breasts.) This cuts down on the pounding time. Flash freezing the chicken for 5 minutes makes it easier to slice.
Place the chicken in between saran wrap and pound it to 1/4 inch thin.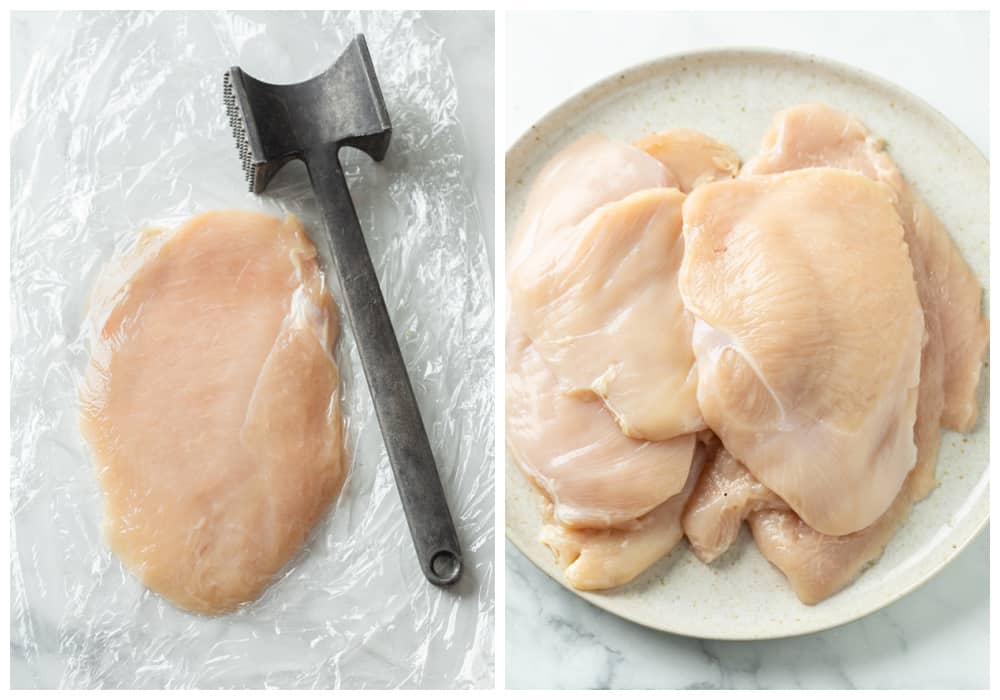 Pat dry and dredge in a seasoned flour/Parmesan mixture. Tap off excess. Heat olive oil and butter and sear the chicken in batches for 3-4 minutes per side. Set aside and wipe pan, leaving a small amount of brown remnants in the pan.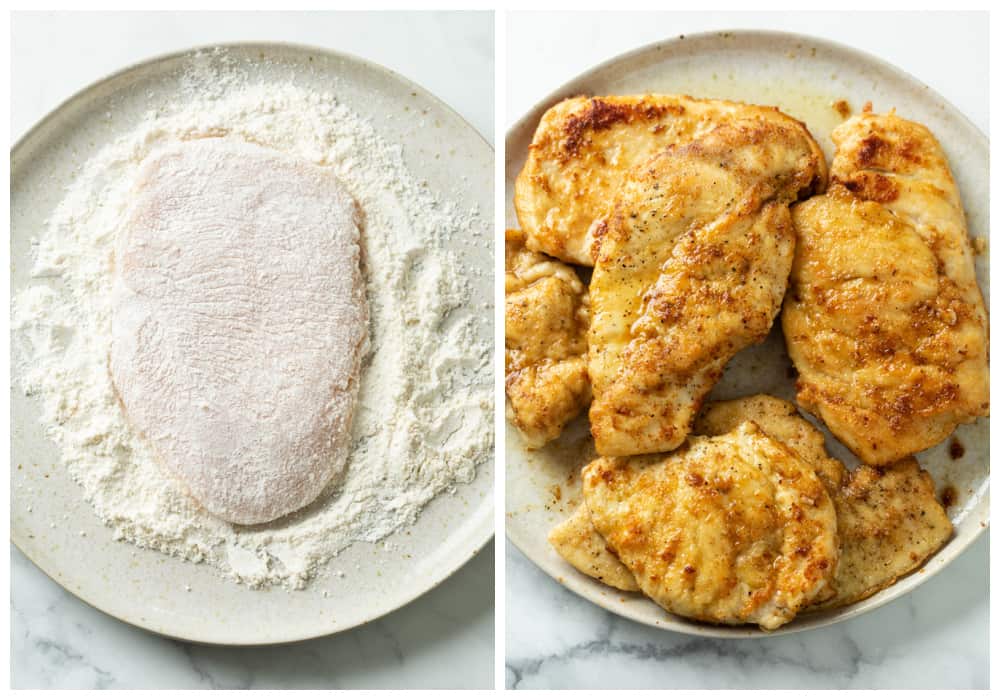 Add white wine and garlic and let it bubble gently and reduce until there is very little liquid left. Add capers, chicken broth, and lemon juice.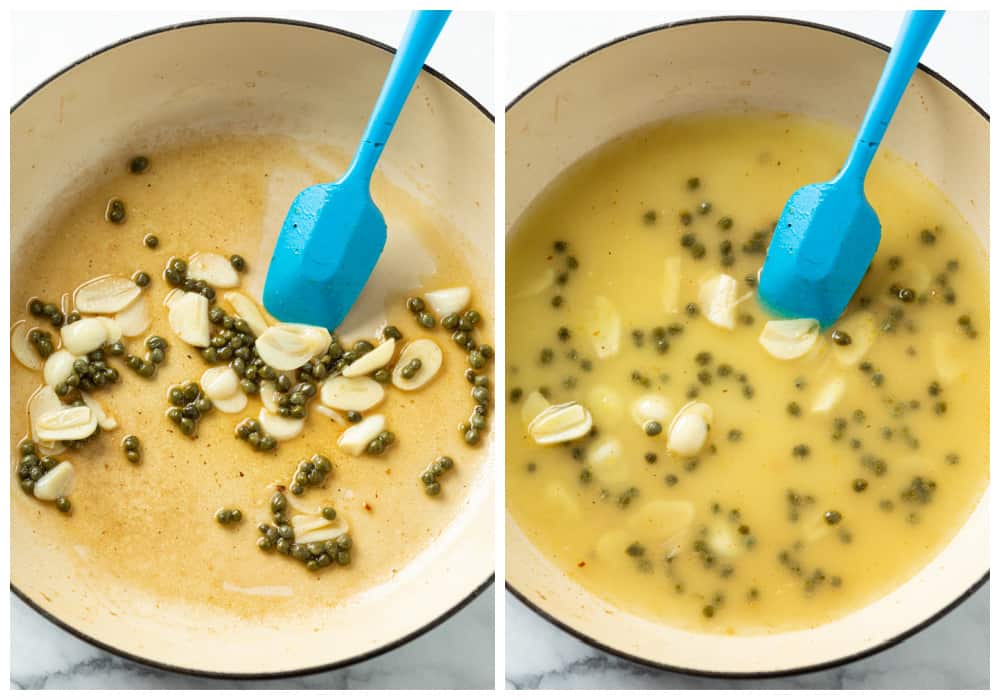 Add chicken back to the pan, spoon sauce on top, and cover partially for 4-5 minutes. Reduce heat to low and swirl in 2 Tablespoons cold butter. Tilt pan to distribute sauce and spoon over the chicken. Serve with One Pot Garlic Parmesan Pasta or Creamy Lemon Pasta.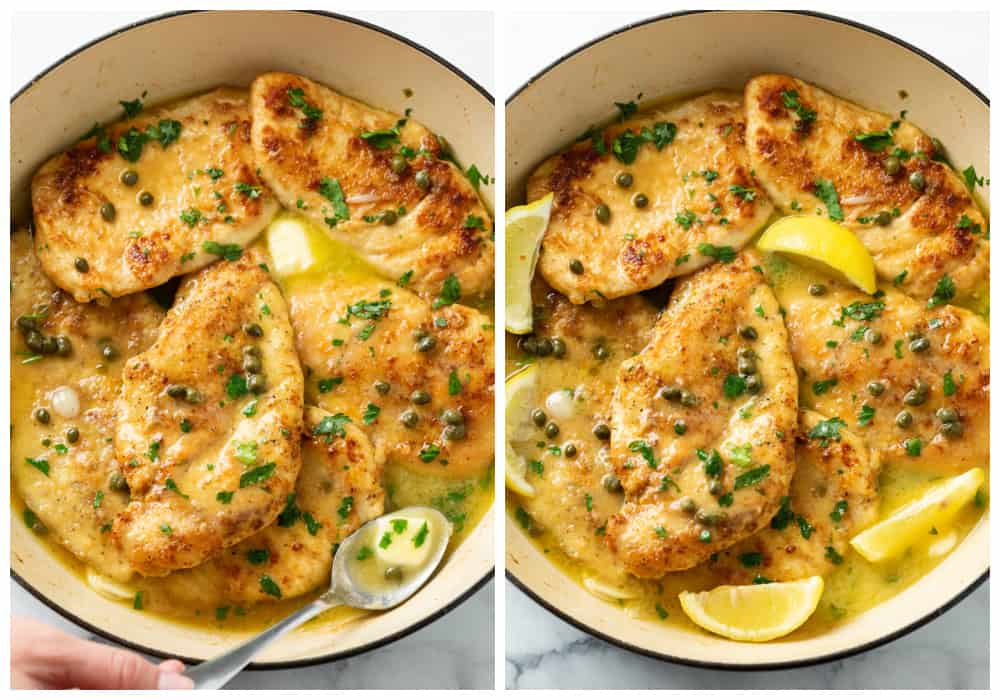 Pro Tips
Chicken plumps up when cooked so be sure to really pound it thin (1/4 inch) beforehand. This also ensures even cooking and really tender chicken.
Preparing the chicken is the most labor-intensive part of this recipe but is well worth it. After that, it's smooth sailing.
Use juice from a freshly squeezed lemon, it's far more flavorful than from a bottle.
Use fresh garlic from a clove, it's much better than a jar.
Use a high quality butter, I prefer Land O' Lakes salted butter. Unsalted works as well.
In this recipe, we add 2 tablespoons of cold butter to the sauce at the end, which is a technique that chefs use called "monter au beurre", which creates a smooth, velvety finish.
What to Serve with Chicken Piccata
Storage
Store leftovers in an airtight container in the fridge for up to 3 days.
Chicken Piccata makes a great freezer meal as well. Store it in an airtight container for up to 3 months.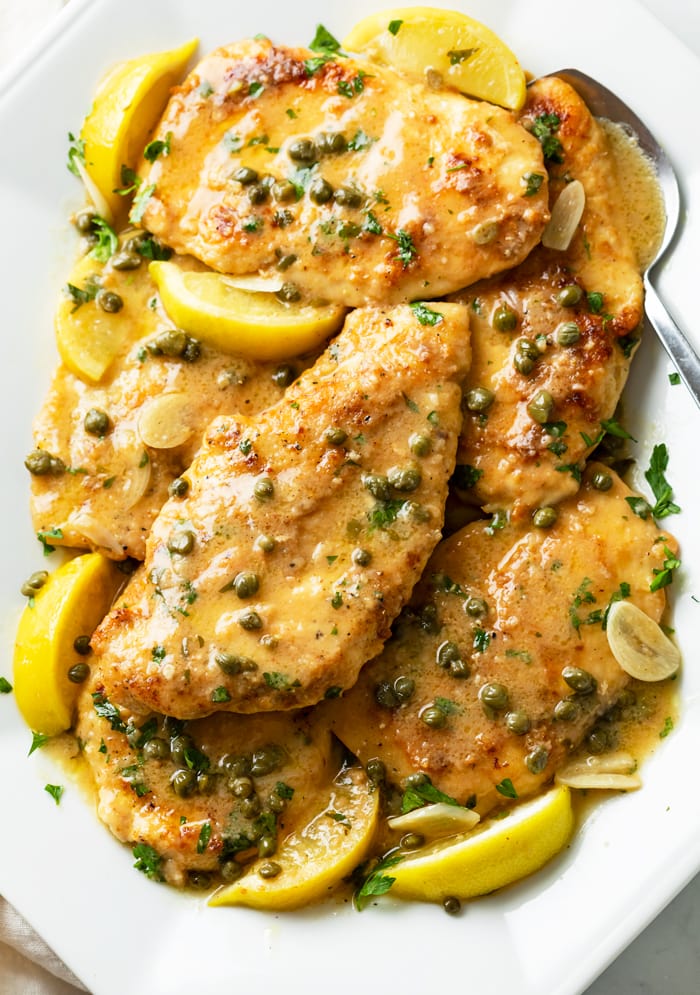 Tools For This Recipe

(Amazon affiliate links)- Check out all of my kitchen essentials here.
Try These Next!
Get My Free Meal Plan!
I've got a Free Meal Plan with 7 of my super popular recipes (complete with grocery list)! Sign up for my email list and I'll send it over now along with weekly dinner recipes!
And follow me on Facebook, Instagram, and Pinterest!
Tried This Recipe?
Leave a review, I love hearing your feedback! ⭐⭐⭐⭐⭐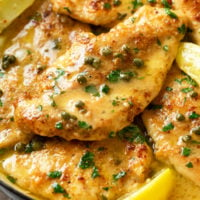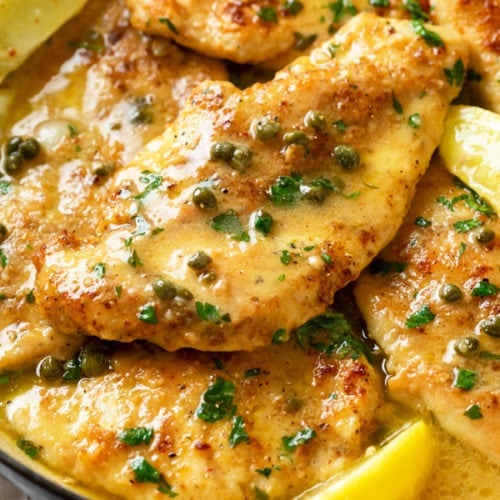 Chicken Piccata
This Lemon Chicken Piccata is a restaurant-quality meal that is easy to make at home! You will love this flavorful white wine sauce reduction sauce that has just the right amount of lemon and butter.
Ingredients
Chicken
2 large boneless skinless chicken breasts
1 teaspoon salt
½ teaspoon pepper
½ cup flour
¼ cup Parmesan cheese, finely grated
1 teaspoon garlic powder
3 Tablespoons olive oil
1 Tablespoon salted butter
Sauce
½ cup dry white wine, like chardonnay or pinot grigio
4 cloves garlic, thinly sliced
2 Tablespoons capers, drained
1 cup chicken broth
2 Tablespoons lemon juice
2 Tablespoons cold salted butter
1/4 cup fresh parsley, roughly chopped
Instructions
Cut, Pound, Dredge, and Sear the Chicken:
Note: This is the most time consuming part, after this section, this meal is a breeze.

Combine the flour, Parmesan cheese, garlic powder, salt, and pepper on a large plate. Set aside.

Cut each chicken breast into 3 thinner slices. Place in between saran wrap and use a meat tenderizer to pound it very thin, about ¼ inch thick. It will plump more once it's cooked so pounding thin is key.

Pat the chicken dry and dredge each side in the flour mixture. Tap off excess.

Heat 3 Tbsp. olive oil and 1 Tbsp. butter in a large skillet over medium-high heat. Sear the chicken in batches for 3-4 minutes per side, until a golden crust has developed. Add a splash of olive oil and/or reduce heat as needed during cooking. Set the chicken aside on a plate and turn off heat when finished.
Prepare the Sauce:
Carefully wipe the pan, but leave a few brown bits for added flavor.

Add the wine and garlic. Set heat to medium. Bubble gently for 4-5 minutes, until just a small amount of liquid remains. Use a silicone spatula to "clean" any remaining brown flecks on the pan while the wine reduces. This will add flavor.

Add the capers, chicken broth, 2 Tbsp. lemon juice and stir to combine.
Add the Chicken back and Finish the Meal:
Add the chicken along with any juices from the plate.

Spoon the sauce over the chicken and cover partially, cook for 3-5 minutes. The sauce will thicken slightly and become more flavorful.

Reduce heat to low. Add 2 Tablespoons cold butter and let it melt into the sauce. Tilt the pan to distribute the sauce throughout and spoon it over the chicken again. Remove from heat.
Notes
Nutrition facts includes all of the flour dredge ingredients but it's likely that there will be some left on the plate.
Nutrition
Calories: 303kcal, Carbohydrates: 16g, Protein: 17g, Fat: 17g, Saturated Fat: 5g, Trans Fat: 1g, Cholesterol: 48mg, Sodium: 1103mg, Potassium: 355mg, Fiber: 1g, Sugar: 1g, Vitamin A: 478IU, Vitamin C: 14mg, Calcium: 101mg, Iron: 2mg