Cheesecake Sugar Cookies
These sweet and chewy cheesecake sugar cookies are topped with a smooth and creamy cheesecake frosting with an easy floral design.
So, I always pictured motherhood to be this peaceful, quiet, calm…thing. You know those diaper commercials where there's lullaby music playing in the background, it's nighttime, all is quiet and peaceful, the baby is fast asleep, and there's just not a care in the world?
Yeah. That's not motherhood. Motherhood, (in my world at least), is more like… running around with your hair tied in a knot on the top of your head, trying not to trip on toys, while keeping everyone fed, clean, and happy as you simultaneously try to prevent the house from looking like a bomb went off. My little girl has officially entered the toddler stage, and it's pretty crazy. That being said, it sure beats the year of no sleep that preceded it : )
Why am I rambling about this? Because any time one of my friends becomes a new mother, I am now absolutely inclined to create a care package or gift basket for them. And my neighbor, just had twins. TWINS. TWINS!!
I will never complain about my (one) little baby girl ever again.
So, before learning about these joys of motherhood, I never created gift baskets before, nor did I do too much baking. But quite honestly, I've found that it's a bit therapeutic for me, and I truly believe that I get as much satisfaction from baking and creating gifts for others as my recipients get. (In fact, studies show that this is actually true.)
Cookies are my go-to sweet treat for these baskets, and though I am typically pretty flexible with what ingredients I use, I find that when I bake with Bob's Red Mill, I rarely screw it up. I think Bob's gives me good luck. Or maybe it's just the fact that flour is a pretty important ingredient in baking and using a good brand ensures that it comes out the way it should. That's my take anyway, and I like to prevent delivering crappy cookies to new moms. That's just not nice.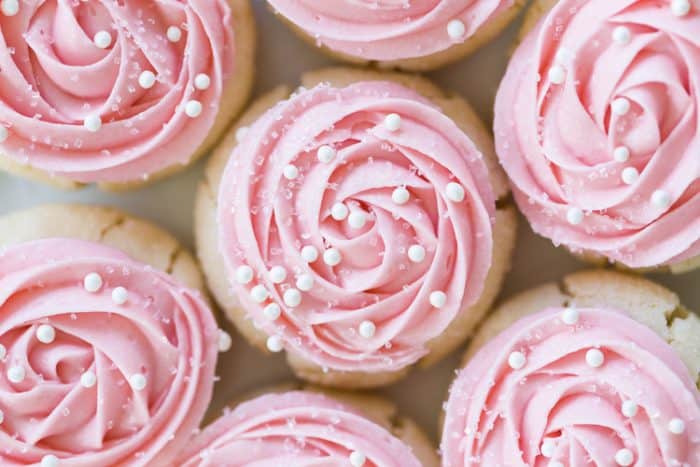 Cheesecake Sugar Cookies
These sweet and chewy cheesecake sugar cookies are topped with a smooth and creamy cheesecake frosting with an easy floral design.
Ingredients
Cookies:
3 cups Bob's Red Mill all-purpose flour
1 1/2 teaspoons baking powder
½ teaspoon salt
1 cup unsalted butter, at room temperature
2 oz. cream cheese, at room temperature
1 cup granulated sugar
1 large egg, at room temperature
2 teaspoons pure vanilla extract
½ teaspoon almond extract
Optional: 1/2 cup granulated sugar for rolling
Cheesecake Frosting:
8 oz. cream cheese, at room temperature
½ cup butter, at room temperature
2 teaspoon vanilla extract
2 cups powdered sugar*
Red food coloring, I used 4 drops
Instructions
Cookies
In a large bowl, whisk together the flour, baking powder, and salt. Set aside.

In another large bowl, use an electric mixer to combine the butter and cream cheese for 2 minutes on high speed until creamy and smooth.

Add in the sugar and beat until well incorporated. Beat in the egg, vanilla extract, and almond extract on high.

Slowly incorporate the dry ingredients into the bowl and mix on low speed, until combined. The dough will be thick in consistency.

Wrap the dough tightly in foil or plastic wrap and refrigerate for a minimum of an hour and a maximum of three days.

Preheat the oven to 350 degrees.

Take the chilled dough out, if it's been refrigerated longer than 3 hours, let it sit at room temperature for 20 minutes before proceeding.

Use a small cookie scoop (or your hands) and roll about 1 + ½ Tablespoons of dough into a circle.

Optional Step: Roll each cookie ball into ½ cup sugar until coated on all sides.

Place the cookie dough balls on baking sheets lined with silicone mats or parchment paper.

Use a glass or measuring cup with a flat surface and press down on each cookie until it is about the thickness that you want the finished cookie to have.

Bake for 13-15 minutes, until the bottom of the cookies are just starting to brown slightly. It might be a good idea to rotate the cookies once during baking time if your oven temperature fluctuates in certain spots.

Let the cookies start to cool on the baking sheet for 5 minutes, then let them cool completely on a cooling rack.
Frosting
In a large bowl, use an electric mixer to beat the butter and the cream cheese until well-combined. Add the vanilla extract, powdered sugar, and a few drops of red food coloring.

Beat until well combined and uniform in color.

Frost the cookies only when they have completely cooled, or the frosting will melt.

Use a star icing attachment if you want to be extra decorative. Start in the middle and swirl around outwards.
Nutrition
Calories: 275kcal, Carbohydrates: 30g, Protein: 2g, Fat: 15g, Saturated Fat: 9g, Cholesterol: 51mg, Sodium: 125mg, Potassium: 63mg, Sugar: 18g, Vitamin A: 525IU, Calcium: 29mg, Iron: 0.8mg