Buffalo Chicken Dip {with Feta!}
I have a confession, and this is going to be a hard thing for me to say AS I'm staring at a giant bowl of Buffalo Chicken Dip (with FETA!)… but, here goes…
I used to not like Buffalo chicken dip. Or buffalo chicken in general. There, I said it. *sigh*
However, throughout the years, every time that my husband and I would get pizza, he would order buffalo chicken pizza. (Much to my dismay.)
I, on the other hand, am very much a traditional topping kind of person. You know- pepperoni, black olives, peppers, etc. etc. So whenever he'd get buffalo chicken pizza, I just couldn't understand it, and so I'd yell at him. (I kid, I kid.)
But there is a little something inside me that ALWAYS has to have a bite of his food because it looks better than mine. Like… we can both have an onion ring but his onion ring will look better than my onion ring. Always. (Okay, now I want onion rings…)
Anyway this led me to be exposed to buffalo chicken pizza many times over the years and GOSH darnit, buffalo chicken is the best thing in the world!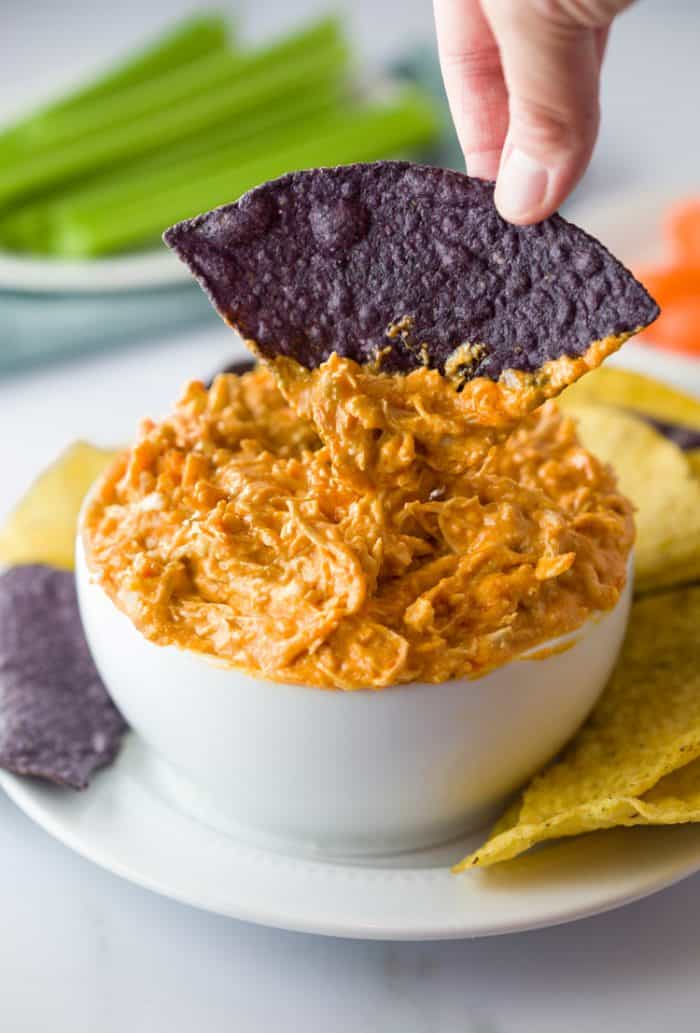 Speaking of pizza, you can totally put this dip on top of pizza. (Naan bread pizza to be specific, it's amazing, easy, and holds up SO well when you top it with this stuff.) Then you dip the pizza in blue cheese and are instantly in food heaven.
What's something you used to not like… and now love?! Tacos. That's another one for me. And lobster. (Yes, lobster, isn't that weird?)
Buffalo Chicken Dip with Feta
This Buffalo Chicken Dip (with Feta!) is loaded with juicy, shredded chicken that's smothered in buffalo sauce and a savory 4-cheese blend.
Ingredients:
4 skinless, boneless chicken breast halves
1 (12 oz.) bottle Frank's buffalo sauce
1 (12 oz.) jar Marie's chunky blue cheese dressing (Usually in the refrigerated produce section)
1 (8 oz.) block cream cheese, softened
1 + 3/4 cup shredded cheddar cheese
3/4 cup Feta cheese
Directions:
Boil the chicken breasts in a covered pan for about 30 minutes, until no longer pink.
Drain the water and place on a cutting board. Use 2 forks to finely shred the chicken.
Add all remaining ingredients and stir until well combined and warm.
Serve with chips, carrots, or celery and enjoy!
You can even top a pizza with this dip- it's DELISH. I freeze these in portion sizes in ziplock bags and use it to make buffalo chicken pizza with naan bread, which I also keep in the freezer! It's an easy, last minute weeknight meal.
Crock Pot Method: Place the chicken breasts in the crock pot on low (8 hours) or high (4 hours), until no longer pink and cooked through. Drain any excess water and place on a cutting board to shred. Add remaining ingredients and stir to combine. Serve when the dip is nice and warm throughout: low (2 hours) or high (45 min).
All images and text ©
*This post may contain affiliate links