Broccoli Cheddar Chicken and Rice Casserole
This easy Broccoli Cheddar Chicken and Rice Casserole recipe can be prepared up to 3 days ahead of time and baked when you need to make a quick dinner!
Be sure to try my Copycat Cracker Barrel Hashbrown Casserole Recipe next!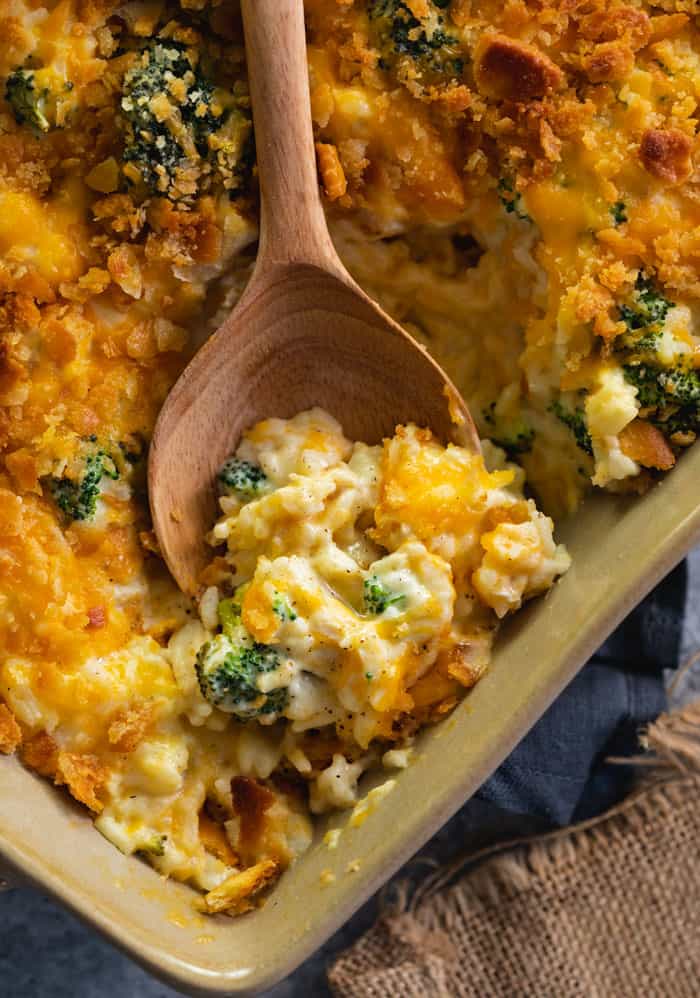 My family and I have been eating this chicken and rice casserole for years now. Who needs to separate chicken, rice, and broccoli when you can whip up a creamy casserole?!
The added bonus is when my family cleans their plates, which they tend to do for any casserole that has any casserole that has any of the Campbell's Condensed Cream soup in it. The flavor and creamy consistency are pretty hard to beat.
Let me show you how it's done!
Cream of Chicken Soup Substitutes
-A variety of Campbell's® Condensed Soups work well in this casserole; my favorites are Cream of Mushroom, Cream of Broccoli, Cheddar Cheese, and Broccoli Cheese.
OR, try this Homemade Cream of Chicken Soup recipe!
Benefits of Regular Rice vs. Instant or "Minute" Rice
I highly recommend using regular rice in this casserole, and here's why:
Regular rice only takes 20 minutes, which is how long the chicken will be cooking for anyway, so it's not going to take you any longer to prepare the meal with regular rice.
Regular rice has higher nutritional value, flavor, and texture. Not only does Instant rice lose some of its nutritional value during the process of cooking it and drying it out again, but it loses a lot of flavor and texture. (If you did a side-by-side taste test, you would be amazed.)
Using long grain rice will result in a creamier consistency in the casserole; short grain rice tends to be stickier.
Make-Ahead Method
-This casserole can be assembled ahead of time and refrigerated for up to 2 days prior to baking.
-If prepared 2 days in advance, it should be used within 1-2 days or leftovers should be frozen.
-The cracker/butter topping should be made when you bake the casserole and not prepared ahead of time.
Using Frozen Broccoli
-Using a 16 oz. bag of frozen broccoli (and/or cauliflower) is a perfect alternative to fresh broccoli. Just be sure you thaw and pat it dry!
Freezing and Reheating Chicken and Rice Casserole
-This chicken and rice casserole can be frozen, although the creamy consistency won't be quite the same as when freshly made. Frozen casserole is best if used within 3 months of freezing.
-Freeze the casserole in portion sizes. To reheat, let it defrost in the fridge overnight if possible and bake at 350 degrees for 15-20 minutes or so.
-If necessary, you can reheat the casserole in a frozen state in the oven, covered in foil.
-Thawed or frozen casserole can also be microwaved; microwave time depends on the portion size.
–Tip: I like to freeze portion sizes in foil packets and place them in a freezer bag. I then place the frozen foil packet in a 350 degree oven for about 20 minutes (amount of time varies based on portion size).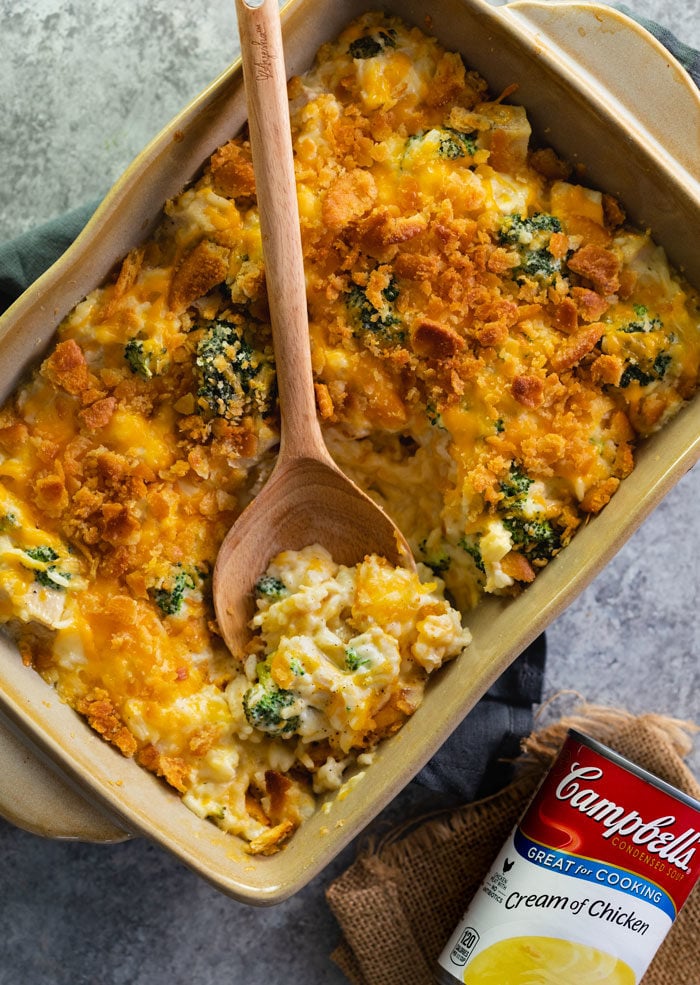 Try These Next!
Follow Me!
Like this recipe?! Try it with ham next!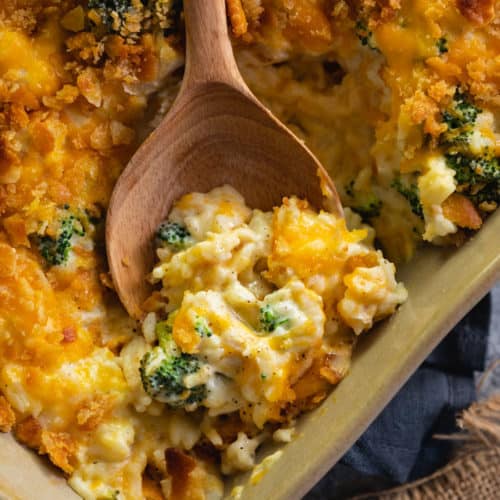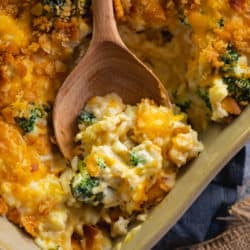 Servings: 6
Broccoli Cheddar Chicken and Rice Casserole
Course: Main Course
Cuisine: American
Keyword: Broccoli Cheddar Chicken Casserole, Chicken and Rice Casserole
This easy, make-ahead chicken and rice casserole is extra creamy and loaded with delicious bites of broccoli and savory cheddar cheese. Get ready to watch your family lick their plates clean!

Ingredients
2 boneless skinless chicken breasts
Salt/Pepper to taste
2 cups cooked white long grain rice,
10.75 oz. Campbell's® Condensed Cream of Chicken Soup (can sub cream of mushroom)
½ cup milk
½ cup sour cream
2 cups shredded cheddar cheese separated
2 cups fresh broccoli florets uncooked
Casserole Topping
1 cup Ritz crackers crushed
2 Tablespoons melted butter
Instructions
Cut chicken into bite-sized pieces and season with desired amount of salt and pepper.

Bake at in a lightly greased casserole dish at 350 degrees, uncovered, for 20 minutes. Drain excess juice from casserole dish. It's okay if it's not completely cooked through yet.

In a large bowl, combine the soup, milk, sour cream, cooked rice, and half of the cheddar cheese.

Add in the broccoli and chicken and stir to combine.

Lightly grease the casserole dish and pour in the rice mixture.

Top with remaining cheddar cheese.

If baking immediately after assembling, bake the casserole for 35 minutes, covered.

If preparing this ahead of time, cover with foil and refrigerate for up to 3 days prior to baking. Then bake for 45 minutes, covered.
Adding the Topping:
Melt the butter and crumble up the crackers. Combine to form the topping for the casserole.

Top the casserole with the crumbled cracker topping and bake uncovered for 10 additional minutes.

Let the casserole sit for 5 minutes prior to serving.
Recipe Notes
Tip: Using a 16oz. bag of frozen broccoli (and/or cauliflower) is a perfect alternative to fresh broccoli. Just be sure you thaw and pat it dry!
---
My casserole dish was 13.25 x 9 but variations are fine.
Nutrition Information
Calories:
418
, Fat:
27g
, Saturated Fat:
14g
, Cholesterol:
89mg
, Sodium:
780mg
, Potassium:
279mg
, Carbohydrates:
21g
, Sugar:
2g
, Protein:
21g
, Vitamin A:
750%
, Vitamin C:
0.7%
, Calcium:
344%
, Iron:
1.5%