Baked Spaghetti
This Baked Spaghetti begins with a creamy tomato meat sauce that's tossed with spaghetti and topped with Mozzarella and Parmesan. Make it up to two days ahead of time for ultimate convenience! 
Don't forget a side of CHEESY Homemade Garlic Bread!
I can't get enough of casseroles these days. I love that you can make them ahead of time, they're easy to freeze, and they usually involve cheese.
This baked spaghetti has the best meat sauce, and it comes together so quickly and easily. You can use tons of different kinds of pastas in here too. (Rotini would be great.)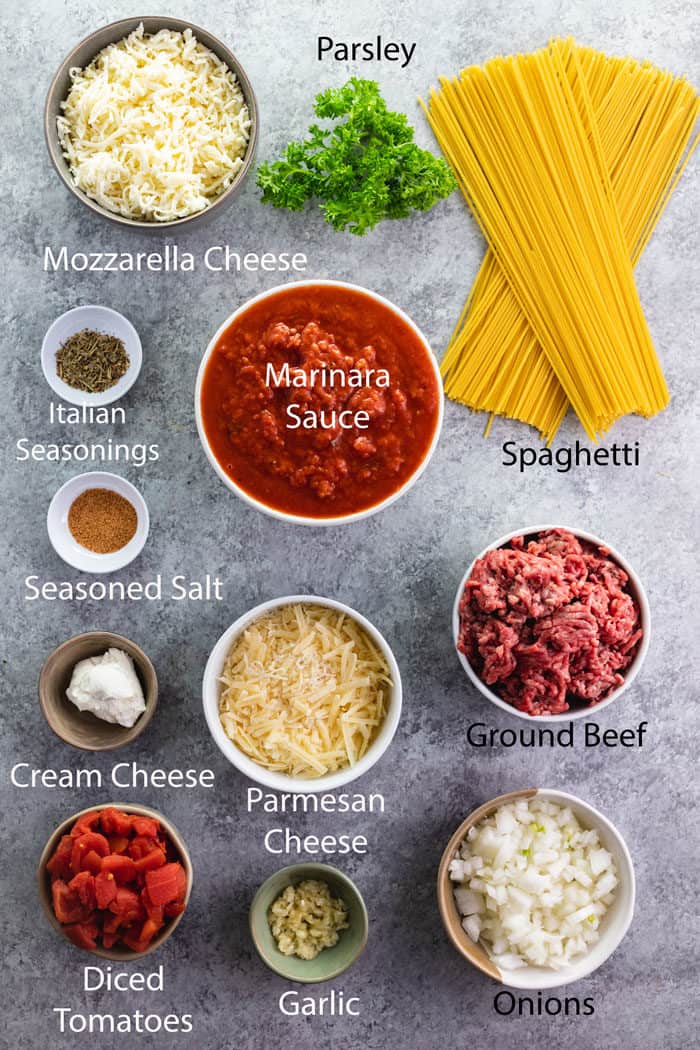 It's also a WIN because I always have all of the necessary ingredients in the house.
If you've never tried adding a dab of cream cheese to your marinara sauce, oh my gosh, it's time to try it. I can pretty much guarantee that you'll love it. Just a dab'll do ya! (That's what my art teacher use to say about glue.) Anyway…
Additional Ingredient Options
-Additional ingredients include diced Bell Peppers, Italian Sausage, Ricotta Cheese, Cooked/Diced Chicken, and more!
Making Baked Spaghetti Ahead of Time
-Baked Spaghetti can be prepared and assembled up to two days before baking.
-It can also be assembled and frozen before it's baked. Before serving, let it defrost in the refrigerator overnight, then proceed with baking per the recipe.
Storing Baked Spaghetti
-Baked spaghetti should be refrigerated and is best if used within three days.
Freezing Baked Spaghetti
–Baked spaghetti can be frozen after it's been baked. It's best to wrap portion sizes in foil and place them in a labeled freezer bag.
–To reheat from a frozen state, leave it in the foil and bake at 350 degrees for 25 minutes or more, depending on the serving size.
Try These Next!
Follow Me!
Servings: 8 servings
Baked Spaghetti Casserole
Course: Main Course
Cuisine: Italian
Keyword: easy dinner recipe, freezer friendly, kid-friendly recipe
Ingredients
16 oz. spaghetti
1 pound ground beef
1 medium onion chopped
2 cloves garlic minced
1/2 teaspoon seasoned salt
1 teaspoon Italian seasonings
32 oz. marinara sauce
14.5 oz. diced tomatoes drained
2 Tablespoons cream cheese at room temperature
1/3 cup Parmesan cheese shredded
1 3/4 cups mozzarella cheese shredded
Parsley to garnish
Instructions
Cook the ground beef and diced onions in a large, nonstick skillet over medium heat.

Once the beef is browned and cooked through, add the garlic, seasoned salt and Italian seasonings and cook for an additional minute.

Add the marinara and diced tomatoes. Once heated, stir in the cream cheese until it's melted and well-combined. Reduce heat to low.

Preheat the oven to 350 degrees.

Cook the spaghetti according to package instructions. Drain, and add to the marinara sauce.

Pour the spaghetti into a lightly greased 9 x 13 inch baking dish and top with mozzarella and Parmesan cheese.

If serving immediately, bake uncovered at 375 degrees for 15-20 minutes, until the cheese is hot and melted.

If serving at a later date, cover and refrigerate until ready to serve, up to two days.

Bake refrigerated casserole at 375 degrees for 25 minutes covered, and an additional 5-10 minutes uncovered.

Top with chopped parsley and serve!
Recipe Notes
I cut the recipe in half and baked it in a 8.5 x 8.5 inch baking dish.
Leftovers freeze well 🙂
Nutrition Information
Calories:
461
, Fat:
14g
, Saturated Fat:
5g
, Cholesterol:
51mg
, Sodium:
1048mg
, Potassium:
802mg
, Carbohydrates:
53g
, Fiber:
4g
, Sugar:
8g
, Protein:
28g
, Vitamin A:
15%
, Vitamin C:
16.9%
, Calcium:
35.2%
, Iron:
20.7%