3-Ingredient Banana Blueberry Waffles
It's true: you only need 3 ingredients for these banana bluerry waffles. (And from the title, you can probably guess what two of them are.) I am SOOOOOOOOOOO excited about this. These waffles are all-natural, energizing, gluten free, vegetarian, and… delicious. I originally saw it posted as a pancake recipe, which I'll have to try next. 
Can you guess what the third ingredient is?
Eggs. Yup- eggs. There's no flour here, no bread-like substances, no added sugar, just real shhhhhtuff. Bananas. Blueberries. Eggs. 
I read that it's a little hard to flip the pancake and I figured I'd use my waffle iron to actually make some waffles… (first time doing that, by the way)… before that it was waffle iron grilled cheese, and waffle iron omelettes … both of  which were huge successes.  But back to the waffles… I really can't get over it. You can eat it without a shred of guilt, when you're done you've satisfied your waffle craving, but you've really had a banana, and egg, and some blueberries. AMAZING I tell you! Yes. The waffle can be a little tricky to remove from the iron. You have to let it sit in the iron after you turn off the heat to let it firm-up a bit more. If you do that, you're golden. I used a knife to cut along the edges to loosen it up and removed one triangle at a time, and it was alllllll goood.
So, enjoy your next batch of waffles or pancakes and get ready to be amazed by their flavor while you reap many health benefits at the same time 🙂
Just some of the health benefits in these Banana Blueberry Waffles: 
Bananas:They aid in digestion, act as a prebiotic, high in fiber, sooth the digestive tract, a natural antacid, make you more alert, high in B-vitamins, aid in weight loss, strengthen your blood and nervous system, high in potassium/low in salt, help lower blood pressure, & more.
Blueberries: They are huge in antioxidant and cardiovascular support, and have several cognitive and blood sugar benefits as well. They even improve your eye health and help to provide anti-cancer benefits. You can eve freeze them without compromising these benefits.
Eggs: Eggs are a high-quality source of protein. And all of the B vitamins are found in eggs (and Vitamin B is huge)- This includes B1, B2, B3, B5, B6, B12, choline, biotin, and folic acid. The mineral content in eggs is hard to find in other foods, and have huge health benefits.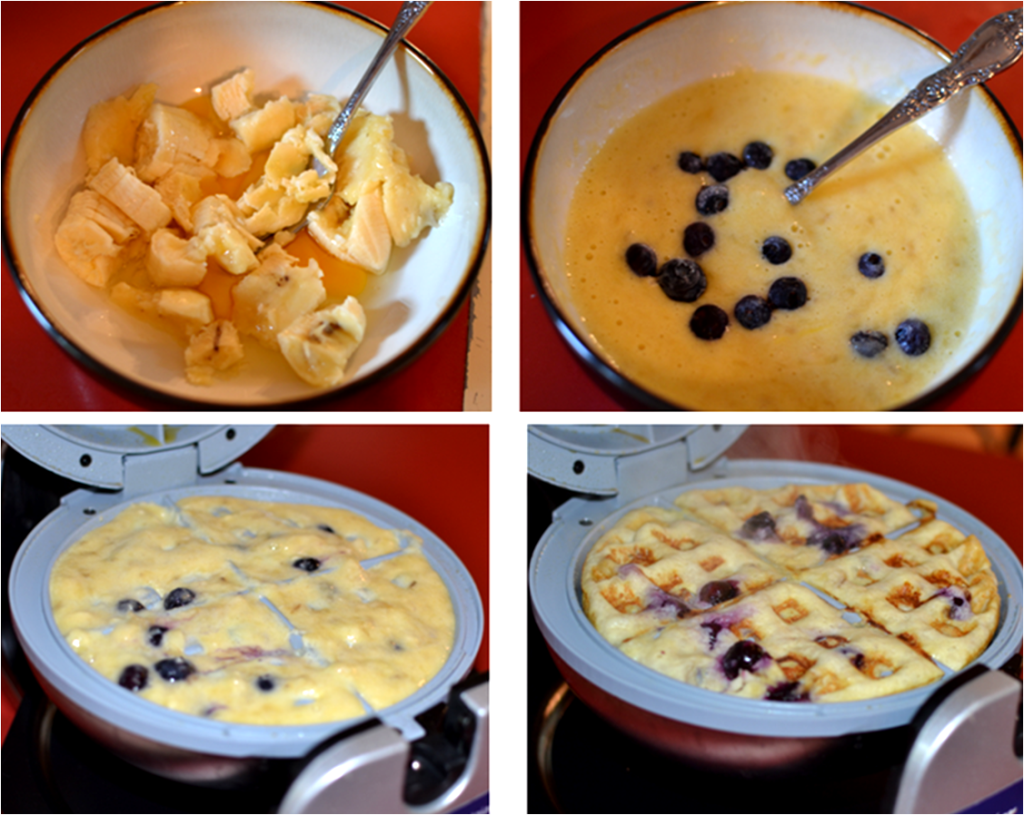 3-ingredient Banana Blueberry Waffles
These waffles are all-natural, delicious, healthy, and require only 3 ingredients. This is a perfect way to get energized for the day.
Ingredients:
1 medium banana, sliced
1 large egg
5 Blueberries
Directions:
Preheat the waffle iron and spray with nonstick cooking spray.
Crack the egg into a small mixing bowl and add the banana slices. Mash the banana and mix thoroughly with the egg. Stir in the blueberries.
Pour into the waffle iron and close the lid. Cook for about 2-3 minutes on each side. Shut off heat. Let the waffle sit in the iron for a bit, it will get firmer upon standing and will be easier to remove. I used a knife to loosen around the edges, removing one waffle triangle at a time.
Enjoy as-is or serve with butter and/or syrup!
*This post may contain affiliate links