Things I love: Easy, budget-friendly, one-pot recipes that my husband loves to eat. 
Things I don't love:  Sneezing, Mayonnaise, loud chewers, hitting my head on stuff. 
So let's focus on the positive. This meal. I LOVE IT. It's saved me so many stinkin' times when I've had no idea what to make for dinner. I always have pasta and frozen chicken on hand… and if you ever catch me without a full supply of cheese- take me to the doctor. And thanks to this miracle meal, I always head to Walmart and stock up on cans of MANWICH sauce: which I used to think was only good for making…err.. Manwiches. Wrong! There's actually a ton of stuff you can make with it, my favorite being this meal, which I so appropriately deemed to be my "One Pot Manly Cheesy Chicken Penne"  😉 All  you need is a deep saute pan and you're SET.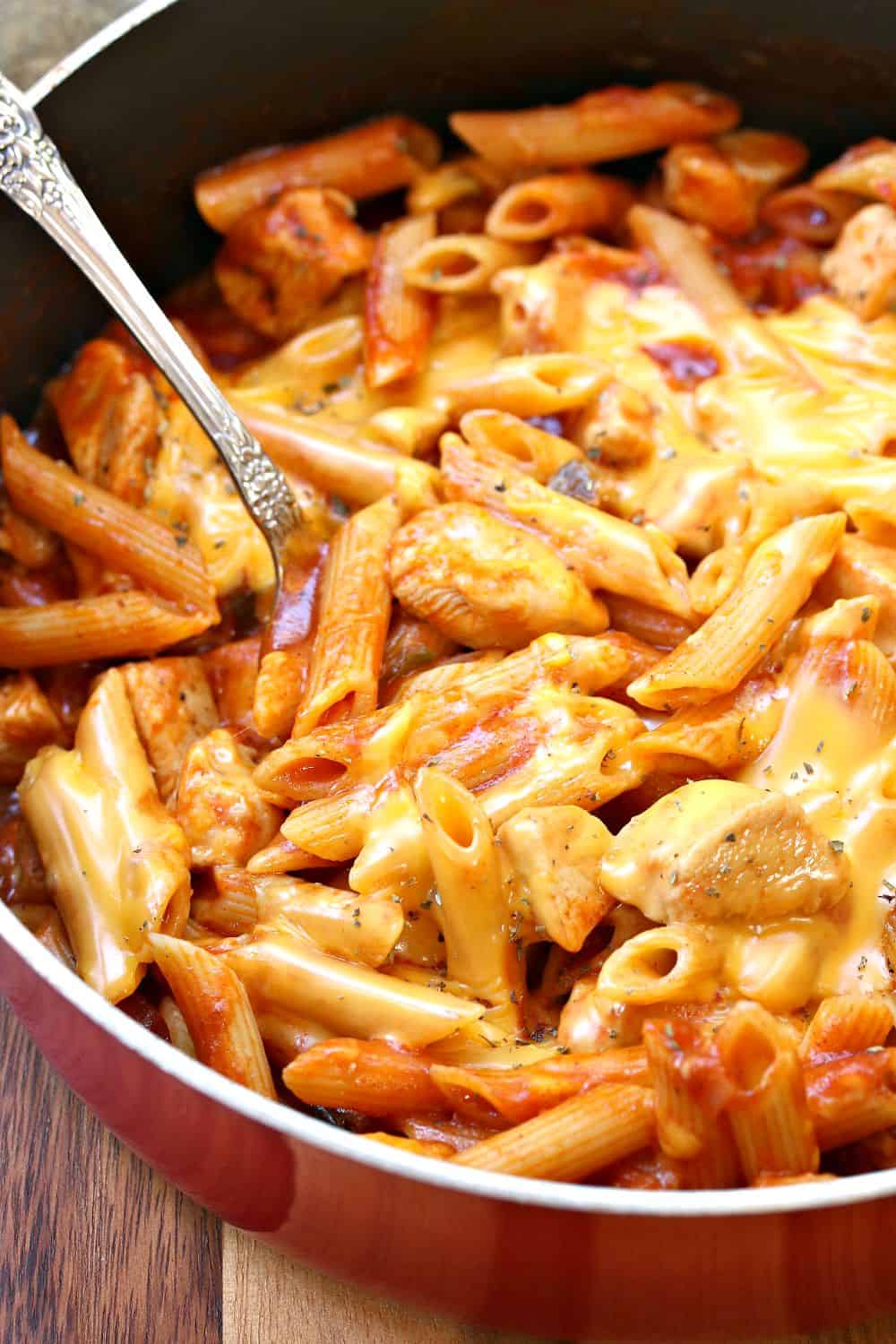 One Pot Manly Cheesy Chicken Penne
Ingredients
1 Tbsp Butter (or margarine)
3 large chicken breasts
3 Tbsp minced onion
2 Tbsp minced garlic
1 15 oz. can Manwich Bold + 1 can water (fill the Manwich can with the water)
2 cups chicken broth (or 1 14.5 oz. can)
½ pound of penne
2 cups shredded cheddar cheese (I used 1 cup regular, 1 cup sharp)
¾ cup cubed Velveeta cheese (or 5 slices)
Salt & Pepper
Instructions
Heat butter over medium heat in a deep saute pan. Add onion and garlic and saute for 5 minutes.


Cut chicken breasts into pieces of desires size. Coat with light amount of salt and pepper.
Add chicken to pot mixture and cook slowly over medium heat. Simmer for 15 minutes or until chicken is mostly white and no longer pink.


Add chicken broth, Manwich Bold Sloppy Joe Sauce, water and pasta to the pot. Bring to a boil. Reduce heat to simmer for about 25-25 minutes.


Remove from heat and stir in cheese until melted throughout, reserving a handful of shredded cheese to sprinkle on the top. Cover for a few minutes to allow the cheese to melt, and stir.

Serve 🙂