No Bake Oreo Delight (& Cookbook Giveaway!)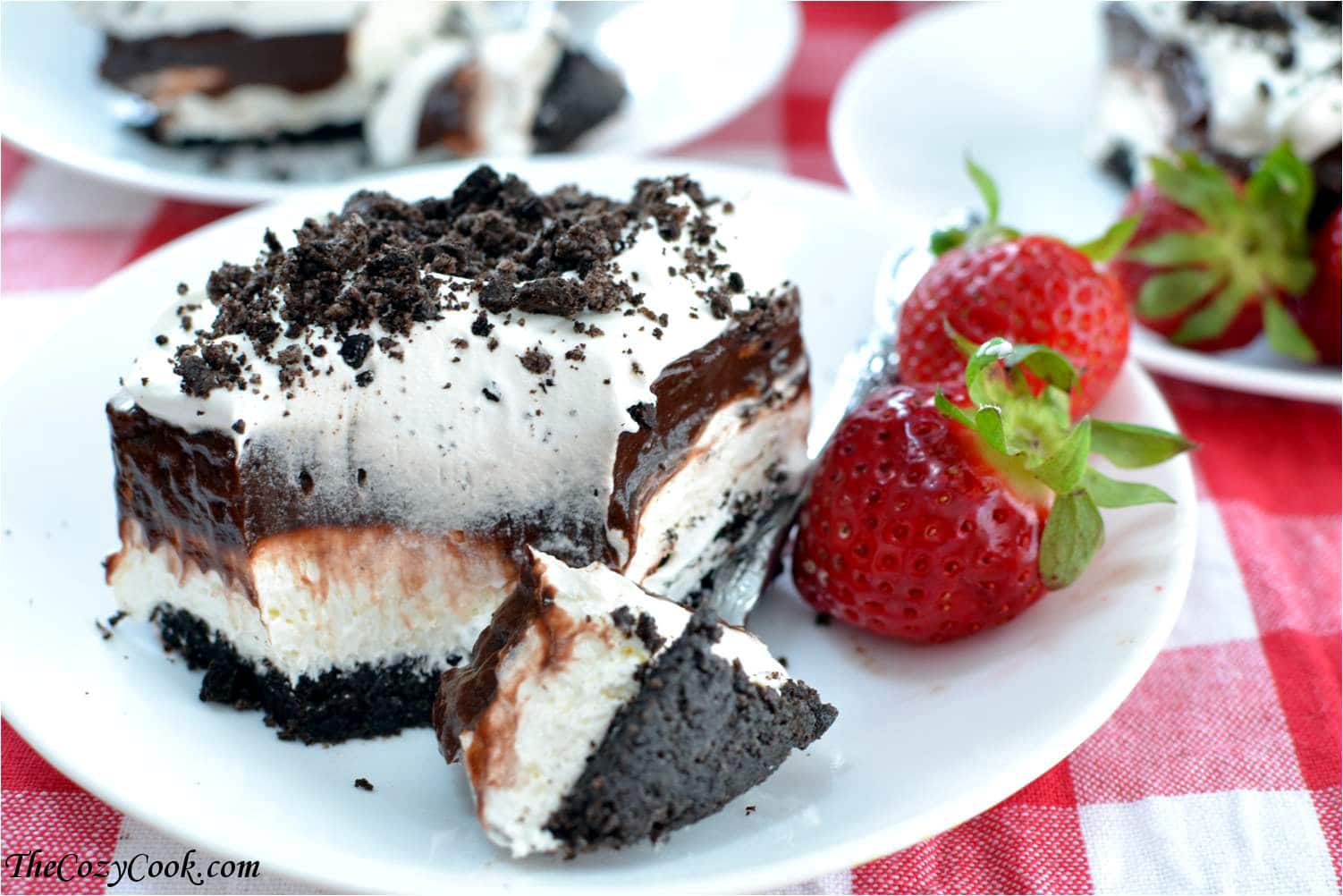 "Mark? What's a new recipe you want me to make?" (A common question I ask of the hubs.)
"Chocolate chip cookies"- always his response. Why do I even ask.
"No", I grumble- "something new, for my blog…I've already made chocolate chip cookies."
-Pause. He pretends to think–  "Ummmm……..Chocolate chip cookies"
Dahhhhhh. Well forget THAT! Right!? Boys. Seriously.
Well I decided to give some Oreo Delight a whack because, let's face it. It looks easy, it has a layer in it that semi-resembles cheesecake, (my obsession), and it has Oreos in it. (My other obsession.) And Mark likes chocolate- obviously.
Here's a serious question that I have:
What is something that you LOVE, that someone else doesn't, and you can't get over it.
Like…. I LOVE white creamy, cheesy casserole-type pasta or chicken dishes. The hubs? –Eh. Not so much. What's UP with that?!  He likes red sauce (which, so do I.) But he doesn't care for white sauces-Alfredo, just won't do. Is that not the craziest thing ever? I could go on about this for a while but I have more important things to talk about. Liiiike, a….
Cookbook Giveaway! (Now closed)- watch for more!
Cookbooks are fun- even if you're not in the mood to cook. The ideas alone are fun. The pictures are fun. A cookbook is like Pinterest- except you can hold it, and flip through real pages. And display it on your counter, making it look like you're a Suzy (or Mr. Suzy) homemaker and stuff. (There should be a male version of the name Suzy…because, I just needed there to be one.)
So this cookbook is perfect for when you're in the mood for dessert but don't feel like working your butt off. (Like how I am 72% of the time.) You can also buy it here!
…How awesome is that?! I tried some of these mug cakes and I can't believe it actually works!!
To enter, just leave a comment below!
Open to residents of the continental US. I'll use random.org to select a winner on 3/17/15 at 5pm EST. Good luck!
 Recipe Source: SouthernBite.com

No Bake Oreo Delight
Ingredients
1 package Oreo cookies (regular or double stuffed)
¾ Stick of butter, melted
2 (8 oz.) containers of Cool Whip
1 (8 oz.) cream cheese, softened
1 cup confectioners/powdered sugar
1 (5.9 oz.) package chocolate instant pudding
2 ¾ cup milk
Instructions
Using a food processor, crush the whole bag of Oreos (You can do this by hand, particularly if you're angry.)
Set aside one cup of the crushed Oreos and mix the rest with the butter. Press the mixture on the bottom of a 9x13 inch pan to make a crust.
Using hand mixer, combine 1 container of Cool Whip with the cream cheese and sugar. Spread across the top of the Oreo crust.
Whisk the instant pudding and the milk for 2 minutes. Let it set for 5 minutes, then spread over the whip cream/sugar mixture.
Top with remaining whip cream, then sprinkle the top with the remaining cup of crushed Oreos.
Serve with a side of strawberries for extra pizzazz and enjoy;)