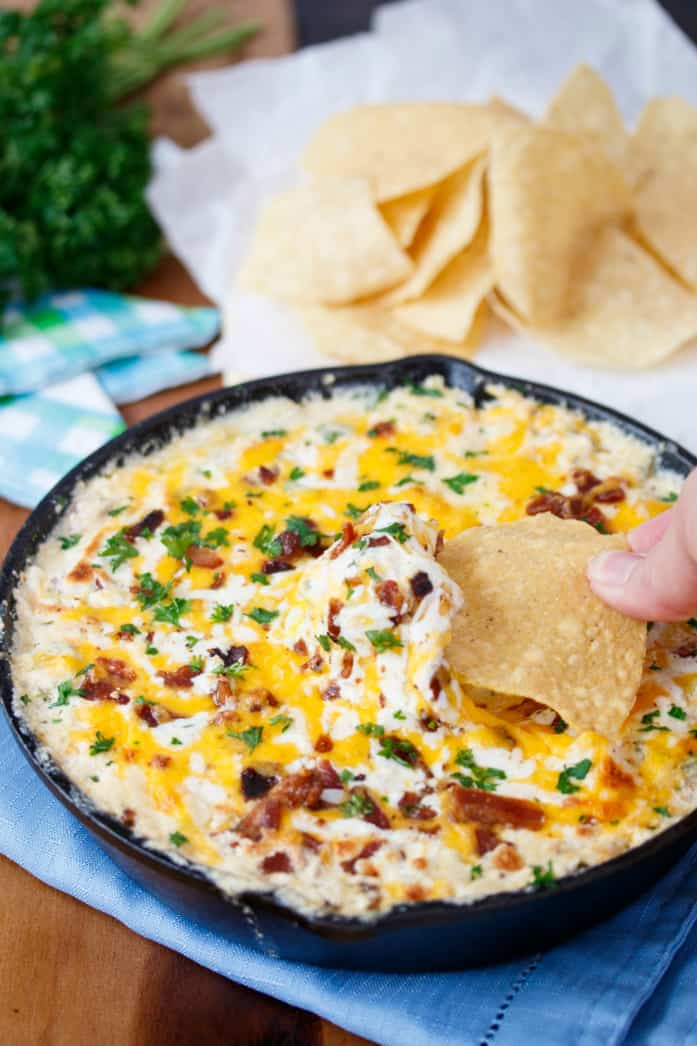 Is this my favorite dip on earth? YES. I think it actually is. How can it not be?! Uh… there are three, count 'em THREE kinds of cheese… and there's bacon. 'Nuff said. I've actually made Jalapeno Popper Wontons with this stuff too- that'll knock your socks off man. If I were a proper planner I would have given you this recipe before the Superbowl, instead of 2 weeks after it… but do you really need a football game to justify a big bubbling pan full of hot cheesy dip!? NO. You do not. There are plenty of other excuses for eating this ooey gooey dip….
….For one, uh, Friday is National Tortilla Chip day… so it's pretty obvious that you need to make this dip to celebrate that. (Who comes up with this stuff?!)
Another reason that you need this dip in your life, like now, is that we've already spent this much time talking about it. It'd be a sick joke not to make it at this point. A sick little joke.
And the final reason? Bacon.
What's your reason to make this heavenly creation?! What other dips do you love?!
Jalapeno Popper Dip
Ingredients
8 oz cream cheese,softened
1 cup shredded cheddar cheese
1 cup shredded mozzarella cheese
1 tablespoon ranch seasoning mix
2-4 jalapeno peppers, diced(take the seeds out)
⅓ cup crispy cooked and crumbled bacon (reserve a few tablespoons to add as a garnish)
2 cups sour cream
2 tablespoon onion, diced
1 tablespoon parsley
Instructions
Stir all ingredients together until combined.
Evenly spread into a 9x9 baking dish. Top with remaining bacon.
Bake at 350 degrees for 15-20 minutes or until golden brown
Recipe Source:
BakingBeauty.net