Spaghetti Noodles, chicken, and your favorite vegetables tossed in a savory homemade peanut sauce. An easy, healthy family meal!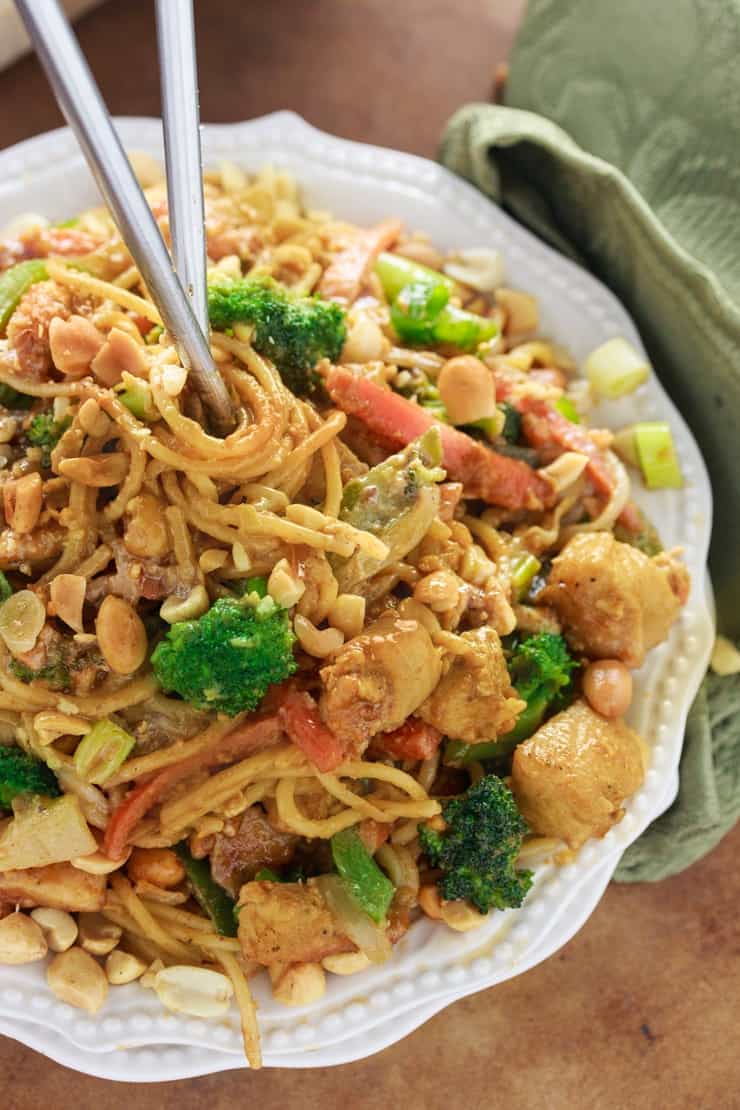 I'm a sucker for peanut sauce. And when that peanut sauce craving strikes, there's nothing that can stop me from pulling out every veggie from my fridge, grabbing some chicken, a handful of spaghetti noodles, and going to town. Luckily, that's all you need for this meal… I've even made it with Ramen Noodles before. It's extremely versatile, and I'm obsessed with it. The hubs on the other hand? Not so crazy for anything peanut-sauce-related which is actually what I love even MORE about this meal- I get it allllllll to myself. The leftovers make a sensational lunch and heck, I even eat this stuff cold right out of the fridge. (Should I have just admitted that…?) 
This isn't the only food-related area where the hubs and I differ. In fact, we have completely different takes on in a lot of areas. For example… I love meat sauce (who doesn't ?!) Welp…..the hubs doesn't. He needs his meat and sauce to be separated, (meatballs work well for him). And trust me, I love a good meatball but who doesn't love MEAT SAUCE?! (Darnit, now I want some meat sauce.)
Another example… my favorite pizza place? His LEAST favorite! What the heck!? And don't even get me started on pizza toppings. I'm an onions/peppers/meat kinda girl… (the works is my jam)… while he either wants just plain cheese, or buffalo chicken. Seriously, how are we even married?!
Now YOU go. Where do you and your family and friends differ in terms of food?!
I realize that this is heavy stuff people, let it all out. This is a safe space.
Looking for some Asian noodle options?! Here are 10 tasty options 🙂

Chicken Noodle Stir Fry in Peanut Sauce
Prep time:
Cook time:
Total time:
Ingredients
Stir Fry
¼ of a (16 oz.) box of spaghetti
2 large skinless, boneless chicken breasts
Salt/Pepper
3 Tablespoons peanut oil, separated
⅓ cup yellow onion, sliced
2 cups broccoli florets
½ cup baby carrots, julienned
¾ cup sliced bell pepper, (any color)
¼ cup green onion, diced
½ cup peanuts, roughly chopped (I used salted Planter's Peanuts)
Peanut Sauce
½ cup crunchy peanut butter
2 tablespoons soy sauce
1 teaspoon white sugar
2 drops hot pepper sauce (I subbed Sriracha hot chili sauce)
1 clove garlic, minced
½ cup water
Instructions
Prepare the spaghetti according to package instructions. Drizzle with 1 Tablespoon of Peanut oil and set aside.
Dice the chicken into bite sized pieces and season with salt and pepper.
Combine all ingredients for the peanut sauce. Take half of the sauce to marinade the chicken pieces in, and set the rest aside. If you can only marinade the chicken for a few minutes, that's completely okay, (though the longer the better!)
In a large skillet, heat the remaining 2 Tablespoons of peanut oil over medium heat.
Add the chicken and saute for 10-15 minutes, until browned on the outside and nearly cooked through.
Add the vegetables and continue to sautee until they've softened. Gently mix in the pasta noodles and add the rest of the peanut sauce. Cook until heated through.
Top with the green onions and chopped peanuts and serve!
Peanut Sauce Recipe Source:
AllRecipes